10 dead and 151 missing.. a new death toll from the collapse of a building in Florida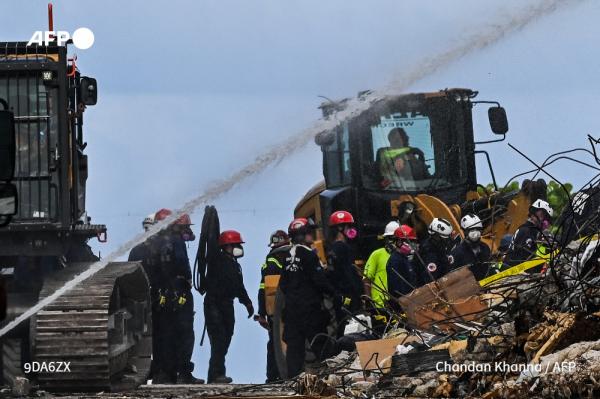 Five days after a building collapsed near Miami, Florida, the death toll rose from 9 to 10, while 151 people are still missing.
"We found an additional body this morning, bringing the death toll to 10," Miami-Dade Mayor Daniela Levin Cava said at a news conference on Monday, adding that 151 people were still missing.
On Monday, searches continued among the ruins of the building, and paramedics from Miami-Dade and others from Florida, and even from Israel and Mexico, arrived in the past two days.
The 12-storey building of 55 apartments overlooking the ocean in Surfside, near Miami Beach, collapsed at dawn on Thursday, while residents were asleep inside.
The authorities and experts confirmed that the causes of the collapse of the Champlain Tower are still unknown.
But a report on the condition of the building early in 2018 indicated "significant structural damage" as well as "cracks" in the basement, according to documents released by the Surfside City Department on Friday evening.