26 years after the murder of Ibrahim Ali, an avenue renamed in his name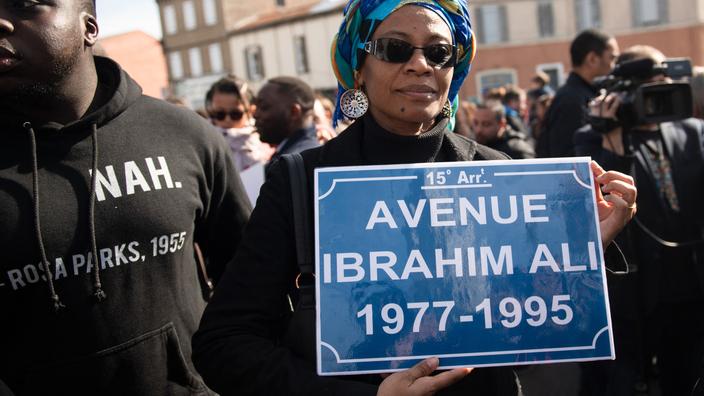 In 1995, this 17-year-old Franco-Comorian teenager was shot in the back by a mason who was pasting posters of Jean-Marie Le Pen.
In an atmosphere overflowing with emotion, Marseille put "End to a silence" which lasted more than a quarter of a century by baptizing this Sunday, February 21, an avenue named after Ibrahim Ali, killed by an FN militant. Seated in the first row, the mother of the young man shot in 1995, coming from Nantes, glasses and white veil, did not speak, seeming to meditate throughout the ceremony.
Read also :26 years after the racist crime of Ibrahim Ali, an avenue in his name in Marseille
On the stage, where Ibrahim Ali Abdallah is frozen in a photo in his teenage smile, his cousin tries to contain her sobs and tells that night when "Everything changed". On February 21, 1995, in the middle of the presidential campaign, this 17-year-old Franco-Comorian was running with his comrades to catch up with a bus after a rap rehearsal.
He was then shot in the back about forty meters away by a mason in his sixties, who was pasting posters of Jean-Marie Le Pen. In 1998, Robert Lagier, now deceased, was sentenced to 15 years in prison.
A Marseillaise sung spontaneously
A few weeks later, on May 1, 1995, a 29-year-old Moroccan drowned after being thrown into the Seine on the sidelines of an FN parade. "From the height of my 13 years, I suddenly became aware that my skin color could make me kill without understanding why", explains Fatima Maoulida. Today she is 40 years old and for her "The words fascism, racism, hatred, FN, are still relevant today".
Every February 21 since, his family, his relatives, associative activists met here, demanding that a gesture of the city be made. There are already plaques at the place where the teenager died and in his former high school in l'Estaque. And Jean-Claude Gaudin, who reigned for 25 years over the second largest city in France, gave his name to a roundabout, but never to a street.
For the socialist Benoît Payan who succeeded him as mayor, it was"A political responsibility and a moral duty" to do: "This February 21, 2021 marks the end of a silence". Ibrahim Ali "Is now part of our common heritage, our identity and the history of our city", he added.
After his speech, a Marseillaise left spontaneously from the audience gathered under an azure sky. Then the first Ibrahim Ali plaque on the now ex-avenue des Aygalades was unveiled.