a cyclist dies crushed by a truck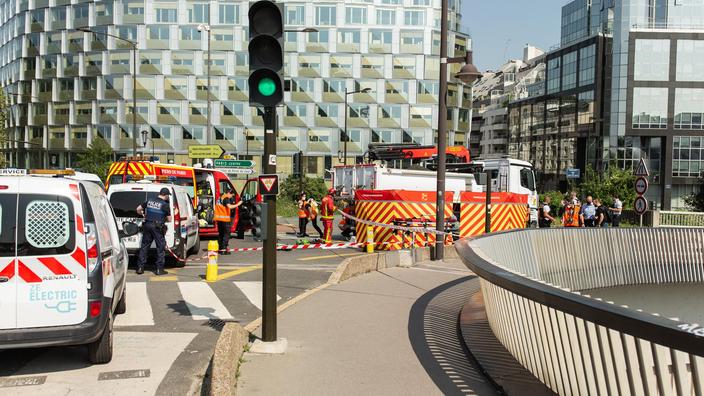 Several associations reacted by calling for better facilities to ensure the safety of cyclists.
A "Serious traffic accident" involving a truck and a cyclist took place in Boulogne-Billancourt (Hauts-de-Seine) on Wednesday July 21 in the morning, reported the Paris firefighters. "Despite the efforts made by the emergency services, the victim unfortunately died", wrote the firefighters on their Twitter account.
The young woman, 24 years old according to several media, was riding the bike path on Boulevard de la République. It was at the intersection of this artery with the Point-du-Jour quay, around 9.20am, that the tragedy occurred. A truck that was to the right of the cyclist ran over her while turning. The Service for the judicial treatment of accidents (Stja) of the Paris police headquarters has been seized, confides a police source to the Figaro.
Read also :A car mows down 18 cyclists near Saint-Étienne, three teenagers seriously injured
An ambulance, a truck of six firefighters, an extrication truck as well as a medical unit from the Garches hospital intervened on the scene, indicates the Paris fire brigade to the Figaro. "The person was under heavy weight. We proceeded to a maneuver which consists in raising the truck while giving first aid without delay ". But the young woman unfortunately did not survive.
SEE ALSO – Is a 100% cycling city possible?
"Dutch crossroads"
Several associations reacted to this tragic accident by asking for better arrangements to improve the safety of cyclists. Paris en Selle has therefore suggested that heavy goods vehicles traveling in the city be equipped with "Anti-blind spot cameras".
Read also :Loiret: a man indicted after the death of a cyclist and hit and run
For its part, the Collectif Vélo Île-de-France called for the installation of "Dutch crossroads" or "Dutch crossroads", these intersections where cyclists are protected by islands that vehicles must bypass.