A Greek makes a wax statue of Merkel and delivers it to her party headquarters in Bremen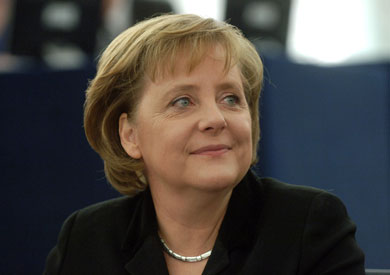 A life-size wax statue of outgoing German Chancellor Angela Merkel has been taken to the headquarters of her Christian Democratic Party in the northern state of Bremen.
A Greek named Alexis Vaio, a restaurant owner in Bremerhaven and a huge fan of Merkel, paid about 10,000 euros in China to make the statue.
Vaio handed the statue, which shows the 67-year-old German chancellor in a blue jacket, to the Christian party headquarters in Bremen on Thursday.
The statue was originally supposed to be placed permanently in the Vaio restaurant, but he reversed his decision after some young customers behaved disrespectfully with the statue while under the influence of alcohol.
The Greek's admiration for Merkel began six years ago when the chancellor stood with his country despite the euro crisis at the time, and Vaio said: "I will never forget how you worked for Greece."
Vaio is keen every year to place an advertisement in a newspaper on the occasion of Merkel's birthday, and he met her in person once.
Visitors to the Christian party headquarters in Bremen can see the wax statue of Merkel during the times when the headquarters is open.
!function(f,b,e,v,n,t,s)
if(f.fbq)return;n=f.fbq=function()n.callMethod?
n.callMethod.apply(n,arguments):n.queue.push(arguments);
if(!f._fbq)f._fbq=n;n.push=n;n.loaded=!0;n.version='2.0′;
n.queue=[];t=b.createElement(e);t.async=!0;
t.src=v;s=b.getElementsByTagName(e)[0];
s.parentNode.insertBefore(t,s)(window,document,'script',
'https://connect.facebook.net/en_US/fbevents.js');
fbq('init', '2392364917476331');
fbq('track', 'PageView');
(function(d, s, id)
var js, fjs = d.getElementsByTagName(s)[0];
if (d.getElementById(id)) return;
js = d.createElement(s); js.id = id;
js.src = "//connect.facebook.net/ar_AR/sdk.js#xfbml=1&version=v2.6&appId=300970513306659";
fjs.parentNode.insertBefore(js, fjs);
(document, 'script', 'facebook-jssdk'));
The news from the source