A missile launcher was seized in the city of Mosul, prepared to bomb an Iraqi army camp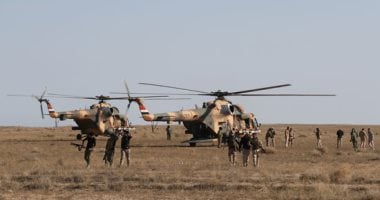 An Iraqi source reported that missile launchers had been seized in the Al-Shallalat area, near the Zayouna complex, northeast of the city of Mosul.
The source added – in a statement carried by the Iraqi News Agency (NINA) – that a force from the 16th Division of the Iraqi army had received intelligence that 8 missiles had been found with a Krad-type launcher and 6 missiles intended to be launched towards Zlikan camp in Mosul. She intended to bomb the camp.
In the same context, the Security Media Cell in Iraq announced the arrest of 5 terrorist elements in the governorates of Kirkuk and Anbar.
The cell stated – in a statement reported by (Alsumaria News) News Channel – that after receiving accurate intelligence information and qualitative operations, the National Security Agency patrols in Kirkuk governorate were able to arrest a cell consisting of 3 terrorists belonging to ISIS criminal gangs, one of whom worked as an intelligence element within the so-called Kirkuk Province.
She added that the security forces in Anbar Governorate were able, after legal approval, to arrest two members of ISIS gangs, working as fighters in the so-called Euphrates Province..