A year after the assassination of Samuel Paty, teachers still forced into self-censorship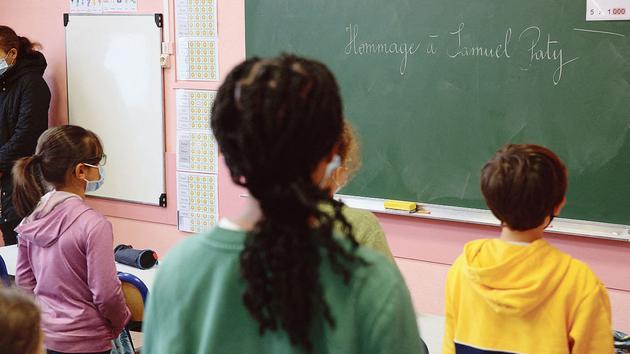 TESTIMONIALS – In a survey by the Jean-Jaurès Foundation, carried out two months after the death of Samuel Paty, no less than 49% of secondary school teachers claimed to have already self-censored in their teaching of religious issues.
«Yes, there was a real awareness of the executive, which led to the separatism law and the launch of a plan to train teachers in secularism. But, on a daily basis, things have not changed», Asserts Delphine Girard. Aggregate of classical letters, "Fervent layman", from an immigrant family, she was one of those teachers who, after the assassination of Samuel Paty, spoke in the media to testify to the self-censorship that has reigned among teachers for too many years. But also to share his conviction that it is possible to teach secularism to students, provided they master its historical, cultural and legal aspects. "But today, self-censorship remains very present in establishments without social diversity. Is it possible to talk about Samuel Paty in an establishment in a disadvantaged area? Yes, if we have prepared. Will we be comfortable? No. Heckled? Yes. Should we do it anyway? It should", she sums up.
Read alsoFrançois-Xavier Bellamy: "Samuel Paty, assassinated for teaching"
In
This article is for subscribers only. You have 79% left to discover.
To cultivate your freedom is to cultivate your curiosity.
Subscription without obligation
Already subscribed? Log in