after a giant blackout, traffic gradually resumes since 4:30 p.m.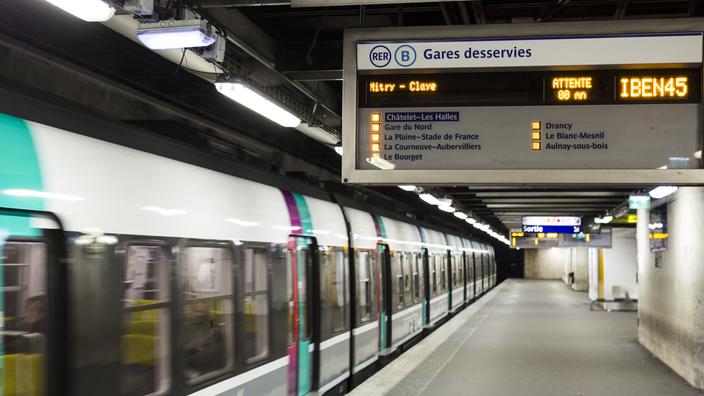 Initially estimated at 8 p.m., the recovery takes place gradually from 4.30 p.m. But traffic remains severely disrupted.
Complicated day for RER B users. A first incident was reported on Monday morning, around 8:30 am, on the line's Twitter account, which announced a power failure at Mitry station. Hopes of seeing traffic re-established quickly vanished with the announcement of a second power failure, this time at Courneuve station, shortly before nine o'clock. While the RER B twitter account announced the end of this second incident at 11:55 a.m., a signaling failure was reported this time at 12:30 p.m.
Between 9 a.m. and 4:30 p.m., traffic was therefore completely interrupted between Gare du Nord and Aulnay-sous-Bois. The recovery, which was initially scheduled for 10:30 a.m., then at 2 p.m. and finally at 8 p.m. was finally able to take place from 4.30 p.m. very gradually. However, traffic should remain disrupted until the end of the day. The SNCF announces 12 trains per hour from 5.30 p.m. Alternative routes are offered by the official RER B block.
Read alsoRER B: Alstom and RATP have reached an agreement
Ultimately, the three incidents would have the same origin. SNCF, which operates the northern part of the line, confirmed to Figaro «an incident on a RER B modernization site". A provider would indeed have "crushed the signaling and telecommunication cables in the Aubervilliers area". Ironically, this project aims "to divide the network of electric catenaries into distinct sections to limit incidents to a smaller area and avoid the effects of propagation over the entire line».
The new RER B offer, in place since September 13 with an increase in the number of trains south of the line and an extension of the amplitude of peak hours does not seem to improve the user experience. However, this is what the RATP and SNCF, which operate the line jointly, had hoped for. The new offer was indeed "limit the consequences of the hazards that may occur on the line, in particular by better balancing passenger numbers between trains during the busiest hours»In the words of the RER B blog.
Read alsoThe contract for RER B trains on a siding
The line is used daily by a million travelers (excluding the pandemic) and suffers from incidents almost daily. Since the beginning of September, 45% of working days have seen at least one problem on the line during peak hours (7 a.m. to 9:30 a.m. and 5 p.m. to 7:30 p.m.), according to a user site that lists the incidents. 57% of them were caused by line malfunctions (signaling failure, electricity failure, etc.) and 43% were caused by travelers (discomfort, people on the tracks, forgotten luggage, etc.).
SEE ALSO – Paris: RER B passengers forced to be evacuated on the tracks (07/07/2021)