After the submarine crisis, France and Australia reveal the fate of the "free trade agreement"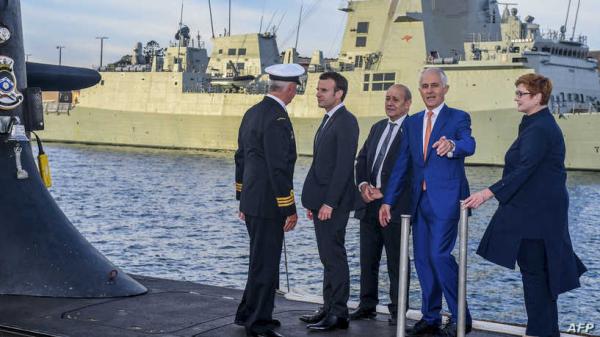 French and Australian officials said Monday that France's anger over the cancellation of the submarine contract between the two countries will not derail negotiations on a free trade agreement between Canberra and the European Union.
France withdrew its ambassadors to the United States and Australia after announcing a new alliance comprising the United States, Australia and Britain that will work to manufacture an Australian fleet of at least eight nuclear-powered submarines.
The deal canceled a A$90 billion ($66 billion) contract for France's Naval Group, a mostly state-owned group, to build 12 conventional diesel-electric submarines for Australia. This money was to be spent over 35 years.
The French ambassador to Australia, Jean-Pierre Thibault, denied media reports that France had pressured the European Union not to sign the trade agreement with Australia, which has been under negotiation since 2018.
Perspectives
"At this point, negotiations are continuing and it is in Australia's great interest to have a free trade agreement with the European Union," he said, in an interview with the Australian Broadcasting Corporation, adding that such an agreement "could provide a great deal of benefits for Australia."
For his part, Australian Trade Minister Dan Tehan announced his intention to travel to Paris within weeks, in order to hold trade negotiations and learn the views of his French counterpart, Frank Riester.
"There is a strong understanding since my last visit to Europe to discuss the European Free Trade Agreement that this serves the mutual interests of both Australia and Europe," Tehan added, stressing that he saw no reason not to continue discussions.
French President Emmanuel Macron is scheduled to speak with his American counterpart in the coming days, in their first contact since the diplomatic crisis erupted.
In a related context, Australian Prime Minister, Scott Morrison, headed to the United States on Monday, in order to meet Biden and the leaders of India and Japan, who make up the Quartet Security Forum.
Before leaving Sydney, Morrison said it was about "ensuring that Australia's sovereign interests are put first to make sure that Australians here can live at peace with the many others in our region because that's what we want as a peaceful and free country."
calm the atmosphere
A report by "Bloomberg" said that British Prime Minister Boris Johnson is seeking to calm the atmosphere with France.
"We are very proud of our relationship with France, our love for France is inexhaustible," the report quoted Johnson as telling reporters on his way to New York.
The report, quoting Johnson, added that Britain and France were engaged in joint military operations in Mali and the Baltic states, as well as a simulated nuclear test programme.