again in detention, Novak Djokovic fixed on his fate this Saturday at 11:30 p.m.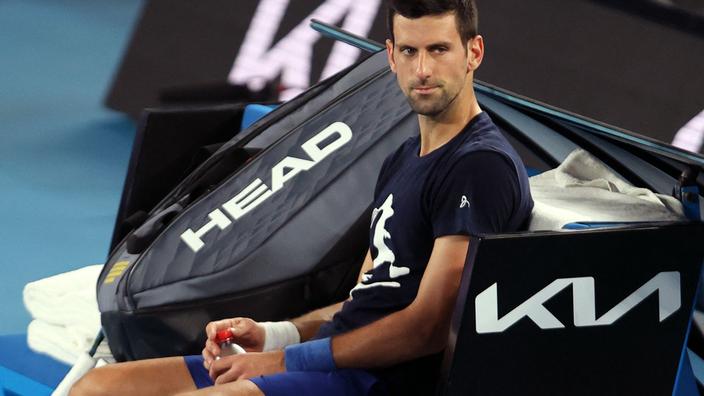 The Serb was returned to administrative detention after the cancellation of his visa. The Federal Court will rule on his participation in the Australian Open from 11:30 p.m. this Saturday.
Tennis world number one Novak Djokovic was returned to administrative detention on Saturday in Melbourne after his visa was canceled for the second time by the Australian government, which maintains that the player not vaccinated against Covid-19 constitutes a public danger. .
This new episode in a saga that began on January 5, when Djokovic was turned away upon his arrival in Melbourne, makes it increasingly unlikely that the 34-year-old Serb will participate in the Australian Open, which starts on Monday. Djokovic is seeking a 10th victory in this tournament, which would constitute a record 21st Grand Slam title.
Djokovic's presence in Australiacould encourage anti-vaccination sentiment" and "trigger an upsurge in civil unrestsaid Immigration Minister Alex Hawke in a court document.
According to court documents, Novak Djokovic, who had been summoned in the morning by the immigration services, was on Saturday in a detention center in Melbourne awaiting a judicial decision on his case.
Referral hearings are scheduled for Saturday and Sunday in federal court, and authorities said Friday night that they would not expel the tennis player from Australia until the judges have ruled.
The player is only authorized to leave the detention center to follow, online, the legal hearings concerning him from the offices of his lawyers, and under the surveillance of border police officers. This is the second time the Australian government has attempted to oust Djokovic from the country.
Read alsoDjokovic case: "How can we arrive at such stubbornness?"
«Nole", a notorious vaccine-skeptic, had been blocked on his arrival in Australia on January 5 and placed for the first time in administrative detention. The player, who contracted Covid-19 in December, had hoped for an exemption to enter the country without being vaccinated, but the authorities did not accept this explanation.
The Australian government suffered a humiliating setback on January 10 when a judge blocked Djokovic's deportation, reinstated his visa and ordered his immediate release. The Serb was then able to resume his training for the Australian Open.
Eventually, the Minister of Immigration canceled his visa again on Friday under his discretion and "on health and public order grounds", a measure difficult to challenge in court.
In his conclusions filed on Saturday before the Court, the minister maintained that the presence of Djokovic in the country "is likely to pose a health risk to the Australian communitybecause it encourages anti-vaccination sentiment and could deter Australians from getting their booster shots, he said, as the Omicron variant continues to spread at high speed.
Read alsoNovak Djokovic, an endless fiasco
While admitting that the risk of Djokovic infecting Australians himself is "negligible", the minister estimated that his"contemptPassing health rules against Covid-19 is a bad example, and therefore a risk to public health. The Minister "cites no evidencein support of his arguments, retorted the player's lawyers.
In a statement posted on social media on Wednesday, Djokovic admitted to having incorrectly filled out his declaration of entry into Australia, and not having respected the rules of isolation after testing positive for Covid-19 in December.
The champion, seen in Serbia and Spain in the two weeks prior to his arrival, contrary to what he stated in the immigration form upon arrival, pleaded "human error».
Dreams of a 10th title in Melbourne are all the more distant as this visa cancellation, if confirmed by justice, implies that Djokovic will be banned from entering the country for three years, except in exceptional circumstances.
This twisty soap opera around the tennis champion takes place in a country whose inhabitants have endured for almost two years some of the strictest anti-Covid restrictions in the world, and where elections are scheduled for May. Hence a charged political context. Pressure has intensified around Conservative Prime Minister Scott Morrison, accused of "incompetenceby the Labor opposition.
Read alsoTennis: Serbian President accuses Australian Prime Minister of "mistreating" Novak Djokovic
The saga is also followed assiduously in Serbia, where politicians erect the star as a national hero. On Friday, Serbian President Aleksandar Vucic once again threw his support behind the player, accusing Australia of "mistreat».