Agrippina Steklova and Anna Mikhalkova played hellish mothers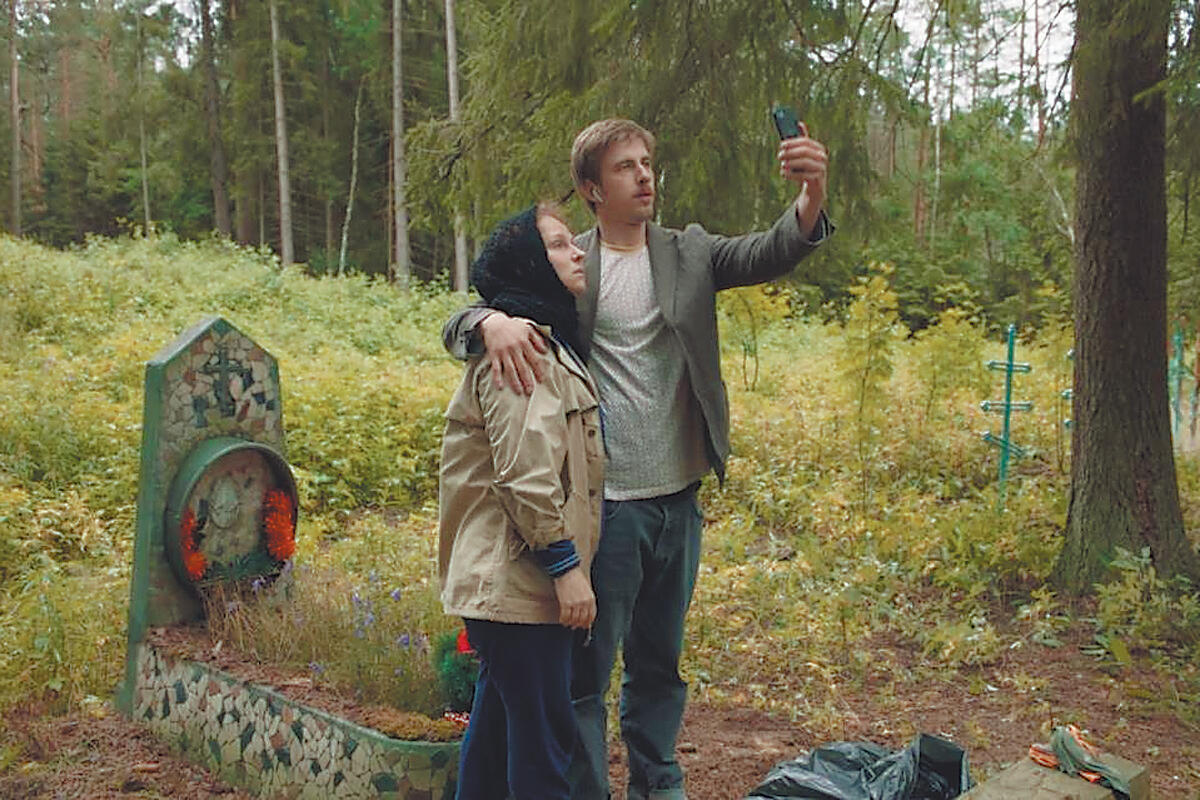 On parental Saturday, departed relatives are remembered, and the heroes of the film "Day of the Dead" – a mother and her 35-year-old son – set off on a journey through five cemeteries. The main roles were played by Agrippina Steklova and Alexander Pal. Perhaps the film would not have been if it had not been for the pandemic. The theater did not work, something had to be done. The young producer Nikita Vladimirov, the grandson of Alisa Freindlich, who had already met in the theatrical field, encouraged the risky venture.
"The time has come when attention to each other is getting less and less, – says Viktor Ryzhakov. – People in our profession strive to make a lot of people happy, and we often cannot make those who are around us happy. We also wanted to talk about the relationship between man and death. The Day of the Dead is special. It happens once a year when the living and the dead can meet. As soon as you understand that there is no death, it will immediately become easier. We must learn to live without fear. Nothing will end with death. A visit to the ancestors is a special moment for me when you can visit their graves alone. The word "parent's day" contains something more, memories of the pioneer camp, military service, when your parents came to you. This is the day when you can communicate with those who have already left or are still alive, but you yourself live by your own laws. And mom brings brilliant green to smear your broken knees, urges you to be careful. This story exists in the polarity of human perception. "
No matter how much the debutant says that the boundaries between theater and cinema are becoming thinner, they still exist, and his first film experience only proves this, there is a lot of theatrical conventions and techniques in him, and there is a lack of cinema energy. "All the performances I have ever worked on were preceded by research work. We went on an expedition. On the set, of course, we had to use unusual technological things, and there was a guard. I needed to learn what I didn't know. But it's all about responsibility. We must not be afraid to take it upon ourselves. " So at the age of 60, the debut took place, which in itself is like a challenge.
At first glance, everything is realistic, but it resembles a dream. It was or was not – you can guess. When in the finale the hero of Alexander Pal is driving alone in the car, talking to himself, and his mother, who was just sitting next to her, seemed to dissolve into space, it becomes clear that everyone is dead. What is happening is aggressively accompanied by music of which there is too much. And the film begins in a completely different way from how it will continue. The music was written by composer, theater artist, graduate of the Moscow Art Theater School, DJ working in London and Berlin, Alexander Devyatyarov. The audience knows him from the RAMT play "Son", where he plays his father.
The sister tells the heroine Steklova that she treats the dead better than the living, but this does not apply to her late son, whose grave she does not visit. That was not how he lived, he did not like girls, was interested in men, for which he was deleted from life by his own mother. She could not accept him as he is. You look at Agrippina Steklova in life, not on the screen – a beauty with a luxurious shock of hair, some kind of Angelica, the Marquis of Angels. And she played a restless mother worn out by life. The choice of Steklova became paramount for the director, who was not easy to offer the artist to be alive and dead, but fortunately, she has no boundaries. "You tell her: fly – and she will fly, – Viktor Ryzhakov explains his choice. "It was necessary to find a person close to her in spirit so that they were people of the same breed." But this is the ideal. There is no absolute commonality between Pale and Steklova. They are two different worlds, including the way they exist in the frame. Agrippina "for a long time, painfully and with pleasure" auditioned on a common basis with various artists, not assuming that the choice of a partner depends on her reaction. And the director watched, guessing the inner choice of the actress.
The topic of relatives was continued by the young director Kirill Sokolov, who shot "Daddy, Die!" After the debut. his second film, "Tear and Throw". The name "Mom, die!" Would suit him. Vladimir Khotinenko, with whom Kirill studied, did not hide his delight after the premiere. And the hall, filled mostly with young filmmakers, roared with delight. The director was called the Russian Tarantino, compared with Lars von Trier and Gaidai, recalled "Suicide Squad". But he himself has completely different references: "I'm a fan of physical comedy, old Hollywood, Buster Keaton. I appreciate the ability to laugh at myself, therapy through humor. You live with trauma inherited from your parents. My favorite movie is Fanny and Alexander. I am originally a physicist and movie lover. It is automatically impossible to get rid of reference thinking. It was only on the set that I realized that if we were to analyze the plot, then it was "Wild at Heart" by David Lynch.
The script was written with the expectation of Victoria Korotkova, familiar to many from the film by Alexei German "Under the Electric Clouds". It is based on an episode from the childhood of the actress: her mother stole her from her grandmother. After four years in prison, the heroine returns for her ten-year-old daughter to an oppressive mother, played by Anna Mikhalkova. The family resembles the vampires of central Russia, and, for all the conventions, these are painfully familiar citizens, which we see in numerous television shows. A senseless fight for little Sonya turns into a chase with shootings. In general, this is a film about domestic violence, or, as the director says, about a dysfunctional family. He believes that if "Daddy, die!" about not very good people who cannot agree with each other, then good people are not able to find a common language. By the way, Papa has good foreign ratings, many awards at world film shows. But both the first and the second film by Kirill Sokolov do not fit into the usual framework: either an author's movie, or an entertaining one. As a result, art festivals ignore him.
They searched for the performer of the role of the girl for a year, combing the cities and towns, looked at more than a thousand girls, until they found a ten-year-old model and circus actress Sonya Krugova on Instagram. She is confident and independent, it seems that she has been acting in films for a long time, although this is her first appearance on the movie screen. "I am still a singer. In the circus she sang, and not only, played roles there. Recently I performed at the "New Wave" with Igor Krutoy. My life is interesting, in short, "says the young actress. While the adults are worried that the child was involved in a cruel trip, the girl assures that "it was not scary, what, in fact, to be afraid of." At the same time, she aimed the pistol at people. It is clear that everything was preceded by preparation. We rehearsed for two weeks with Victoria Korotkova and the coach, getting closer to what was waiting on the site. The director assures that Sonya is an adult, and what happened in the frame looks more like a game. But questions about the boundaries of what is permissible remain.
There is another family in the picture where they do not kill each other, but it is still hellish. The colony warden in a grandiose performance by Olga Lapshina is in charge there. Initially, the role was intended for Anna Mikhalkova, but after reading the script, she asked for her grandmother. The warden's son was played by the son of Agrippina Steklova Danil Steklov. His hero continued the dynasty, like parents and grandfather, works in prisons, and this is a trap from which one cannot jump out.