all the goals (and the rescue of Hugo Lloris) of this crazy match on video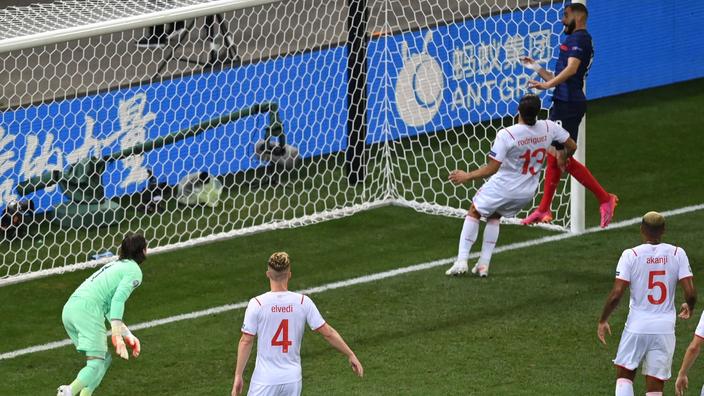 Thanks to the images of beIN SPORTS, discover the goals scored Monday in Bucharest in the 8th of the Euro.
We expected an unbalanced duel, we were treated to a stunning match on Monday, in Bucharest, between France and Switzerland, in the round of 16 of the Euro. While they were on the brink, the Blues turned the situation around in the space of four minutes. After a foul by Benjamin Pavard at the entrance to the area, Ricardo Rodriguez had the opportunity to double the bet for Switzerland. Stop by Hugo Lloris (55th)! And this while the goalkeeper of the Blues was criticized for his lack of efficiency on the penalty recently …
It was then Karim Benzema's turn to take the stage. The Real Madrid striker first took advantage of a service from Kylian Mbappé to equalize (57th), before throwing into the back of the Swiss net a ball that Yann Sommer could not control (59th).
Paul Pogba was responsible for bringing the score to 3-1 in favor of France with a magnificent right roll (75th). His first goal since the 2018 World Cup final in Russia, against Croatia!
End of the story ? We could have believed it, hoped it if we are a supporter of the France team. The Nati decided otherwise. After opening the scoring early in the game (15th), Haris Seferovic doubled down and revived the suspense (81st) before Mario Gavranovic's equalizer (90th). A goal synonymous with overtime in Bucharest.
And this while Kingsley Coman had one last opportunity to make the difference, at the end of additional time (90 + 4) …