An exhibition about the work of Yuri Norstein sent to a fairy tale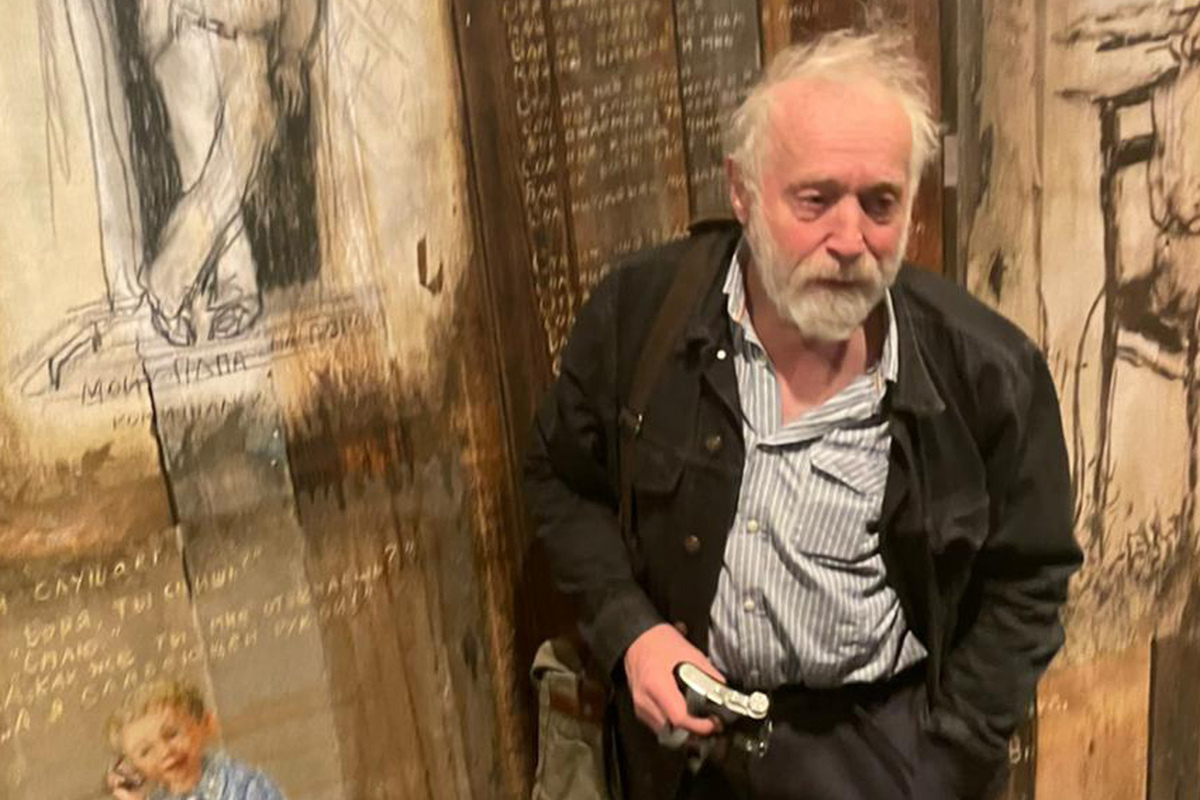 The exposition opened on the occasion of the 80th anniversary of the artist and director
Snow on the Grass is more than an exhibition. This is a journey through the myth-making of Yuri Norstein and his wife and co-author Francesca Yarbusova through the images of their animated universes, where fiction and reality are intertwined, childhood memories and reflections of an adult, world literature, painting and philosophy. According to the principle of narration, it is consonant with the "Tale of Fairy Tales".
Norstein's universe begins with a fence painted by characters from Fairy Tales and real people who surrounded the director as a child. A similar fence was next to the house where he grew up, in Maryina Roshcha. However, since then (and Norstein lived there for 25 years until he left in 1961) these places have changed a lot. But not in his memory.
– Here we are with the boys reading Gogol's "Viy" and "Overcoat", sitting on logs in front of the weaving factory, which was in our yard and work around the clock. Here are the neighbors – Vaska, Aunt Liza, and this is my dad standing in the doorway, he was very tall, – says the director, sipping something from a flask, it seems that at this moment these people come to life before our eyes.
"Tale of Fairy Tales" was filmed after Yuri Norstein's home in Maryina Roshcha disappeared, but childhood memories grew in this philosophical story. Sometimes in the most bizarre way. For example, here is the image of a wolf cub. "His eyes are not invented," Norstein explains in a text that can be found next to a cartoon drawing and a photograph of a wet kitten with huge frightened eyes tied to a cobblestone with a rope. The eyes of the wolf cub are written off precisely from this picture, found by a familiar boy. He just walked down the street, noticed a crumpled piece of paper, picked it up and saw a miraculously rescued black kitten, and then brought it home and showed it to a friend. This illustration is already behind the fence, next to numerous paintings, installations, drawings, script texts, among which you can wander, as if through the labyrinth of creation. Here you can find a collage based on the works of Annenkov, Lebedev and Petrov-Vodkin for the film "The 25th. The first day of the war ", a self-portrait of 1964 by Yuri Norshtein and a self-portrait of his wife, painted in brown and dark blue after the death of her father, a gramophone on which the heroes of" Tale of Fairy Tales "dance in a dance … And over this whole" yard "universe of memory hangs the image of a wolf cub, which stands in front of an open door, and light streams from it. A large illuminated panel is surrounded by characters from Fairy Tales.
The second part of the exhibition took up a long corridor, here we learn about the episodes that fell out of the "Tale of Fairy Tales". Most of Norstein's films were born in the process, and very often the original script is very different from the result. The Tale of Fairy Tales, for example, did not include an episode with a burning house, which twists from the flame like a piece of paper, goes into the sky, and a white tablecloth falls on the black charred ground. In real life, there really was such a case: the street with two-story houses, where Norstein grew up, once burned.
"Overcoat", "Crane and Heron", "Winter Day", "Tisusai Listens to a Tree" – a labyrinth of memories and images immerses the viewer in each of these stories, which have their own voluminous biography. Not without, of course, and without "Hedgehog in the Fog". This image was born difficult. Norstein recalls that once he screamed strongly, because he could not grab this hero, and then Francesca began to draw. A few simple lines – and suddenly the Hedgehog appeared by itself, and no one doubted that he should be just like that.
In the finale, we again return to the "Tale of Fairy Tales" – the characters who are sitting at the table, talking, and then one of them leaves with a bundle on a stick into the distance. Everything is cyclical in our memory, everything is twisted into a labyrinth of thoughts and feelings, from which a genius is able to form a unique visual philosophy. The exhibition by Yuri Norstein and Francesca Yarbusova immerses her head in it and covers it like a mother's blanket …
Newspaper headline:
Labyrinth of fairy tales by Yuri Norstein