Angela Merkel or the power of pragmatism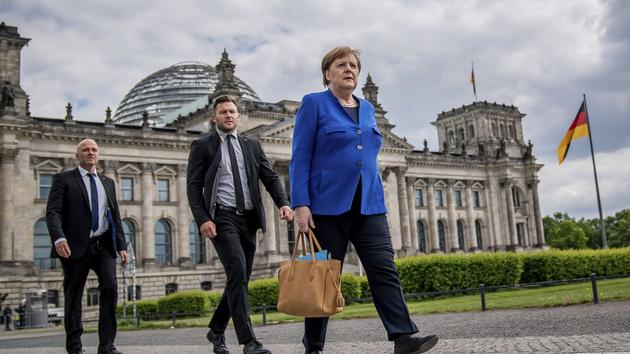 BIG STORY – The Chancellor will leave power after sixteen years at the head of the country after the formation of the government that came out of the polls on Sunday. Angela Merkel did not carry out major reforms. His cold rationality, his pragmatism and his sense of compromise have enabled him to face the series crises that have marked his four terms of office.
Special envoy to Berlin, Rügen and Stralsund
Standing on their chairs, the young anti-vaccine and the "Querdenker", the "free-thinkers" against sanitary restrictions, loudly whistle the arrival of the Chancellor. "A little respect you idiots! " a waiter from the Marktplatz loses his temper, chasing them away. "The Merkel is from us. Someone do better for the country than she is! " Angela Merkel had already said goodbye to Stralsund. She had not planned to get involved in the campaign of her party's candidate, the CDU, to succeed him. The Chancellor only half-heartedly believed in Armin Laschet, who claims the legacy of a leader who has remained at the peak of her popularity as she prepares to step down. Here she is back in her constituency, a few streets away from her office as a deputy, at the foot of the baroque red brick facade of Stralsund town hall, in the pouring rain. Distanced in the polls by the Social Democratic candidate, Olaf Scholz, minister
This article is for subscribers only. You have 95% left to discover.
Freedom has no borders, like your curiosity.
Continue reading your article for € 1 the first month
Already subscribed? Log in