anti-junta protesters bury first victim of military repression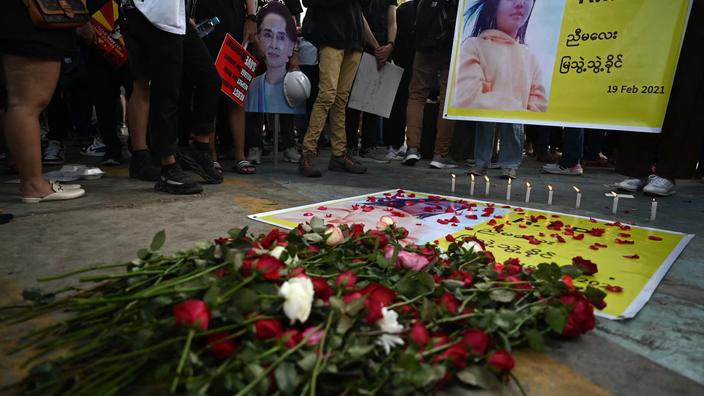 The crackdown on protests triggered by the army putsch left two more dead on Saturday.
Burma is preparing Sunday for the funeral of the first victim of military repression, a 20-year-old grocer who has become an icon of the anti-junta resistance, in the aftermath of the deadliest violence since the coup d'état with two demonstrators killed by the law enforcement.
Read also :The keys to understanding the background of the Burmese putsch
Mya Thwate Thwate Khaing, 20, was shot in the head during a violently suppressed protest in Naypyidaw, the administrative capital, on February 9. Since then, demonstrators have marched with his photo and a 15-meter-long banner with his effigy has been displayed on a bridge. The hospital where she was admitted confirmed she died shortly before noon on Friday, after 10 days in intensive care. An official at this establishment said that a medical examination of his body would be carried out. Tributes began the day before in Yangon, the economic capital, with demonstrators placing white and red roses in front of his portrait with small messages: "You are our martyr ", "We will not forget you".
Live ammunition
After three weeks after the putsch of February 1, pro-democracy mobilization is not weakening from the big cities to the remote villages of the country. Faced with this, despite the concert of international protests, the army continues to increase the pressure, with more and more incidents reported in recent days. Tensions quickly escalated Saturday in Mandalay (center) between the police and anti-junta protesters including striking shipyard workers.
Read also :Burma: junta promises elections
Fearing the arrests of construction workers, some demonstrators threw projectiles at the police who fired. "Two people died, including a minor who was shot in the head and around 30 were injured", said Hlaing Min Oo, leader of a volunteer rescue team. According to him, "Half of the victims were targeted by live ammunition", the others were injured by rubber ammunition and slingshot fire. The live ammunition was also confirmed by doctors working in the field, on condition of anonymity for fear of reprisals. "They hit and shot my husband and others", said a resident in tears. "He was only watching, but the soldiers took him away". More than a dozen people were arrested, according to local media.
The country woke up in shock. "Where is the justice?", "Stop terrorism", "How many lives must be taken before the world reacts?", could we read on social networks.