Apple won't allow Fortnite game to return to iPhones until legal battle with Epic Games ends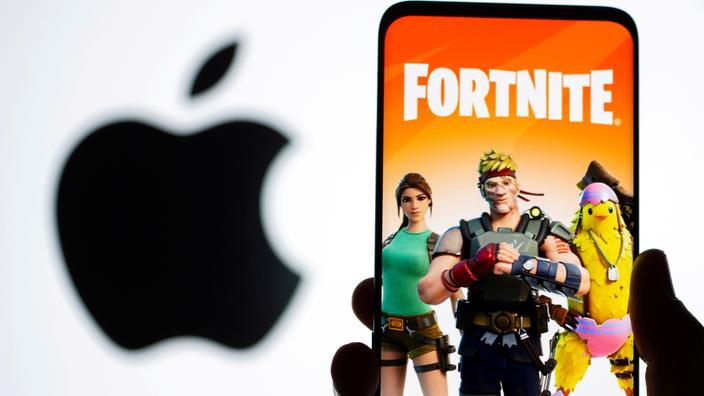 Its leader Tim Sweeney revealed on Twitter exchanges of emails between the two companies.
IPhone owners are nowhere near being able to replay Fortnite. In an email sent Tuesday night to its creator Epic Games, Apple said online gaming would not be allowed to return to the Apple-brand ecosystem until legal remedies were completely exhausted. "It could take five years», Protested the founder of Epic Games, Tim Sweeney, on Twitter.
Epic Games and Apple have been engaged since August 2020 in a standoff against the backdrop of the commissions charged by the App Store. The game Fortnite was banned from iPhones after its creator introduced an alternative payment system to the iPhone into the game, a practice banned by Apple. Epic Games has since sued the brand for anti-competitive practices.
Read alsoEpic Games and Apple are fighting a royal battle in court
In this series of tweets, Tim Sweeney reveals that Epic Games tried last week to find an arrangement with Apple. "Epic has asked Apple to reactivate our developer account for Fortnite. Epic has promised to adhere to Apple's rules when launching any of our products on Apple's platforms.", Writes the boss of Epic Games in an email addressed to Phil Schiller, director of the App Store. "If we regain access to our account, we will relaunch Fortnite on Mac as soon as possible.»
What's more, "Epic will submit Fortnite to the App Store if you comply with the court ruling [publiée le 10 septembre, ndlr], and allow applications to integrate buttons and links directing consumers to other payment systems», Continues Tim Sweeney. "In this case, our dispute will only be about the issue of alternative app stores, and I want to believe that we will find some common ground.»
Read alsoEpic Games trial: Apple must open its payment system, orders US justice
End of inadmissibility
The sending of this email took place ten days after the verdict in the first instance of the trial between the two companies. Epic Games had announced that it would appeal, while Tim Sweeney claimed on Twitter that "Fortnite will only return to the App Store when Epic can offer its payment system fairly against that of Apple.»
Tim Sweeney's attempt at conciliation was brushed aside by Apple. Lawyers for the American group sent a letter to Epic Games on Tuesday explaining that Apple would not study its requests before legal remedies were exhausted.
This response did not please Tim Sweeney, who denounces a "new abuse of power». «Apple lied. Apple spent a year telling the world, in court, in the press, that they would happily return Epic to the App Store if we agreed to play by the same rules as everyone else. We accepted, and Apple went back on its word.Apple has confirmed the authenticity of the documents, but declined to comment.