Arbiter Karasev has set a personal record at major tournaments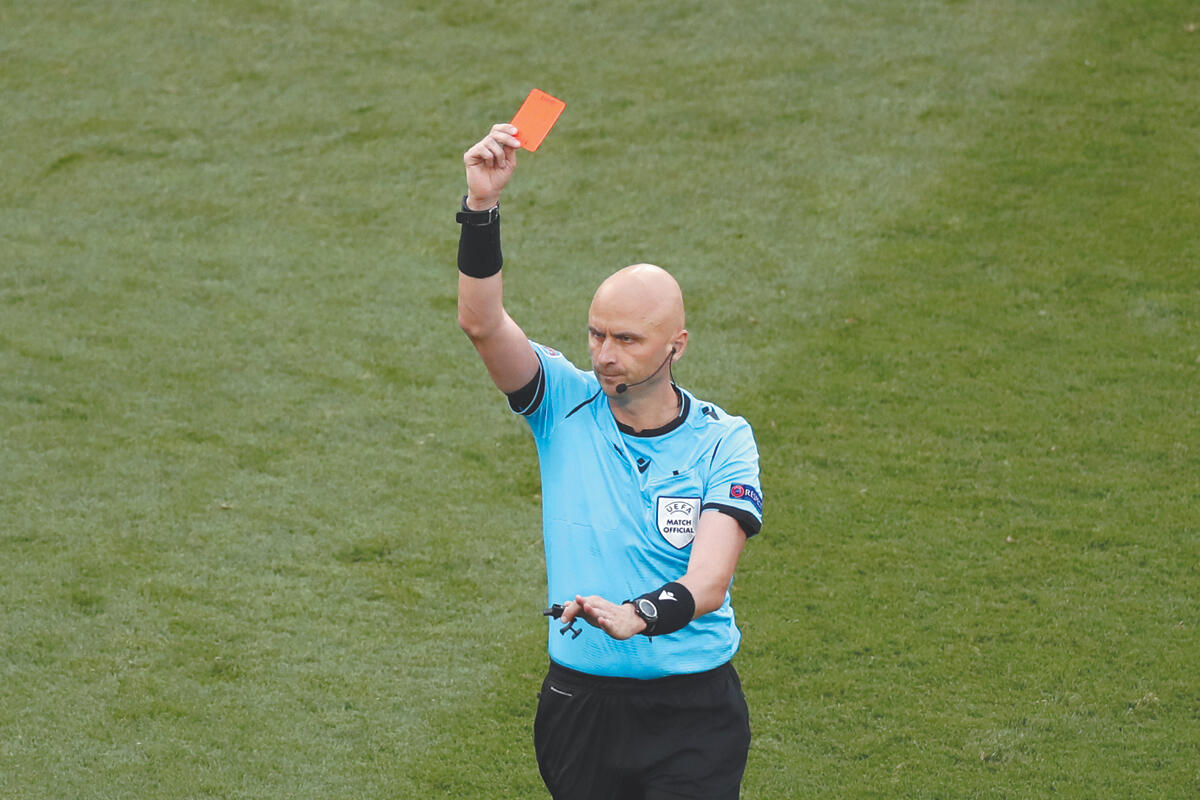 But turning to VAR reduces his chances of getting another appointment on this Euro
The team of Russian referees headed by Sergei Karasev quite confidently coped with the difficult match between the Netherlands and the Czech Republic, the key moment of which was undoubtedly the removal of the Dutchman de Ligt at the beginning of the second half, with the score still unopened.
The Orange defender received a direct red card for deliberate handball, which caused the opponent to go one-on-one with the goalkeeper. But Karasev did not show it to him right away – from the position of the referee it was difficult to instantly assess the episode correctly, and had to resort to the hint of the English video assistant. However, Sergey showed the initial yellow card quite independently.
Calling for VAR assistance, as a rule, entails a decrease in the referee's score in the field and, as a result, now reduces Karasev's chances of getting an appointment for another game in the Euro. But in any case, Sergey has already set a personal record for performing at major tournaments – before that he had two qualifying games for Euro 2016 and one, also in the group, at the 2018 World Cup. Moreover, the last match, Australia-Peru, did not decide anything at all, since it was played between two teams that had lost all chances of continuing the struggle by the third round.
Here Karasev played as many as three matches, the last of which was already in the playoffs.
And now I would very much like the best Russian judge to inspire his colleagues working in all our divisions by personal example. To return home and show – here it is, the bar, and this is how you need to hold it. Do like me!
And then I remember one of the first matches of Karasev after his high-quality work at the previous Euro. It was a completely discreet game, not even in the RPL – Khimki versus Tambov. 5 years ago, no one even could have imagined how many headaches and how soon Tambov would deliver to the leaders of our entire football. And then it was the second round of the FNL championship.
The players played as if reluctantly. If they fell in single combats, they got up with laziness. If the ball went out of bounds, they assigned each other the honorable right to throw in an out-of-bounds. And the goalkeepers, introducing the ball into the game, set it on the corner of the goalkeeper's room as carefully as if they were preparing for a penalty kick.
And Sergei Karasev watched all this completely indifferently – and, as it were, from the outside. He never rushed anyone, not with a whistle or a gesture. He has not shown anyone that he will add time to the game if you continue to pull him so frankly. He came to Khimki to defend a standing draw with the players. That's how they ended up – zeros.
But so far Sergey Karasev – only congratulations.
Newspaper headline:
Karasev at a party and at home