arrival of a first freighter for loading in Chernomorsk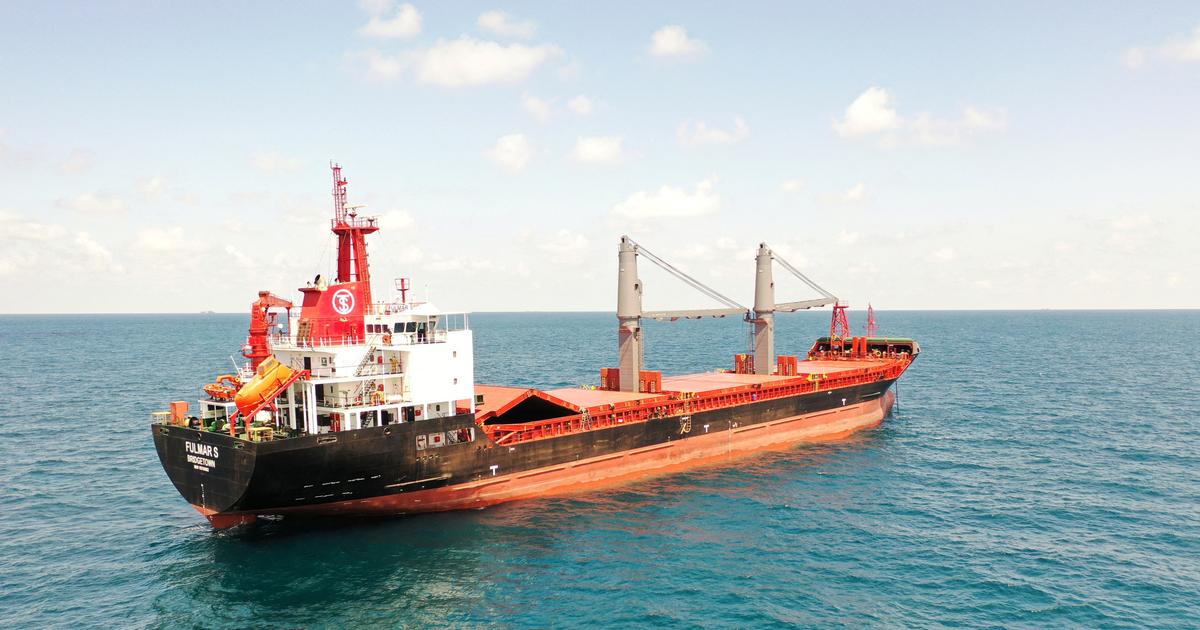 The bulk carrier Fulmar S has arrived in the south of the country to load Ukrainian cereals there, a first since the start of the conflict.
A cargo ship arrived at the Ukrainian port of Chernomorsk (south) on the Black Sea on Saturday, to load grain there for the first time since the Russian invasion of Ukraine on February 24, Ukrainian authorities announced.
«Today, for the first time since the Russian invasion, the bulk carrier Fulmar S, flying the flag of Barbados, arrived at the port of Chernomorsk for loadingUkrainian Infrastructure Minister Oleksandr Kubrakov posted on Facebook, thanking the United Nations and Turkey for their help with this "grain corridor"in the Black Sea"became operational in and out of Ukrainian ports».
Read alsoIn Ukraine, the resistance in exile of the Belarusian battalion: the story of the special envoy of the Figaro
The blocking of huge quantities of grain in Ukrainian ports since the Russian invasion of Ukraine on February 24 has caused food prices to soar in the poorest countries and a global food crisis. Russia and Ukraine have signed two separate agreements, validated by Turkey and the United Nations, which allow the export of Ukrainian cereals and Russian agricultural products despite Western sanctions. With the aim of alleviating the food crisis.
The hope of 3 to 5 boats a day
Several ships have already left Ukraine this week, but the Fulmar S, which is 138 meters long and can load 14,415 tonnes, according to Marinetraffic.com, is the first to dock in Chernomorsk for this purpose. "We are doing everything we can to ensure our ports can accommodate and service more ships. We plan to reach the stage of three to five boats per day within two weeks"Said the Ukrainian Minister of Infrastructure.
«We aim to achieve a monthly transshipment volume of three million tons of agricultural products at the ports of the logistics hub of Odessa(south), he added, hoping that other Ukrainian ports could soon be unblocked, such as those of Pivdennyi or Mikolaiv. In parallel, "we continue to increase transhipments in Danube ports, which have been saving Ukrainian exporters since February", explained the minister.
Read alsoWar in Ukraine: Russia masses troops in the South to stop a counterattack, according to the United Kingdom
Since the invasion of Ukraine decided by Russian President Vladimir Putin, fierce fighting between the armies of the two countries and the bombardments have devastated many regions, causing tens of thousands of deaths and millions of displaced persons.