Balkan expert to DW: Kosovo must be included in NATO | Politics and Economy | In-depth analysis with a broader perspective from DW | DW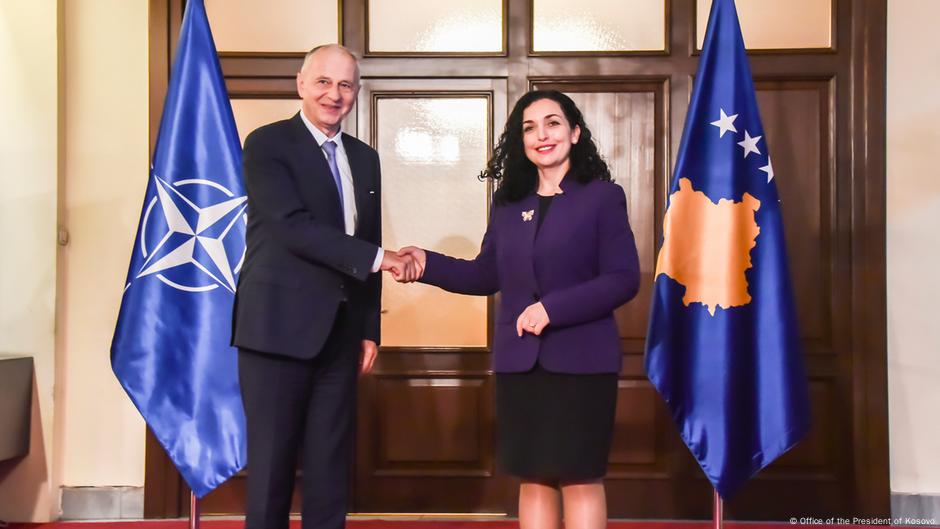 Deutsche Welle: Mr. Clevening, at the end of last week there was renewed tension on the border between Serbia and Kosovo, causing concern around the world. This tension came after the Kosovo government wanted to impose new travel rules for Serbian citizens. These rules stipulate that a document from the Kosovo authorities must be issued to be added to Serbian identity documents and vehicle license plates when traveling.
This was justified by the Pristina government by the principle of reciprocity in reference to the rules in force in Belgrade. Serbia does not recognize the documents of the Republic of Kosovo and demands that the license plates of cars coming from Kosovo be hidden. The Kosovo government has announced that the implementation of the new rules will be postponed until September 1, 2022, thus avoiding escalation for the time being. Do you see this as a growing security threat in Kosovo and the Western Balkans?
Konrad Cliffing: In the short term, there is no actual threat, because the NATO-led Kosovo military mission is certainly capable of ensuring the stability of the situation at the moment.
But I see a big problem in the fact that the mission of these forces emanating from the 1999 UN resolution does not at all include the task of defending the external security of Kosovo. The main thrust of 1999 was to create a peaceful environment and ensure freedom of movement within Kosovo. However, these two points are not sufficient in the long run to resolve a potential conflict between Serbia and Kosovo. That is why a deep and stable solution to Kosovo's external security needs should be sought. And I only see that through NATO membership.
So far, Germany supports the EU's view of the Western Balkans as a whole, which also requires the elimination of neighboring conflicts. Is this perspective and dialogue between Serbia and Kosovo, which is supervised by the European Union, sufficient to resolve the conflict between the two countries permanently?
Unlike NATO, the European Union does not provide a security system for its members. In my opinion, the EU-led dialogue between Serbia and Kosovo is not the appropriate procedure for permanently settling the conflict between the two countries. Because here it is a question of security policy: Is it permissible for Serbia to deny and oppose the existence of the state of Kosovo? Or is Kosovo allowed to monitor the border and require its (Serbs) citizens to accept, use and possess Kosovo-issued papers, at least when dealing with Kosovo state institutions? I don't think this request is unrealistic, nor is it wrong.
Serbs protested Kosovo's new entry rules by closing trucks on a road in Rodari, Serbia on the border with Kosovo
But the German government and the European Union want to implement these measures in agreement with Serbia. Is this realistic?
I think it is a naive attitude. This fundamental issue cannot be resolved amicably between Serbia and Kosovo, as long as Serbia does not want to recognize Kosovo. As the home of the Kosovo Serbs or as the protector power of the Kosovo Serbs, Serbia has the right to ensure that the actions of the Kosovo State do not threaten the existence of the Kosovo Serbs. But what Kosovo wants to implement here does not constitute a threat to their existence. Yet it is presented by Serbia as such.
There has been a really big media campaign in Serbia for weeks. There was a huge media material promoting that Kosovo is preparing to expel Kosovo Serbs on August 1, 2022. This is indeed an ugly accusation and one can also see that Serbia, in its internal and external propaganda and in its control of the media, should not really be treated as a normal democracy but rather as a normal democracy. There are many similarities with the Russian situation in how Russia deals with public opinion and shamelessly propagates state lies. This creates panic among Kosovo Serbs and ridicules them to be compliant with the Serbian government.
The situation now should serve as a warning sign for the German government, not to fall back on those old lines of not taking things seriously and being dangerous.
Does this mean that Germany, as before in the conflict between Russia and Ukraine, takes Serbia's interests very seriously?
Germany and the West in general are locked into a kind of "wishful thinking" that reformist demands, in this case Serbia against Kosovo and in the other case Russia against Ukraine, should not be taken seriously. If anything, they may refer to small parts of the country, such as Crimea in the case of Ukraine, or northern Kosovo in the case of Kosovo. It is on this basis that it has always acted as if a central role should be assigned to Serbia in the Balkans. I think this policy is naive and should be changed urgently.
Konrad Clving: EU-led dialogue between Serbia and Kosovo is not the appropriate procedure for a permanent settlement of the conflict between the two countries
Won't Kosovo's membership in NATO cause Serb citizens to resort more than now to their unofficial ally Russia, especially since many of them do not trust the West much?
I don't see this risk as great, especially if Serbia continues to get the chance of EU membership, perhaps even more than before. According to my scenario, Kosovo will join NATO and thus have a security guarantee towards Serbia. Under this condition, it will no longer be necessary for Serbia to formally recognize Kosovo, which is unlikely because Serbia will no longer be able to do anything that threatens its existence informally, in security matters anyway. By presenting a truly European vision of Serbia and the region, I do not think that Serbia would have any interest in choosing an alliance with Russia definitively.
Konrad Clevening is a Balkan expert at the Leibniz Institute for East and Southeast European Studies in Regensburg, Germany. He taught history and economics in Munich, Vienna and Zagreb from 1986 to 1992. After receiving his Ph.D. in Munich he became editor at the Southeast Research Institute (SOI) from 1997 until 2007. From 2006 to the end of 2011 he was Deputy Director of SOI and jointly responsible for directing Scientific at the new branch in Regensburg.
Anila Shuka (H.D.)
document.addEventListener("DOMContentLoaded", function (event) {
if (DWDE.dsgvo.isStoringCookiesOkay()) {
facebookTracking();
}
});
function facebookTracking() {
!function (f, b, e, v, n, t, s) {
if (f.fbq) return;
n = f.fbq = function () {
n.callMethod ?
n.callMethod.apply(n, arguments) : n.queue.push(arguments)
};
if (!f._fbq) f._fbq = n;
n.push = n;
n.loaded = !0;
n.version = '2.0';
n.tail = [];
t = b.createElement(e);
t.async = !0;
t.src = v;
s = b.getElementsByTagName(e)[0];
s.parentNode.insertBefore(t, s)
}(window, document, 'script',
'https://connect.facebook.net/en_US/fbevents.js');
fbq('init', '157204581336210');
fbq('track', 'ViewContent');
}
The news from the source