Bicycles diversify with online commerce boom; meet models – 9/26/2021 – Daily life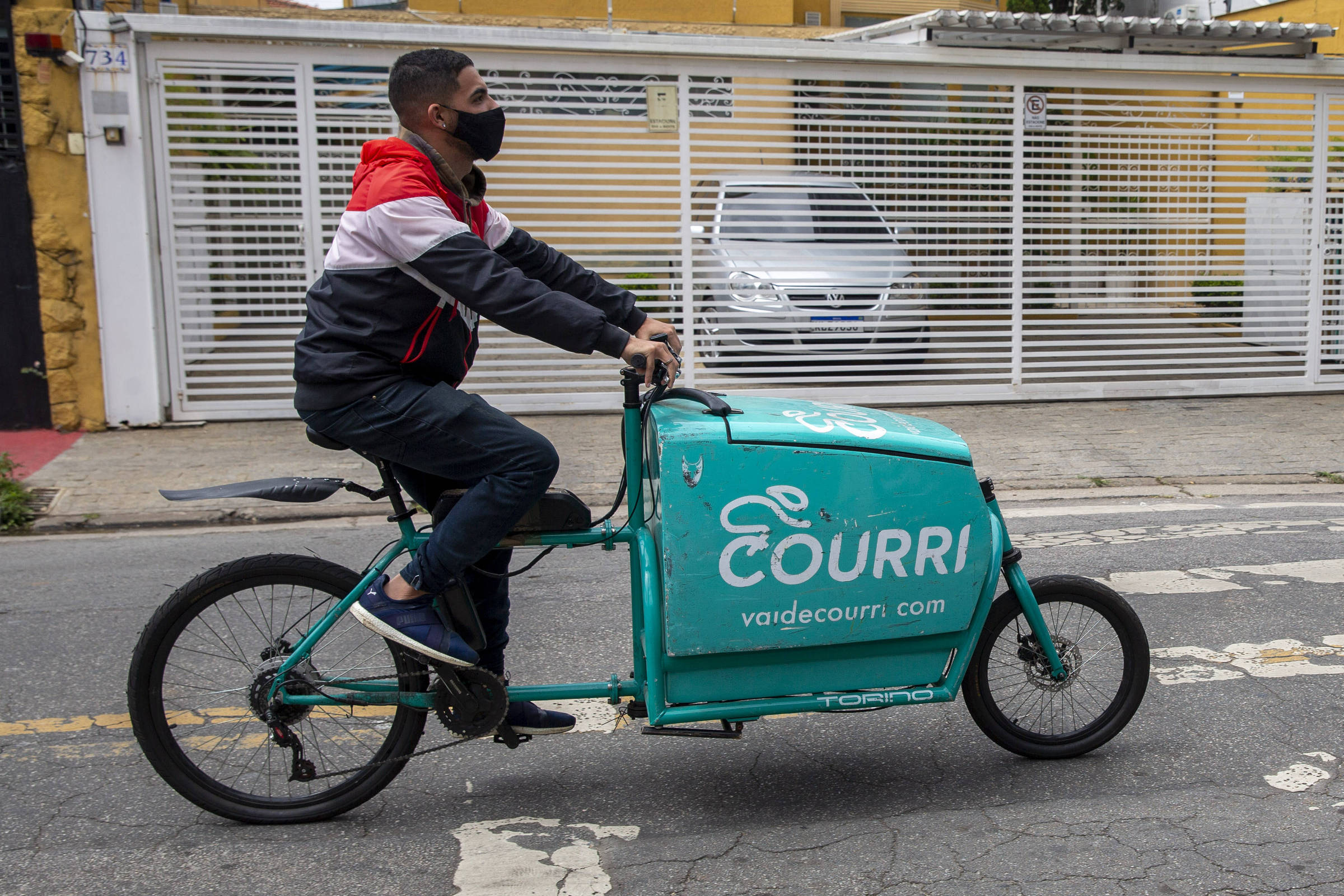 Delivery man Jailson Pereira, 38, has been riding cargo bikes for 15 years, delivering to stores in Brás (central region of SP).
Recently, he has noticed an increase in people doing this same type of service, some of them with bikes of different models than the ones that usually ride around there.
If it was already common to come across a cyclist doing the work that was previously the responsibility of motorcyclists, now the use of cargo bikes to replace the van service is becoming routine.
Electric or totally dependent on human traction, with two or three wheels, some of them have the capacity to store almost 200 kilos.
The local commerce used to use simple models to deliver products such as water canisters and gas canisters. With the new needs brought by the online shopping boom in the pandemic, copies similar to those used in European countries also appeared on the Brazilian streets.
These versions have been purchased by ecommerce giants for deliveries in the so-called last mile, that is, to make the final journey between regional hubs and the buyer's home.
The use of the modal in the so-called cyclologistics has already attracted the attention of the City of São Paulo, which is studying adaptations to the local road structure. Today, she is very unequal in the city.
"Logistics operators and shippers grew a lot in the pandemic, they understood that they have no way of enabling the growth of deliveries if not by bicycle," says executive director Daniel Guth, from Aliança Bike (an association focused on strengthening the bicycle market).
"When you have delivery density within a radius of 5 kilometers, the bicycle is the most efficient vehicle to do this," he says.
A survey of 23 logistics and ecommerce giants in the country, developed by Aliança Bike and Labmob-UFRJ at the initiative of Promob-E (a project related to sustainable development), found that 39% of these companies use bicycles for last-mile deliveries. Another portion of 21% plans to join the modal.
The study does not include meal delivery apps, which now dominate the bike delivery market. Among the companies interviewed, more focused on online sales, the most transported items are cosmetics, electronics, food, clothing and medicines.
According to the survey, companies use from conventional bicycles (24%) and freighters (22%), passing through electric and tricycles.
Correios, Mercado Livre, Dafiti and Americanas are some of the companies that use the modal.
Americanas purchased 170 units for deliveries in a radius of up to 5 km and says it intends to expand. The company uses electric bikes with a capacity of up to 180 kilos, Long John model, in which the load is between the handlebars and the wheels, quite common on the streets of Denmark and Holland.
According to the company, deliveries are expanding to new territories in the city of São Paulo. "In alleys and alleys, cars often do not pass. It is extremely agile to work with bicycles in these cases", says André Biselli, operations manager at Americanas SA
He also points out advantages over common vehicles.
"Bicycling is highly efficient in urban centers, especially in collapsed places", he says. "Today, you think of a region like Avenida Paulista. Where do you stop the vehicle for delivery? When it's a bicycle, it stops to the side, hooks it to the pole, it gains efficiency."
Biselli recalls that the use of bicycles was already quite common in the last century to deliver products such as bread and milk. Freighters were used since the 19th century, but they were losing space to cars.
In neighborhoods like Brás, in the central region of São Paulo, they never stopped circulating in large numbers. Users report, however, difficulties due to the lack of infrastructure.
"I ride all day and it's very difficult, because the bike is wide and doesn't go between cars. If there were a bike path, it would be much easier", says Jailson, who works in three stores in the region. Still, the experience gives you the balance to carry several large rolls of bubble wrap on the back and front of the bike.
Life for delivery people is easier in Bom Retiro, a neighborhood in the center of SP, which is well served by bicycle paths.
Currently, the capital of São Paulo has 684 km of cycle paths, but not all are prepared for all types of cargo bikes, such as tricycles, for example.
The São Paulo City Hall assesses changes: "The new design intended for better climate resilience in São Paulo implies adapting the road to the so-called last-mile logistics —integrated by cargo-bikes and tricycles".
For Paula Santos, active mobility manager at Wri Brasil, the increased use of this type of bicycle induces cities to have better infrastructure.
Santos says that a positive point in the use of cargo bikes is contributing to alleviating the saturation of curbs, congested in the context of the boom in hitchhiking and online delivery apps, with vehicles constantly parking in this area of ​​the road for disembarkation and unloading.
"There will certainly be an impact in the future with the entry of the bicycle as an operating vehicle for this system. In addition to being aligned with what is wanted for mobility, having zero emissions does not cause congestion", he says.
The use of bicycles to deliver meals is also growing, with a greater presence of electric models. Data sharing Tembici's electric bikes, through the Ifood Pedal project, revealed that trips made by couriers grew 91% in the second quarter of this year.
Another model that has been widely used by the category are bicycles with moped engines, the bikeletes. Technically, they are mopeds that should run together with cars, but in practice they are quite common on bike paths.
Deliveryman Bruno Alves, 23, decided to buy an adapted bike with a motor after going through a lot of suffocation on the city's climbs. Now, he claims he can make twice as many deliveries.
Fuel investment is relatively low. "The tank is 1.8 liters and I run it for eight hours", he says.
However, the model requires constant maintenance, requiring repairs once a week. Alves learned how to adjust his own bike, but there are already specialist mechanics in this type of model in bicycle shops.
The proliferation of this and other vehicles (such as different types of scooters) calls attention to the need for city halls to think of alternatives to avoid conflicts between normal and electric bicycles and more powerful vehicles. One possibility would be the adoption of friendlier right lanes, with lower speeds, where the owners of these vehicles feel safe.