Biden "impatient" to speak with Macron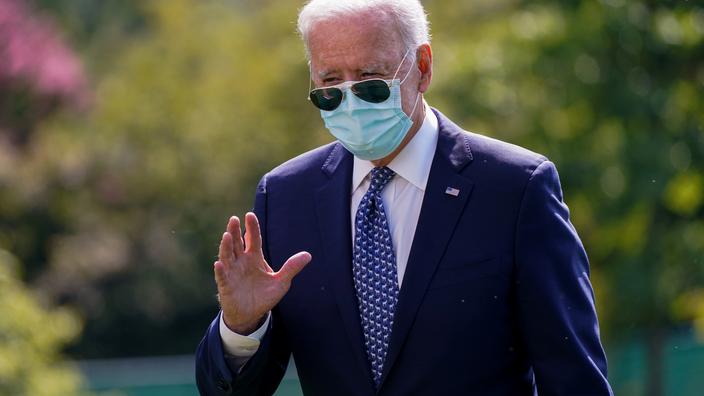 The United States wants to continue working "closely with France in the Indo-Pacific zone," the US administration has said.
Joe Biden is "impatient"To meet with his counterpart Emmanuel Macron, a senior American official said on Monday, September 20, against the backdrop of an open crisis between Paris and Washington over a submarine contract with Australia.
Read alsoAustralian submarines: France treated in an "unacceptable" way, for von der Leyen
Confirming the information given by France, namely that the American president requested this interview, the senior official said: "We are impatientTo have this phone conversation. Joe Biden wants "express their desire to work closely with France in the Indo-Pacific zone and on the international scene».
No "new Cold War"
The American president, who is due to speak on Tuesday in New York before the United Nations General Assembly, will also say that he "does not believe in the notion of a new Cold War». Joe Biden «will let it be known tomorrow that he does not believe in the notion of a new Cold War with a world divided into blocks", Said this source, against the backdrop of fierce rivalry between Washington and Beijing. The American President "believes in vigorous, intense and principled competitionShe added.
Read alsoSubmarine crisis: "The end of the 'contract of the century' reveals the risk of a strategic downgrading of France"
Biden, who has offended many allies by his perceived very one-sided management of the withdrawal from Afghanistan, and which has caused a serious diplomatic crisis with France over a large arms contract, goes to New York with a rally speech, according to this senior official.
Joe Biden wants to let the international community know that he has "closed the chapter on war" and "opens a chapter devoted to personalized, determined and effective American diplomacy, defined by cooperation with allies and partners (of the United States) to solve problems that cannot be (solved) by military force.»
Americans see the situation positively
The senior official said, on the international reputation of the United States, that "the context was actually quite positive despite the different perspectives on Afghanistan and the problems we are currently dealing with with France».
France accuses the United States of having concluded without notifying it a new alliance which will notably see Australia equip itself with American submarines, which scuttles a gigantic order placed by the Australians to the French a few years ago. years.