Blanquer calls for being "firm" after "unacceptable" clashes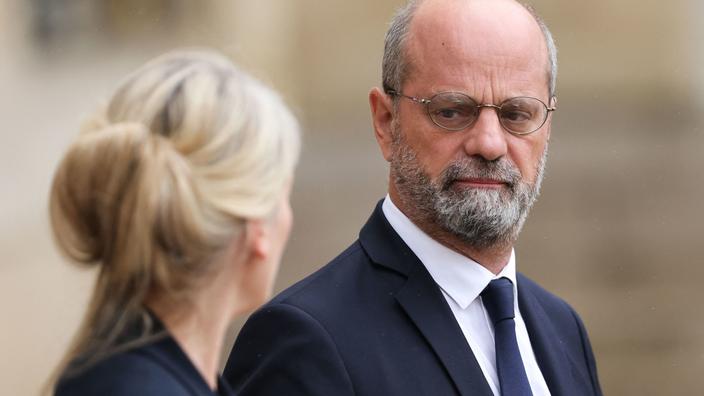 The Minister of National Education, Youth and Sports calls for sanctions following the violence interviewed Wednesday evening in Ligue 1.
The recent incidents in Ligue 1 involving supporters, in particular Wednesday during Angers-Marseille, are "totally unacceptable", Estimated Thursday the Minister of National Education, Youth and Sports, Jean-Michel Blanquer, calling to be"closed».
Read alsoFan violence in Ligue 1: strike hard and fast before the tragedy
«This is obviously totally unacceptable. With (the Minister of the Interior) Gérald Darmanin we will probably take measures when it comes to events that happen outside the stadiums", He argued during an interview on the LCI channel.
For the clashes in the stadiums, like Wednesday in Angers, the minister returned the ball to the football authorities, the Professional Football League (LFP) and the French Football Federation, which he says he wants "empower». «Some clubs have in the past succeeded in putting an end to this unbearable hooliganism. We will have further discussions with the League and the Federation on what is envisaged in this matter.», Declared the Minister. "They have already reacted to two events that have gone too far in recent times. Sanctions have been taken and we will ask what new measures are being considered to put an end to this», He continued.
«But there are people who must be banned from stadium in the future from the moment they have had this type of behavior.", Jean-Michel Blanquer underlined, without specifying whether he thought to strengthen the already existing provisions, and which allow a prefect or the courts to pronounce stadium bans. "You have to be firm. These are people who damage the image of sport, who overturn what sport should be, that is to say fraternity between citizens.», Concluded Jean-Michel Blanquer.
Read alsoViolence by football supporters: an evil that is not only French
French football has been confronted since the start of the season with a wave of supporters overflowing: projectiles thrown at the players, as during Montpellier-Marseille, invasion of the field and exchange of blows between supporters and players during Nice-Marseille, fights between opposing supporters during Lens-Lille … Each time, the disciplinary committee of the LFP has cracked down, in particular through penalty matches behind closed doors. Wednesday evening, the 7th day of Ligue 1 was again marred by incidents, in Angers where several dozen Marseille supporters left the visitors' parking lot and destroyed equipment before the stewards restored order, or else in Montpellier. where a bus of Bordeaux supporters was targeted.