Blinken defends withdrawal from Afghanistan: The decision was in Biden's hands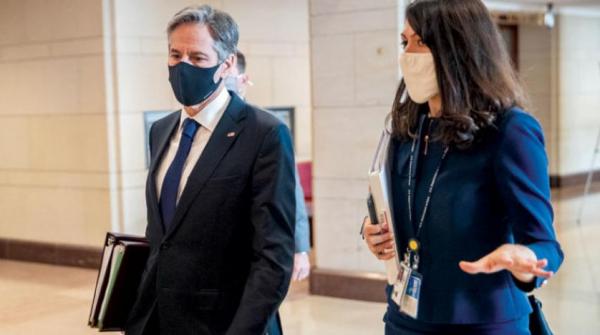 For the second day in a row, US Secretary of State Anthony Blinken faced lawmakers' anger over the administration's withdrawal from Afghanistan. And Blinken fought the second round of questions before the Senate Foreign Relations Committee, where Democrats and Republicans alike did not hide their discontent with the method of implementing the withdrawal, describing it as shameful, and demanding that those responsible be held accountable.
Blinken did not back down from his defense of the decision to withdraw, blaming the administration of former US President Donald Trump, for the agreement it made with the "Taliban" movement. It was clear that it would hold the United States accountable if it violated the deadline set by the Trump administration for withdrawal from Afghanistan. Speaking about the American weapons left there, the foreign minister said that "a lot of equipment and weapons were handed over to the Afghan security forces, and when these forces fell, the weapons fell into the hands of the (Taliban) movement," noting that the majority of the equipment was destroyed. The Democratic Committee Chairman, Bob Menendez, did not provide an opportunity but criticized the administration's performance during the withdrawal process, and its reliance on the "Taliban". He said, "It is clear that the (Taliban) movement has no intention of breaking the ties with (Al Qaeda). There is no such thing as a reformist (Taliban) movement."
Menendez called on the US administration to re-impose sanctions on the movement, which were lifted after reaching a peace agreement with it in 2020, describing it as a "surrender agreement." Menendez, who is close to Biden, said that the information received from the Departments of State and Defense about Afghanistan was conflicting, and he addressed harsh words to US Defense Secretary Lloyd Austin, who, according to him, refused to appear before the committee to testify, and Menendez threatened to summon Austin officially if he continued to He refused to speak with his committee.

For his part, the top Republican Jim Risch accused the Biden administration of creating the largest refugee crisis through its withdrawal from Afghanistan, and said that the "Taliban" movement has become today one of the "best-armed terrorist groups in the world" thanks to the United States. He called for careful consideration of Pakistan's role in Afghanistan. Risch hinted that there are people in the White House who control Biden's actions. Lawmakers have escalated their efforts to hold the US administration accountable for its "chaotic" withdrawal from Afghanistan, as the top Republican in the House Foreign Relations Committee appointed Mike McCaul as a special investigator for the withdrawal, while Democratic and Republican representatives put forward a bill entitled "Transparency in Afghanistan."

The project obligates the White House to submit an annual report to Congress, starting from the end of this year until 2026, detailing the US strategy there and including an assessment of the capabilities of the so-called "over the horizon" US policy. The draft requires the Department of Defense and intelligence agencies to provide a detailed account of the size and location of the Over the Horizon force, as well as any potential plans to change these locations. The proposed project includes a clause that obliges the Biden administration to provide an assessment of the quality and number of American equipment that remained in Afghanistan, and whether the Secretary of Defense intends to leave this equipment, retrieve it, or destroy it. In addition to a comprehensive presentation of any possible plans to evacuate the Americans remaining in Afghanistan, or the possibility of rescuing American hostages who are there. The text of the draft includes a request to assess the capabilities of Al-Qaeda and ISIS-Khorasan to carry out attacks outside Afghanistan against the United States and its allies. In addition to a detailed intelligence assessment of the "over the horizon" strategy and an assessment of the Taliban's forces and defense capabilities. The proposed draft includes a clause obligating the US administration to offer any possible military cooperation between the Taliban, China, Russia and Iran.
This comes as the family of the kidnapped American in Afghanistan, Mark Frerich, has demanded the resignation of the chief US negotiator, Zalmay Khalilzad. The family said that Khalilzad did nothing to try to free Freish, who was kidnapped by the Taliban and handed over to the Haqqani Network before signing the peace agreement with the movement in February 2020. In a statement to Reuters, the family indicated that Khalilzad He has not contacted her since Biden took office, and she accused him of completely ignoring the issue of his capture. "Mark should be a priority in any talks with the Taliban," said Frerich's sister, Charlene Sakura. Ambassador Khalilzad should be expelled." And she continued, "I know that when the wars end, the prisoners on both sides are released so that they can return to their countries."