Boca Rosa and Fred discover baby sex in revelation tea at Maracanã – 02/20/2021 – Celebrities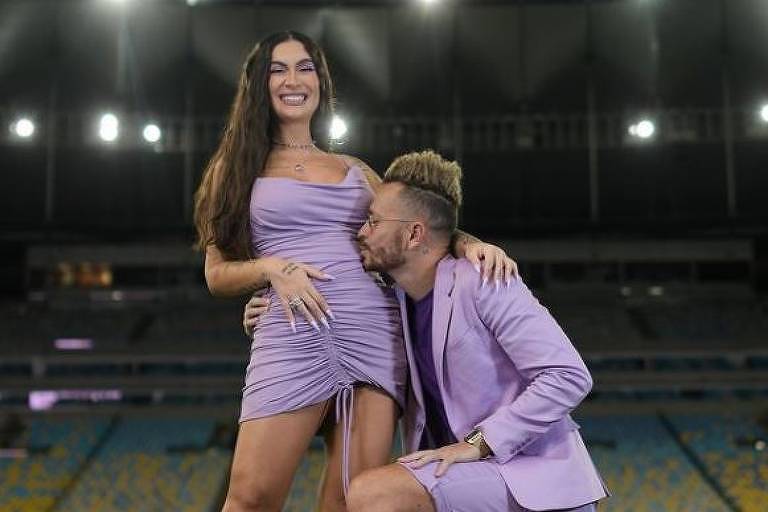 São Paulo
Bianca Andrade, 26, also known as Boca Rosa, and Fred, 31, from the Desimpedidos channel, will have a boy. The couple chose an innovative way of breaking the news. Instead of a traditional revelation tea with balloons, fires or smoke identifying the child's gender, the name chosen for the baby appeared on the screens of the Maracanã stadium in Rio de Janeiro, after a countdown, while the influencers waited in the middle of the lawn.
The couple chose not to distinguish colors for the genders, deciding that the decoration for the special moment would be purple, Fred's favorite color and also the combination of the influencer's favorite colors, pink and blue. "It's been a very magical moment, which despite being a dream of ours, every day has surprised us a lot. I am sure that this little baby came to make a difference in our lives ", said Andrade in a note, about the son who should be born in July.
Boca Rosa announced that it was expecting its first child in December through her social networks, lamenting the leakage of information earlier than planned. "Yes, we will have a baby! Obviously, we would like to wait three months to speak with confidence about this little life that is to come, but unfortunately they did not respect my time. And that's okay, I'm not going to be shaken and let's go after the dance, because we're really happy and this little baby is already loved more than anything. "
The news was released two months after the influencer revealed that she had a relationship with Fred. According to the businesswoman, the two relate freely and have known each other for at least five years. "We are really cool, it's not today and the general already knows, so enough trying to hide this train that we have, which is very crazy, but it's very us", wrote Andrade.
Single, Bianca Andrade recently dated musician Diogo Melim. However, the romance ended after the blogger's participation in Big Brother Brasil 20, since at one of the parties during the reality show, Boca Rosa said she wanted to kiss Guilherme Napolitano, his confinement colleague.
The next day, very sorry, she apologized to her then boyfriend, Diogo Melim. On the occasion, outside the house, the musician deleted the photos he had beside Bianca. The end of the courtship was made official when Boca Rosa left the BBB.