Bolsonaro in Caruaru has a 23-second speech under boos and myth – 06/23/2022 – Poder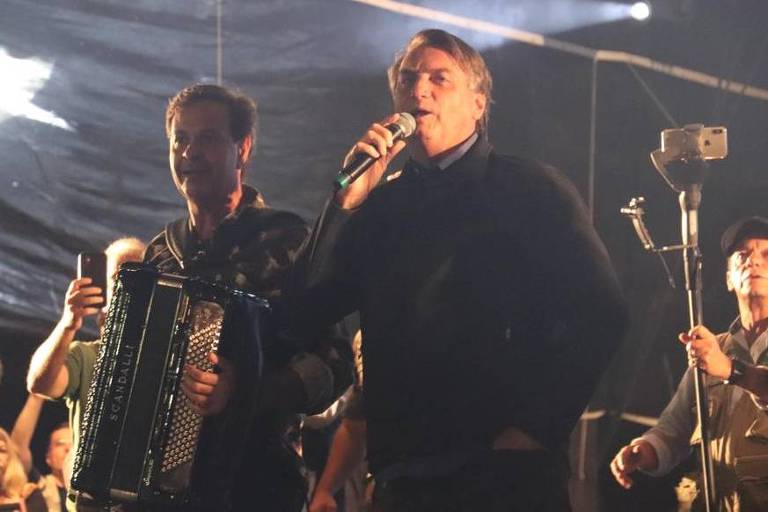 President Jair Bolsonaro (PL) risked little on Thursday night (23) at an event open to the public in the Northeast. When attending the São João de Caruaru party, in Pernambuco, he limited himself to a 23-second speech, while, in the background, boos and some "myth" shouts competed.
Unlike the events for supporters, in which he circulates among the public through aisles of railings, Bolsonaro appeared on the opposite side of the press, passed quickly in front of the stage, went up and stayed in one of the corners, without attracting attention, next to the pre -candidate for governor Anderson Ferreira (PL).
His presence was announced by Gilson Machado (PL), former Minister of Tourism and pre-candidate for senator for the PL.
When Machado, who is also an accordionist for the band Forró da Brucelose, announced Bolsonaro, the boos swelled from most of the audience, which was further away from the stage. There were also cries of support for former President Lula.
"Caruaru, Pernambuco, good night. Capital of forró. A great satisfaction to be in the Northeast accompanied by a former minister of Pernambuco, Gilson Machado. To all of you: may God enlighten each one. And may God bless all of Brazil. Thank you all so much," he said.
At that point, the president's supporters, closest to the stage, competed with the boos by shouting "myth". Then Machado and the band started playing Asa Branca, by Luiz Gonzaga. During the first few minutes of the song's performance, Bolsonaro held the flags of Brazil and Pernambuco and then left.
On the night it received the president, the São João de Caruaru party had a significantly smaller audience than the more than 100,000 people it usually receives per night.
Security was also reinforced, especially close to the stage, where the structure with the railings so that Bolsonaro could circulate was set up and where his supporters gathered. Critics preferred to avoid unpleasantness by staying deeper.
The visit to the Northeast, electoral stronghold of former president Luiz Inácio Lula da Silva (PT), ends a difficult week for Bolsonaro.
On Wednesday (24), former Minister of Education Milton Ribeiro was arrested in a Federal Police operation that investigates the existence of a parallel office under the influence of pastors in the ministry.
This Thursday, the Datafolha poll showed Lula 19 points ahead of Bolsonaro in the first round.
In his weekly live, shortly before the forró show, Bolsonaro said he exaggerated when he said he put "his face on fire" for Milton Ribeiro, but said he continues to trust the minister.
This Friday, Bolsonaro remains in the Northeast. He passes through João Pessoa and Campina Grande, in Paraíba, also for a June festival. On Saturday, he goes to Blumenau, in Santa Catarina.