Burton and Beaudart dismasted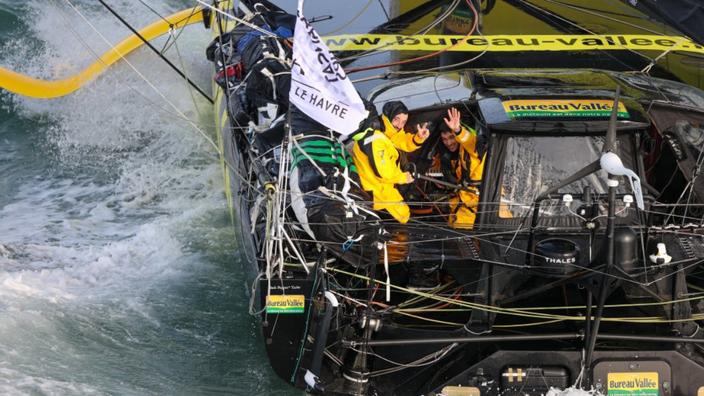 The race is already over for the Bureau Vallée 3 duo.
The sailors are doing well but their race is already over. Just ten hours after the start of the Transat Jacques Vabre, Louis Burton and Davy Beaudart dismasted aboard Valley Office 3 while they were in 2e position among the Imoca in La Manche. "Davy and I are safe and sound. We are well», Confided Louis Burton who is heading for Roscoff with his co-skipper. 3e in the last Vendée Globe, the Malouin took part in his first transatlantic race at the helm of his new boat Valley Office 3, the old L'Occitan in Provence of Armel Tripon launched in 2020 and bought after the round-the-world trip.
Read alsoLouis Burton: "Since my podium in the Vendée Globe, the other sailors say hello to me more"
Small tunes Ouessant, Apivia already ahead
François Gabart and Tom Laperche (SVR Lazartigue) are currently leading the fleet with a very short lead among Ultim maxi-trimarans who are struggling to move in light winds in front of Ushant. Thomas Coville and Thomas Rouxel (Sodebo Ultim 3) are 2nd (+0.5 thousand) ahead of Franck Cammas and Charles Caudrelier (Edmond de Rotshchild, + 1.8). Follow the duo Yves Le Blévec-Anthony Marchand (Actual Ultim 3, +2.1). Armel Le Cléac'h and Kevin Escoffier brought up the rear on Banque Populaire XI (+3.3). In Imoca, favorites Charlie Dalin and Paul Meilhat (Apivia) are already ten miles ahead of their pursuers (Enright-Bidegorry, Rouillard-Lagravière) off Roscoff.