Charles de Foucauld will be canonized on May 15, 2022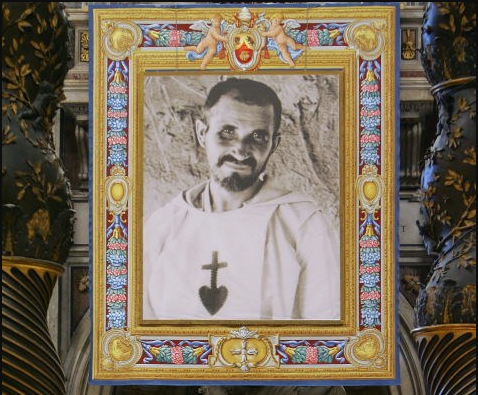 The French religious and famous hermit of the desert Charles de Foucauld, who died in 1916 in the Algerian Sahara, will be canonized on May 15, 2022 alongside six others "blessedThe Vatican announced Tuesday, November 9. In May, an ordinary consistory (meeting of cardinals) chaired by Pope Francis had confirmed that he would indeed be part of a group of seven "blessedTo be proclaimed saints. But faced with the uncertainties of the coronavirus pandemic, no date had been announced.
Read alsoBy what miracle will Charles de Foucauld become a saint?
The Argentine pontiff has decided that the ceremony will be held on May 15, 2022, the Vatican congregation for the cause of the saints announced in a statement. It should take place in St. Peter's Square in Rome, in the presence of faithful from all over the world.
Born September 15, 1858 in Strasbourg into a wealthy family, Viscount Charles-Eugène de Foucauld, an orphan at six, was brought up by his maternal grandfather, colonel of the French army. After studying at the Military School of Saint-Cyr, he led a dissolute life before devoting himself to an existence of faith and evangelization by example, first among the Trappist monks in Syria, in Palestine, then as a hermit among the Tuaregs in the Algerian Sahara at the beginning of the 20th century.
Murdered
Charles de Foucauld will become a reference in the knowledge of these nomads, writing in particular a "Tuareg-French dictionary, Ahaggar dialectWhich is still authoritative. He also left behind many writings, including letters to his relatives and "notebooksOf his daily reflections. He died assassinated in 1916 in Tamanrasset, in the desert south of Algeria.
His beatification process began in the 1930s and he was declared "blessedIn 2005 by Pope Benedict XVI. A second miracle recognized by the Vatican paved the way for his canonization: the unusual story of a young carpenter from Saumur who survived a fall of 15 meters in 2016 from which he emerged unharmed despite an abdomen pierced by the element of 'bench.
Among the seven future saints who will be canonized on the same day, also appears the French father César de Bus, founder of the congregation of the Fathers of Christian Doctrine, born February 3, 1544 in Cavaillon and died in Avignon on April 15, 1607. This priest Provençal worked for the revival of Christianity in the south of France by crossing the countryside, at a time troubled by the beginnings of the Protestant Reformation.