Chinese journalist risks revealing "unknown" concentration camps for Uighurs (video)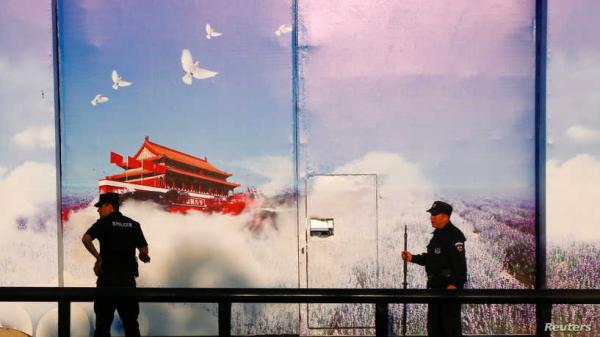 A brave Chinese journalist managed to uncover 18 detention centers for Uyghur Muslims in several Chinese cities in Xinjiang, the existence of which no one knew before now.
The journalist, who called himself Guan Guan, used a camera hidden in his backpack with which he was able to photograph the buildings and concentration camps of the ruling Communist Party in China.
Guan, a pseudonym, had visited the area two years ago and heard about the oppression of Uyghurs by putting them in notorious detention camps, banning their language in schools and using them as forced labour.
The activist journalist, based in Taiwan, decided to return to document what was happening on the ground after discovering that the Chinese authorities had prevented foreign journalists from conducting investigations.
Guan visited eight cities and discovered 18 camps during his highly perilous journey, including a huge detention center about 900 meters long, scrawled with abusive slogans including "Reform through Labour."
According to Guan, many of the detention camps were without distinguishing marks or images on Google Maps.
After pretending to be a tourist, Guan was able to photograph the barbed wire, guard towers, police checkpoints, army barracks, military vehicles, and signs on the walls and corridors inside the camps.
Guan posted the unprecedented footage, which he filmed defying China's lies, in a 19-minute video clip posted a few days ago on YouTube.
In the video, Guan indicated that the idea to go to Xinjiang came after he saw reports on BuzzFeed news website, which used satellite images to locate 268 detention complexes in the Chinese province that had been built since 2017.
He added that the only images published by the site were satellite images, and the buildings did not appear as they were.
While wandering through a neighborhood of Urumqi, the capital of Xinjiang, he noticed dozens of surveillance cameras hidden in trees on the sidewalk and detention centers, surrounded by metal fences and barbed wire.
In one of the clips he filmed, Guan appears confused and lying on his stomach on top of a hill overlooking a huge detention center surrounded by a concrete fence.
Guan admits that he "panicked" because he knew that discovery would eventually lead him to the same concentration camps he depicted.
The US State Department estimates that up to two million Uighurs and other ethnic minorities have been held in detention camps in Xinjiang since 2017. China says the camps are professional, aimed at combating terrorism and separatism, and has repeatedly denied accusations of human rights abuses in Xinjiang.
Even outside the camps, Uighurs live under constant surveillance, often unable to contact relatives outside Xinjiang.
The United States imposed sanctions on PRC officials responsible for violating the rights of Uighurs and others.
The US government has also banned goods made with forced labor in Xinjiang from entering the United States in an effort to deter the practice.