Clearing and destroying more than 289,000 Houthi mines in 4 years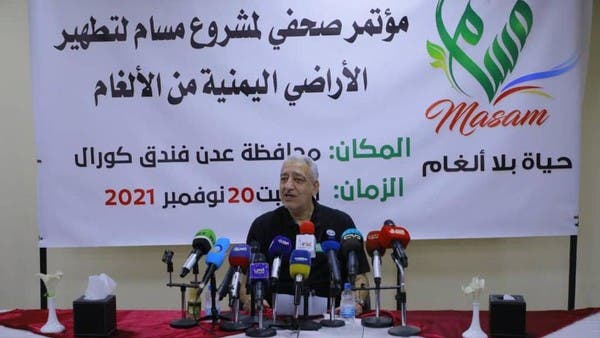 The Saudi project to clear mines in Yemen "Masam" announced that it was able to extract and destroy more than 289,000 mines during the period from July 2018 to November 19, 2021 AD, planted by the Iranian-backed Houthi militias in various Yemeni governorates.
The director of the "Masam" project, Osama Al-Gosaibi, said in a press conference, held on Saturday, in the temporary capital of Aden, that the project has been working in Yemen for the fourth year in a row, stressing that the project was able during the period from mid-July 2018 to November 19, 2021 AD to remove and destroy 97,187 anti-mechanical mines and 4,183 anti-personnel mines, as well as the removal of 181,562 non-explosive ammunition and 6,114 explosive devices.
Al-Gosaibi pointed out that the Masam project includes experts and workers with experience and efficiency and has mobile teams, rapid intervention, technical survey and removal teams located in the liberated governorates, pointing out that Masam project works in coordination and partnership with the National Demining Program, and has so far carried out 120 detonation operations of mine remnants.
He added, "The Houthi militias are planting new types of explosives that are different from the previous ones, and they have great risks and dire consequences due to the effects they leave behind, and the lack of coordinates and maps identifying areas where mines are located, old or new, and all of them constitute a real obstacle in the field."
He also stressed that the random planting and camouflaging of mines caused thousands of casualties, either dead or wounded.
The director of the Masam project pointed out that the project works with effort and funding from the Kingdom of Saudi Arabia with the aim of securing the lives of Yemenis, clearing their lands of mines, and enabling them to return to their homes and farms safely, away from the danger of mines and their tragic consequences.