Close results in German elections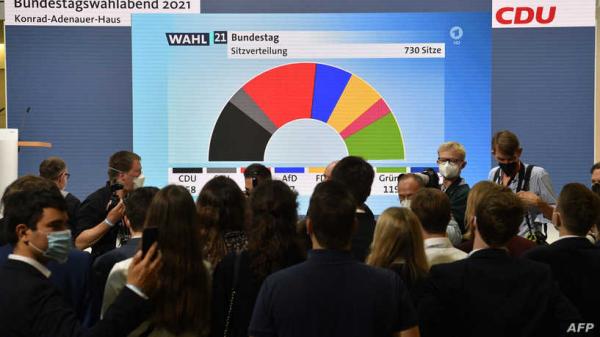 The Social Democrats and conservatives led by Angela Merkel achieved close results in the German legislative elections, according to the results of exit polls from the polling stations published by public television channels.
Polls on ZDF channel expected the Social Democrats led by Olaf Schultz to receive 26 percent of the vote, compared to 24 percent for the Christian Democratic Union led by Armin Laschet. cent.
For his part, the Social Democratic Party in Germany announced its progress in the general elections after the end of the voting process.
The German Social Democrats announced their ability to form a future government headed by Schulz.
German conservatives acknowledged "bitter losses" in the legislative elections.
According to the results of opinion polls, the Green Party won 14.5 percent, the Liberal Party 12 percent, the Alternative Party 10 percent, and the Left Party 5 percent.
Olaf Schulz, Germany's vice chancellor and finance minister, rose to the rank of favorite to take over the reins of power in Germany with a simple strategy: emerge as the real successor to Angela Merkel.
On Sunday, Germans voted in a heated election between the Social Democrats and conservatives to take over the power to succeed Chancellor Merkel, who decided to leave political life after ruling the country for 16 years.
The name of the next chancellor and the likely composition of his majority may not be known on Sunday evening.
In any case, protracted negotiations will ensue in the coming months to form the coalition that will rule the country, although this threatens to paralyze the European Union until the first semester of 2022.