compensation for victims will be financed by the sale of real estate or a loan, announces the episcopate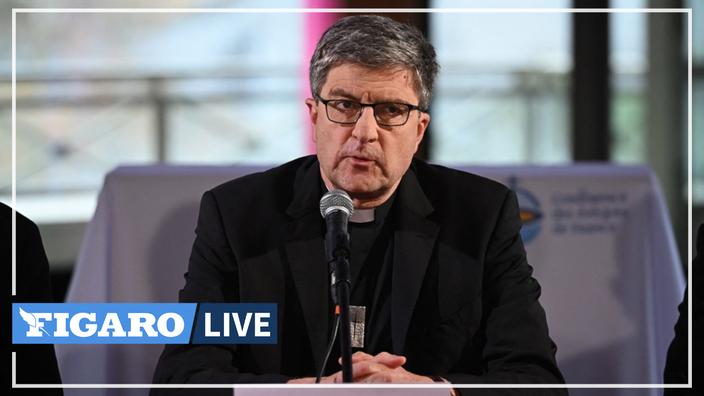 Monday, November 8, the Catholic bishops vote in camera resolutions constituting "a vast program of renewal (of) governance practices" in the Church of France, according to Bishop Eric de Moulins-Beaufort.
The bishops meeting in Lourdes decided on Monday to set up an independent national body for recognition and reparation, which will examine the claims of victims of sexual violence and will be headed by the lawyer Marie Derain de Vaucresson, announced Bishop de Moulins-Beaufort.
This is one of the resolutions adopted by the episcopate, unveiled by Eric de Moulins-Beaufort, the president of the Conference of Bishops of France (CEF), during a press conference in Lourdes. Ms. Derain de Vaucresson, former children's advocate, will constitute "his team as he pleases on the model of the Sauvé commission», He clarified.
Read alsoBishop Éric de Moulins-Beaufort: "This work of truth was necessary, we welcome it as a benefit"
He was speaking during the closing speech of the plenary assembly of the CEF in Lourdes, during which decisions taken on Friday and resolutions voted behind closed doors on Monday "mark a decisive step", He assured.
SEE ALSO – Pedocriminality in the Church: a lawyer will lead a "reparation" body
A series of working groups
Part of this meeting started last Tuesday was devoted to the follow-up to the report of the Independent Commission on Sexual Abuse in the Church (Ciase), chaired by Jean-Marc Sauvé, which revealed the extent of the pedocriminality in the Church. "We will transmit to the Holy Father, after having worked them a little, the recommendations of the Ciase, which concern the universal Church, in particular concerning canon law.", He also added.
Read alsoSexual abuse in the Church: in Lourdes, the poignant repentance of the episcopate
Without revealing the content of the resolutions passed, Eric de Moulins-Beaufort also announced that the CEF had "decided to set up a series of working groups responsible for reflecting on different aspects of our diocesan or national governance and for making concrete proposals to us». «These groups, led by a lay person», «report on their work ahead of each of our plenary assemblies», Added the Archbishop of Reims. According to him, the resolutions "constitute a vast program to renew our governance practicesIn the Church of France. The details of the resolutions must be announced at a press conference at 2:00 p.m.
Friday, under pressure from the Sauvé report and victims' associations, the 120 bishops recognized "the responsibility"Of the Catholic Church in the sexual crimes committed by priests and religious and their dimension"systemic"Since 1950. Bishop de Moulins-Beaufort then underlined that"this responsibility entails a duty of justice and reparation". Those last two words were not said on Monday in his closing speech. The content of a financial compensation system was one of the questions worked on by the bishops.
SEE ALSO – In Lourdes, the bishops want to "keep the memory" of victims of sexual abuse