Covid news – live: India says it needs 1.8 billion vaccine doses amid concerns over third wave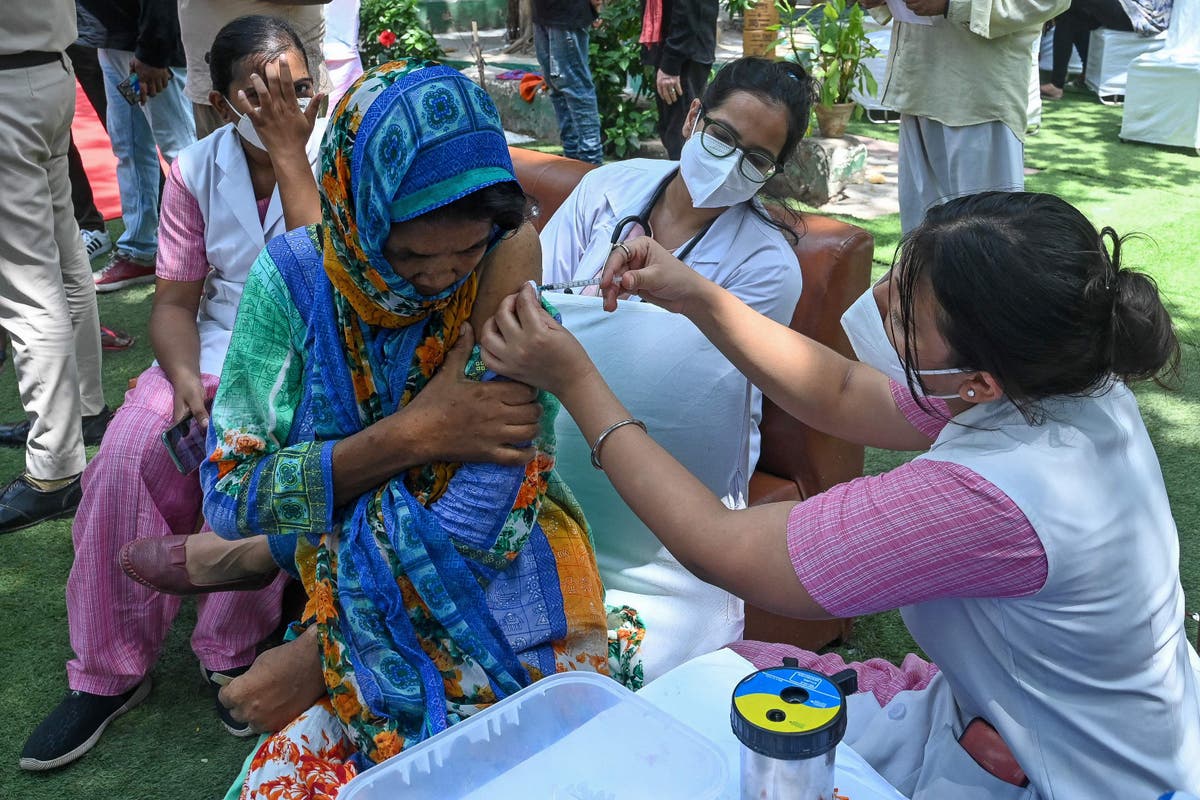 India has said that it needs 1.8 billion doses of Covid-19 vaccine to inoculate its entire adult population by the end of this year as promised, as concerns over a third wave of the pandemic mount.
It comes as the country reported 46,148 new Covid-19 infections in the 24 hours ending Monday morning, taking its overall tally to 30.27 million. Total fatalities are at 396,730 as deaths rose by almost a thousand (979) in the past 24 hours.
Even as cases in India are declining from a second wave peak of more than 415,000 daily cases, experts are warning of a third wave of the pandemic that could soon hit the country.
NK Arora, chairperson of India's Covid-19 working group, told news agency ANI that the government has a window of six to eight months before the third wave to inoculate the adult population. The Modi administration says it will ramp up vaccinations to regularly deliver 10 million doses a day soon, though so far it has only managed a maximum of 8.6 million in a single-day bumper effort.
Meanwhile, Australia's Covid-19 response committee will hold an emergency meeting on Monday as the Delta variant forced parts of the country to impose new restrictions. Around 70 per cent of Australia's population is now under some form of lockdown or restrictions amid an outbreak of cases of the Delta variant, according to Reuters.
1624857349
Gyms, yoga institutes to reopen from today in Delhi
Gyms and yoga institutes will be allowed to reopen with 50 per cent capacity in Delhi from today as Covid-19 restrictions ease in India's national capital. Weddings are also allowed, but the government has capped the number of guests at 50.
Delhi imposed a lockdown in April to curb the spread of Covid-19 and only began unlocking on 31 May as the number of cases declined. 89 new infections were reported on Sunday, and the positivity rate in Delhi is 0.12 per cent.
Akshita Jain28 June 2021 06:15
1624856569
India lays out plan to vaccinate all adults by 2022
The Indian government says it aims to have delivered 516 million doses of Covid-19 vaccines by 31 July, almost 30 per cent of the 1.8 billion doses required to inoculate the entire adult population.
The Modi administration has vowed to deliver two doses to every adult by the end of this year, meaning it must provide another 1.3 billion between 1 August and 31 December.
It says this will come from five manufacturers, including 500 million doses of Covishield — the Oxford-AstraZeneca vaccine produced by Serum Institute of India — and 400 million doses of Bharat Biotech's Covaxin.
But that still leaves a shortfall of some 400 million doses to come from other vaccines that are yet to even receive regulatory approval, from the likes of domestic manufacturers Biological E and Zydus Cadila.
Russia's Sputnik V is also being manufactured in India, but not yet on the very large scale required to meet the government's ambitious target.
Akshita Jain28 June 2021 06:02
1624853700
Good morning, and welcome to The Independent's coverage of the coronavirus pandemic for Monday 28 June, 2021.
Akshita Jain28 June 2021 05:15