Covid news live: Latest UK updates as future lockdowns not ruled out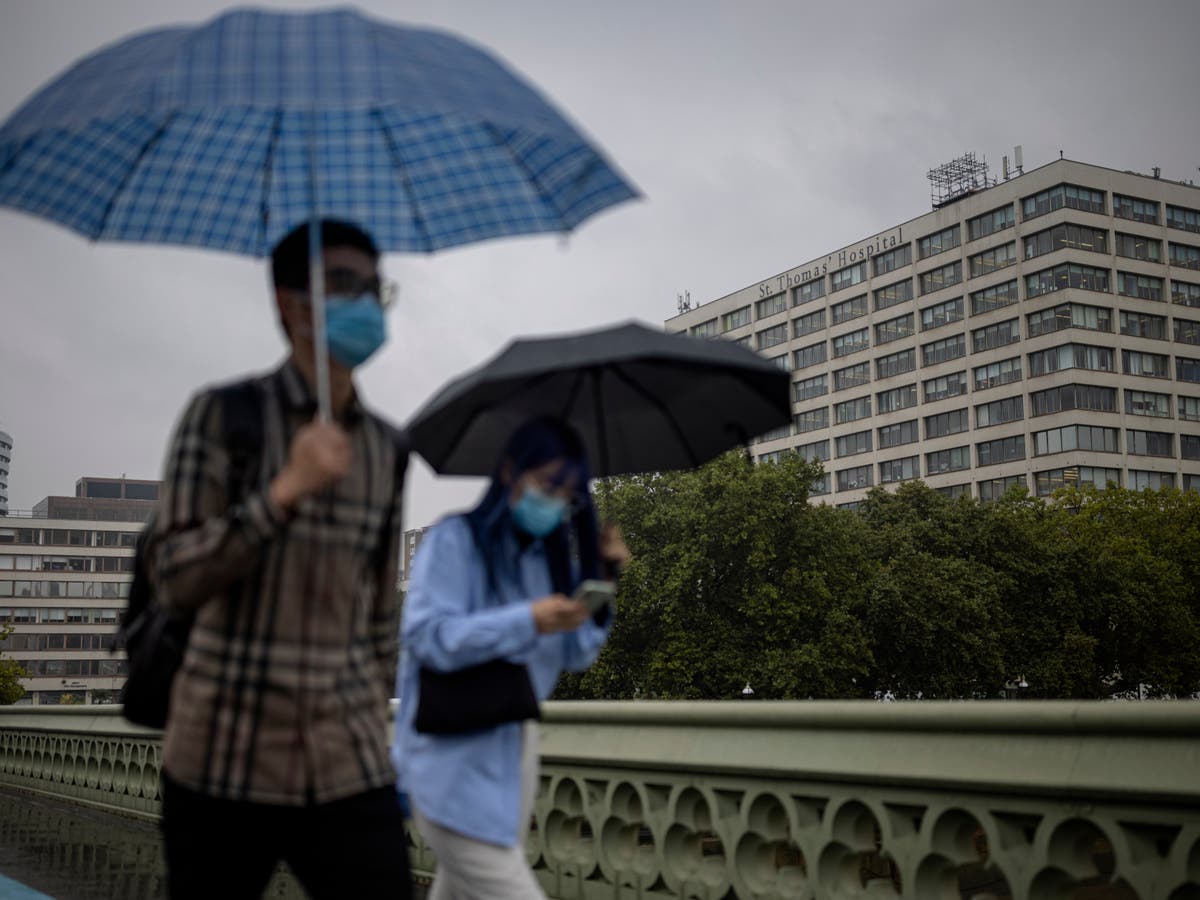 Health Secretary refuses to rule out another lockdown
Sajid Javid today refused to rule out the possibility of future lockdowns, telling the BBC it would be "irresponsible for any health minister in the world" to do so.
Asked if a winter shutdown was likely, Mr Javid acknowledged that no one "wants to see another lockdown" but said it would be careless for him "to say that this or that is 100 per cent ruled out".
"We always have to be vigilant but we have made huge gains in the last few months … and the plan yesterday we set out is a plan that will help protect those gains," he added.
It comes after Boris Johnson declined to rule out a face-mask mandate and vaccine passports as part of a "plan B" to tackle a potential infection surge this winter.
Elsewhere, data obtained through FoI requests by the PA news agency shows the Scottish government wasted a total of 4,448 doses of vaccine in the week ending 1 August, and a massive 34,026 between February and July.
The Scottish government said there are "several reasons a vaccine may not be administered before being discarded, and therefore 'wasted"', including issues with storage, expired doses and "specific clinical situations where there may be some dose loss".
1631711436
Is Sajid Javid safe in the PM's Cabinet reshuffle?
Our health correspondent Shaun Lintern questions the current health secretary's future in Boris Johnson's Cabinet reshuffle, which is happening now.
It comes as former education secretary Gavin Williamson became the first secretary of state to announce he had been sacked. He was shortly followed by Robert Buckland, who was removed as justice secretary.
Sam Hancock15 September 2021 14:10
1631709635
Thousands of Covid vaccine doses 'discarded' and going to waste – data
More than 4,400 doses of coronavirus vaccine were wasted in Scotland in one week, new figures have revealed.
Statistics published by the Scottish government under freedom of information requests showed that in the week ending 1 August, a total of 4,448 doses of vaccine were not administered. Between February and July the number totalled 34,026.
The Scottish government said there are "several reasons a vaccine may not be administered before being discarded, and therefore 'wasted"', including issues with storage, expired doses and "specific clinical situations where there may be some dose loss".
The figures covered all three of the coronavirus vaccines being given in Scotland – Pfizer, AstraZeneca and Moderna – with the total wasted amounting to 0.51 per cent of the 6,643,551 jabs given.
However the statistics do not include wastage of vaccines in GPs practices, as "GPs do not record this information".
The figures were released as the Scottish government continues to urge everyone who is eligible to get vaccinated against Covid-19.
From Monday this will include healthy children aged between 12 and 15, after the vaccine programme was expanded following advice from the UK's chief medical officers.
Sam Hancock15 September 2021 13:40
1631708823
DUP councillor who shared anti-vax messages dies from Covid
A former DUP mayor has died after a long stint in hospital due to coronavirus, with colleagues hailing him as one of the "genuinely nice guys in local politics".
Father-of-two Paul Hamill, 46, was a popular member of Antrim and Newtownabbey borough council, on which he served for seven years and was a councillor for when he passed away.
In a statement issued on Tuesday night, Antrim and Newtownabbey's current mayor Billy Webb confirmed "with great sadness" that Hamill "sadly lost his battle with Covid".
It was not immediately clear when, or how, the councillor contracted the virus though reports suggest he had been ill and in hospital "for some time".
A review of Hamill's social media presence appears to reveal he was sceptical about Covid-19, as well as the preventative measures and vaccines used to stem its spread.
Read our full report here:
Sam Hancock15 September 2021 13:27
1631707420
Green Party MP unimpressed with lack of mask wearing at PMQs
Green Party MP Caroline Lucas was decidedly unimpressed with the lack of mask wearing from Tory backbench MPs at PMQs today.
She tweeted: "The Tory backbenches for #PMQs, and not a mask in sight. But that's OK because the Health Secretary says you don't catch Covid from your friends."
The former leader of the party is referring to a comment by Sajid Javid earlier today that Tory MPs do not need to wear masks in the Commons because they are not "strangers".
After being shown a photo of Cabinet with ministers not wearing a face covering, he told Sky News: "They are not strangers. Conservative backbenchers, whether they are in Parliament, in the chamber itself or other meeting rooms – you have to take measures that are appropriate for the prevalence of Covid at the time," he said.
Joe Middleton15 September 2021 13:03
1631706239
Better prepared countries in Africa worst hit by Covid-19, study says
Countries in Africa rated as being better prepared for a pandemic were the worst hit by Covid-19, a study has suggested.
Nations in the World Health Organisation's (WHO) Africa Region assessed as having more resilient health systems and the least vulnerable to infectious disease had higher mortality rates and higher levels of restrictions imposed, the findings indicated.
The research, led by the University of Edinburgh and the WHO African Region body, offers "compelling results which challenge accepted views of epidemic preparedness and resilience in Africa", study authors say.
Findings show South Africa had the highest mortality rate during the first wave between May and August last year, at 33.3 deaths recorded per 100,000 people.
Uganda recorded the lowest mortality rate at 0.26 deaths recorded per 100,000, in the first wave.
Researchers from the NIHR Global Health Research Unit Tackling Infections to Benefit Africa (TIBA),an African-led programme at the University of Edinburgh, said the pandemic had highlighted "unanticipated vulnerabilities to infectious disease in Africa that should be taken into account in future pandemic preparedness planning."
Professor Mark Woolhouse, who co-led the study, said: "Our study shows very clearly that multiple factors influence the extent to which African countries are affected by Covid-19.
"These findings challenge our understanding of vulnerability to pandemics.
"Our results show that we should not equate high levels of preparedness and resilience with low vulnerability.
"That seemingly well-prepared, resilient countries have fared worst during the pandemic is not only true in Africa, the result is consistent with a global trend that more developed countries have often been particularly hard hit by Covid-19."
Joe Middleton15 September 2021 12:43
1631705105
More than 10,000 people have died of Covid-19 in Scotland
Data from the National Records of Scotland (NRS) shows that a total of 10,688 people have died in Scotland from coronavirus or suspected coronavirus.
The latest data shows 76 fatalities which mentioned Covid-19 on the death certificate were registered in the week from September 6-12, an increase of 18 on the previous week.
Of the latest deaths, 12 were people aged under 65 while 13 were of people aged 65-74, and 51 were aged 75 or older.
Glasgow City Council and North Lanarkshire had eight deaths each in that period, with seven deaths in South Lanarkshire, six deaths in Dundee City, and five deaths in City of Edinburgh.
The statistics are published weekly and cover all deaths registered in Scotland where Covid-19 was mentioned on the death certificate.
They differ from the lab-confirmed coronavirus deaths announced daily by the Scottish Government because the NRS figures include suspected or probable cases of Covid-19.
Joe Middleton15 September 2021 12:25
1631704164
JCVI concerned Covid booster decision 'political, not clinical'
The decision to roll out Covid booster jabs to millions of Britons has left the UK's vaccines watchdog divided, The Independent understands, with some members of the committee concerned that the policy has become politicised.
Following recommendations by the Joint Committee on Vaccination and Immunisation (JCVI), more than 30 million people are to be offered a third vaccine dose in the months ahead.
But the advice comes amid concerns within the wider scientific community that booster jabs are only required for select groups, such as the immunocompromised and clinically vulnerable, and do not need to be rolled out en masse.
"If the signal the government is trying to send is that a booster for over-50s – in the already vaccinated – can prevent the range of pressures on the NHS this winter, forcing some restrictions to contain infections, then that's simply wrong," one of the JCVI members said. The second JCVI figure said the basis for the programme appeared to be "political, not clinical" in nature.
Our science correspondent Samuel Lovett and economics editor Anna Isaac report:
Sam Hancock15 September 2021 12:09
1631702180
WHO criticises UK booster jab programme and calls for global approach
Global health leaders have urged the UK and other wealthy nations to adopt a worldwide approach to tackling coronavirus as they raised concerns about new and emerging variants.
Giving healthy adults in rich nations booster jabs and vaccinating children should not occur when there are millions of at-risk adults yet to receive a first dose, experts said.
It comes after the UK on Tuesday announced a booster programme would begin imminently for 30 million adults over 50 and health and care workers.
But Dr David Nabarro, World Health Organisation (WHO) special envoy for Covid-19, criticised the plan to give third vaccines to millions and first jabs to children aged 12 and over.
"I actually think that we should be using the scarce amounts of vaccine in the world today to make sure that everybody at risk, wherever they are, is protected – and you're at risk if you're a health worker, you're at risk if you've got diabetes or heart disease or immune suppression," he told Sky News. "So why don't we just get this vaccine to where it's needed?
He continued: "Now, some countries giving lots of vaccine and doing boosters and giving it to some children – I find that difficult because, from my point of view, as somebody who's responsible for world issues, I just can't distinguish between a person in the UK or a person in Uruguay who's at risk of the disease – I want to see the vaccine available to everybody … especially because this virus is constantly changing and new variants are emerging quite regularly."
Sam Hancock15 September 2021 11:36
1631701562
15 of your urgent Covid data travel questions answered
Ahead of the next traffic light travel announcements, Covid data expert Tim White has been analysing the latest information from genomic sequencing records held by Gisaid, the worldwide database, with a focus on variants of concern.
Then, during an 'Ask Me Anything' event, Tim spent time answering your most urgent queries when it comes to plans to travel abroad – which ranged from questions about holidaying in Thailand to concerns about getting married in Greece.
Below is the rundown of the top questions and answers from his online event:
Sam Hancock15 September 2021 11:26
1631701105
'Please get vaccinated,' says Tory MP
Tory MP Chris Philp urges people to "please get vaccinated if you haven't already done so", while sharing the story of an "unvaccinated friend's sister" who is at risk of dying.
Sam Hancock15 September 2021 11:18