Covid UK news — live: 'Pingdemic' u-turn as limited number of workers to skip self-isolation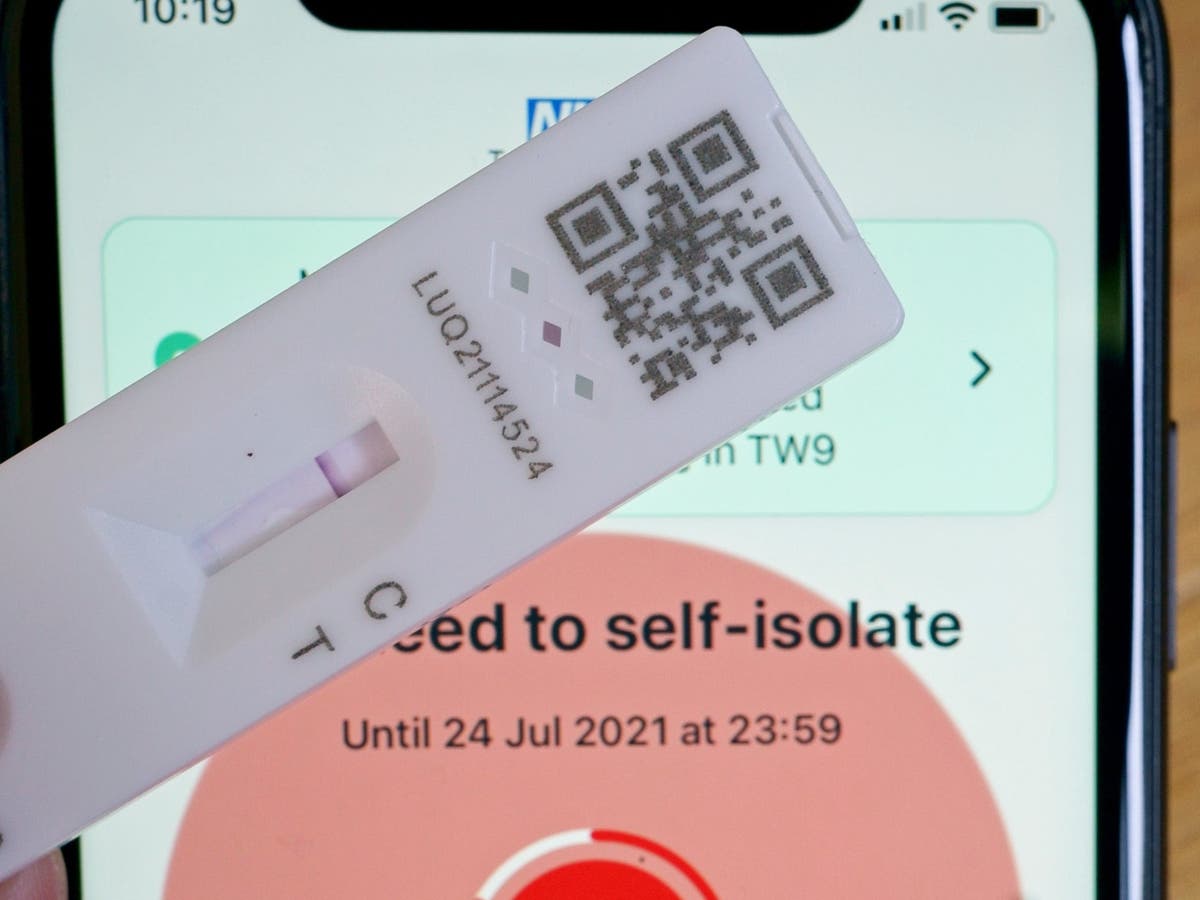 UK Covid-19 vaccinations: Latest figures
Public Health England data suggests that 1154.7 per 100,000 people among those aged 20 to 29 caught coronavirus between 12 and 18 July.
It came as supermarkets urged customers against panic buying in response to reports of empty shelves in shops due to issues around staff self-isolating, with food retailers insisting that gaps in supply will be temporary.
On Thursday, business secretary Kwasi Kwarteng said ministers were "very concerned" about the so-called "pingdemic" which has seen more than 600,000 people asked to self-isolate due to close contact with a coronavirus case in the past week alone.
Meanwhile, vaccines minister Nadhim Zahawi has laid out plans for a UK-wide NHS Covid pass which will allow people to show their Covid status, such as vaccination status or recent test results.
1626927036
Good morning, and welcome to The Independent's coverage of the coronavirus pandemic for Thursday 22 July, 2021.
Akshita Jain22 July 2021 05:10
1626930257
Over 4,200 deaths from black fungus reported in India
India's health minister Mansukh Mandaviya has informed the Parliament that a total of 45,432 cases of mucormycosis, or black fungus, were reported in the country till 15 July. Of these, 4,252 died due to the infection, he said.
At least 84 per cent of the black fungus patients were infected with Covid-19.
Mucormycosis is a rare but serious fungal infection that is caused by a group of molds called mucormycetes. It mostly affects individuals with low immunity or increased blood sugar level.
Akshita Jain22 July 2021 06:04
1626930949
Australia warns of further surge in cases despite lockdown
Authorities in Australia have warned that the number of Covid-19 cases in the country would see a spike and take a toll on the economy despite a lockdown in some states to curb the spread of the virus.
Cases have been increasing in Australia, driven by the Delta variant of Covid-19 which was first detected in India.
New South Wales reported 124 new infections on Thursday, a record for this year and the highest in 16 months. Victoria state logged 26 new cases.
Akshita Jain22 July 2021 06:15
1626933422
119,000 children in India lost primary caregiver due to Covid-19, says study
As many as 119,000 children in India and over 1 million globally lost their primary caregiver due to Covid-19 between 1 March, 2020 and 30 April this year, according to a new study published in The Lancet.
The Indian government had last month announced a number of schemes to support children who lost their parents to the virus. This included creating a corpus of Rs 10 lakh (£9,800) for each child when they reach the age of 18.
Akshita Jain22 July 2021 06:57
1626934336
Indian cricketer who tested Covid positive in UK recovers and joins team
The Indian cricketer who had tested positive for Covid-19 during the team's England tour has recovered from the virus.
Rishabh Pant has completed 10 days of isolation and has joined the Indian team in a "bio-bubble" in Durham, according to India Today.
India and England begin a five-match Test series starting 4 August.
Akshita Jain22 July 2021 07:12
1626936691
Government 'very concerned' by self-isolation chaos amid reports of staff shortages
Business secretary Kwasi Kwarteng has said that the government is "very concerned" about the situation around Covid self-isolation following reports of shortages on supermarket shelves.
Mr Kwarteng told Sky News on Thursday that a list of critical workers who would be eligible for looser isolation rules if alerted by the NHS Covid app would be drawn up "very soon".
"We're going to announce a list of exempt workers. The list of exemptions will be quite narrow because, obviously, you have to draw the line somewhere," the minister said.
However, Mr Kwarteng refused to be drawn on who would be on the list or whether it would be released this week.
You can find his comments in full below:
Conrad Duncan22 July 2021 07:51
1626937486
NHS app may no longer be useful for Covid contacts, leading epidemiologist says
The epidemiologist behind the popular ZOE Covid symptoms study has suggested that the NHS app for tracking close contacts of cases may no longer be useful and potentially should be stopped.
Professor Tim Spector told Sky News on Wednesday evening that staff should still stay at home if they have "cold-like symptoms" but the scientist did not think that "saying that someone might have passed them by in a supermarket is actually that useful anymore".
"It doesn't seem to be appropriate at the moment… it seems to be overkill," Professor Spector said.
He added that experts were looking at how many people who were "pinged" by the app went on to catch Covid but said he thought the research was likely to show that the app is "not effective and should be stopped".
"Money and tests could be spent better elsewhere, that's my gut feeling," he said.
Conrad Duncan22 July 2021 08:04
1626937804
Covid app 'pingdemic' blamed for empty supermarket shelves
A spike in the number of food supply workers being forced to self-isolate due to close contact with a Covid-19 case is being blamed for empty supermarket shelves this week.
Shoppers across the UK have been alarmed to find shelves and fridges empty following a surge in workers being alerted by the NHS Covid app.
Our reporter, Jane Dalton, has the full story below:
Conrad Duncan22 July 2021 08:10
1626938691
Food distribution company to move to testing system over self-isolation
A food distribution company struggling with staff shortages has advised workers who are "pinged" by the NHS app to follow a testing regime and continue working, instead of self-isolating.
"We know that they're critical workers as part of the food supply chain, so if people are obviously positive or contacted by Test and Trace then they will have to isolate," Bidfood chief executive Andrew Selley told BBC Radio 4's Today programme.
"If they are pinged we ask them to take a PCR test, if that's positive then clearly they'll isolate, but if it's negative we ask them to come back to work and we have a process of doing lateral flow tests daily away from their workplace, and if that's negative they can proceed with their work."
When told that this would be a breach of government advice, Mr Selley added: "We think that's appropriate and safe. The ping is advisory.
"We operate in Covid-safe workplaces and we're absolutely key workers in terms of the supply chain to hospitals, care homes, prisons, and therefore it's important for us to be able to keep offering that service to our customers."
Conrad Duncan22 July 2021 08:24
1626939453
Isolation rules for double-vaccinated Britons 'may not be lifted on 16 August'
A pledge to lift self-isolation rules for double-vaccinated people who are close contacts of a Covid case on 16 August may not go ahead, a minister has admitted.
Business secretary Kwasi Kwarteng said on Thursday morning that no final decision would be taken until a week before the date but he insisted that he was keeping his "fingers crossed" that the policy change would be introduced.
Our deputy political editor, Rob Merrick, has the full story below:
Conrad Duncan22 July 2021 08:37