Death of Christian Bobin, the author of the Very Low and the Ruins of Heaven, at 71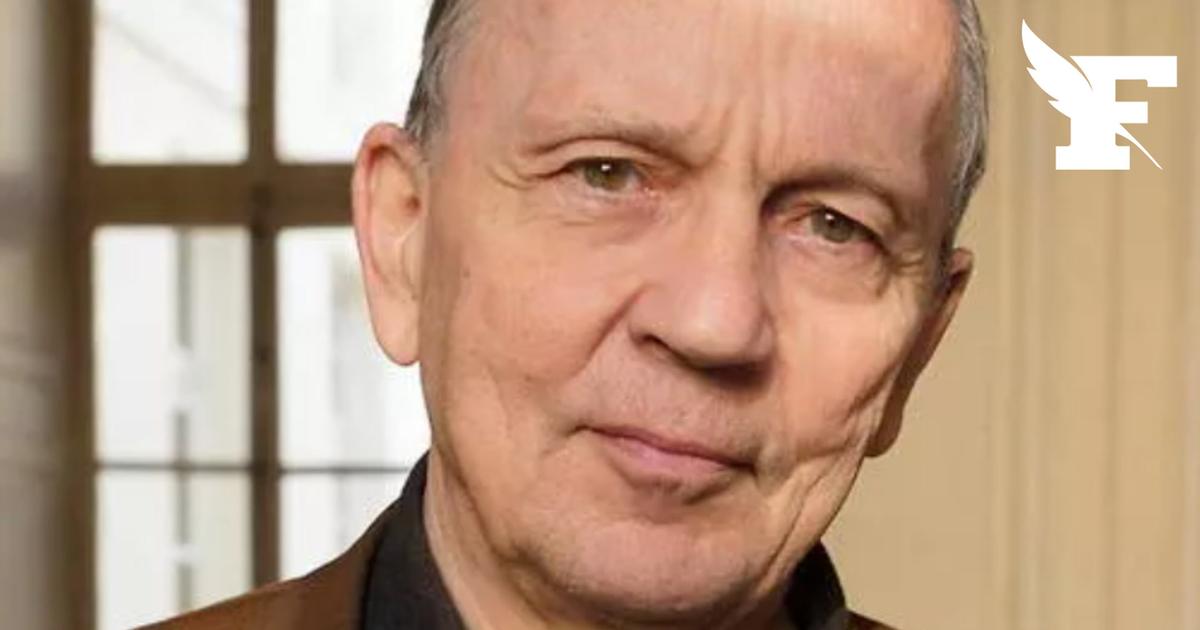 DISAPPEARANCE – Gallimard, his publisher, has just announced his death. The poet was a gold washer. All his life, he will have searched for gold in words, ruins, looks, poppies and the sky.
"My heart is ready, O God, my heart is ready" : Christian Bobin's work brings to mind Psalm 107 after five long decades of writing. The writer, essayist and poet, the most secretive of the literary world who had made himself known in particular with his book dedicated to Saint Francis of Assisi, The Most Low, died at 71 on Thursday, his publisher Gallimard announced on Friday morning. The writer, very attached to his native Creusot, had achieved a first coup by publishing in 1991 A little party dress. As noticed on the literary scene as on the sidelines of his social events, Christian Bobin had received in 2016 the prize of the French Academy for all of his work.
"I'm looking": everything Christian Bobin contained in this proposal that he was never tempted to return by proclaiming: "I'm not looking, I'm finding. » Thanks to Pascal, mentioned in particular in The Ruins of Heaven (2009), the writer measured how naive there was in this statement by Picasso. With Khawadja Abdallah al-Ansarî, poet of the eleventhe century, born in what is now Afghanistan, he knew the order of the world: "For everything, first we seek and then we find, whereas if it is a question of God, we find and then we seek. »
Read alsoAll quotes from Christian Bobin
The author of Very low (1992), a book dedicated to Francis of Assisi who had made him known to the general public, did not like to write the word "God" with a capital, as in the catechism books of the past. But he was still looking for this father with the unpronounced and unpronounceable name. "I'm looking for the god without a beard, the god without a god, without great music, without leather binding, without effects. The God of Nothing »he wrote, imposing on modernist priests the possibility of a transgressive ascent to divinity.
And he continued to search, some days in the sun, with a big smile, others in hardship and in the dark. " Growing up in the dark »he wrote about his childhood spent in Creusot, the mining town where he lived with his companion, the poet Lydie Dattas. "I've never seen paradise except against hell, in counterpoint, countermelody. Any light – of speech, of face or of matter – is an event for me, an accident which each time saves me. I know nothing of life except that it is, in the deep substance, almost unreachable, luminous, aerial. »
Like Arthur Rimbaud, Christian Bobin knew that "Spiritual warfare is as brutal as the battle of men". But he was wary of pain and dreaded misunderstandings. If he evoked one day the real presence of the hidden God of the nuns and the Gentlemen of Port-Royal, it will be through a treaty of smiles. "I don't really know why, the smile seems to me to be the most profound object of meditation possible. In this regard, I lean on the smiles of a few who have disappeared, which persists and keeps them out of the black waters. My father's smile, the smile of a young woman who passed away prematurely… Smiles, too, like you see emerging in cradles at the corner of the lips of newborn babies. In this treatise on the smile, I will develop something that I did not have the strength to develop, which would come out of confidence. All I could honestly tell you about God is that. It's trust. Not trust in something, not trust without an object, but trust in someone, in a presence. Going beyond that would seem immodest and a little risky. If you start shouting out loud what you love, if you say it too clearly, you kill it. »
Christian Bobin posted Red Lily of the Valleya smiling book, published at the same time as the large volume of the "Quarto" collection bringing together seventeen of his books written between 1980 and 2020, including one unpublished, Water of mirrors. In Red Lily of the Valley, he evoked Kafka, Dora Diamant, Nerval. And Pascal, as usual. At the beginning of a chapter, he copied a thought from Novalis. The writer rarely quoted his colleagues but he had a taste for the word author which hits its target like a dart. In Pierrehe had reproduced this sentence of André Dhôtel: "We should know that everything is forever away, otherwise it wouldn't be life. » Why André Dhôtel, whom we thought we knew only The country where we never arrive?"Because it's a kind of French Lao-tzu. His books are cluttered, they sometimes border on boredom, but it is a boredom that is necessary to achieve clarity. If I quote this sentence, raised in a falsely banal short story, an adventure where nothing happens, it is because it exploded under my nose. I could hardly explain it, but it seems inexhaustible to me. It is of the order of unforeseen flowers, which grow in the ruins, it allows us to understand that we are woven by invisible forces. he said.
As an epigraph of red lily of the valleywe can read this quote: "Mandelstam said that when he first heard the word 'progress' at the age of five, he burst into tears, sensing something untoward. » Christian Bobin was not a man of detestation, he was a "yes" writer, but we felt a growing hatred of the screens, things and machines that have colonized our lives. Thus he wrote:"The misnamed new technologies, whose name I seek from book to book, have taken the place of our dreams and little by little that of reality. What the false angels of Silicon Valley call an augmented reality is in truth a reviled reality, a wounded reality. I'm just someone who looks at the world and tries to say as closely as possible what he sees. I don't judge, I don't moralize. I try to look fresh and close. At times, what I see makes me think of the Bardo Thödol, a sacred text of the Tibetans devoted to the study of the days which follow the death of a person, not for those around him, but for himself. The deceased invaded by his own shadows must struggle with them to gain either a new life, if that fails, or the exhaustion of darkness and rest. The Bardo Thödol is a possible manual for understanding today. The images that haunt us all came out of ourselves, but they come back to us like shadows, with great strength, endowed with a strange autonomy. »
To the pocket mirrors that the devil uses to turn us away from ourselves, and from this other me, in each of us, deeper than ourselves, Christian Bobin contrasted the simplicity of a piece of granite or the beauty of a flowering tree. Inanimate objects may not have a soul. He had one, eminently deep.
SEE ALSO – Pascal Josephe, TV man, died at 68