Disagreements between Moscow and Tehran affect nuclear negotiations in Vienna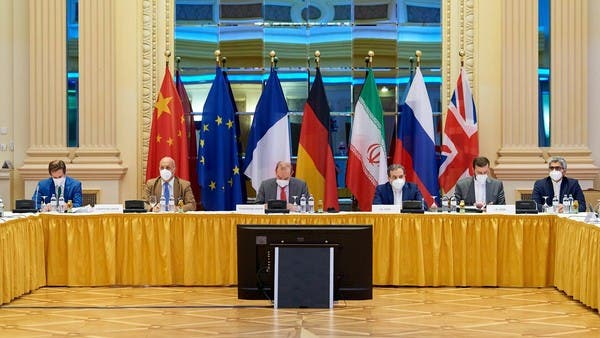 The British newspaper, The Independent, in its Persian version, revealed, on Monday, serious differences between Tehran and Moscow that would affect the progress of the nuclear negotiations in Vienna, whose seventh round is expected to begin next week.
A well-informed Russian source told the newspaper, whose identity was not revealed, that "the Russians are warning Iran not to pay the costs of the Bushehr power plant located in the south of the country," adding: "The serious differences between Tehran and Moscow are affecting the Vienna talks."
The nuclear crisis continues
Russian officials recently cracked down on Iran officials in several meetings, and warned not to pay for the Bushehr plant, according to the newspaper's report.
The Russian source explained, "The dispute may affect the nuclear talks in Vienna," noting that some in Russia expect Iran to show more flexibility in Vienna, especially "that US President Joe Biden clearly wants to return to the nuclear agreement, and that the continuation of the current nuclear crisis is his Economic consequences for Russia and for Moscow's relations with Washington."
The source pointed to Moscow's stubbornness in its new position regarding the conditions of the Syrian civil war and the economic competition between Iran and Russia in that country, and the recent meeting between Biden and Russian President Vladimir Putin in Geneva.
On the other hand, the head of the Atomic Energy Organization, Ali Akbar Salehi, said in an interview with the Iranian "Khaneh Mellat" news agency, on Sunday, that the slowdown in the construction and completion of the second and third Bushehr plants is due to financial problems.
1000 megawatts of nuclear power
Salehi added: "To solve this problem, we will submit proposals to the government's economic committee, and in case of approval, the completion work will be facilitated."
Salehi explained that the Bushehr power plant currently generates 1,000 megawatts of nuclear energy, which will rise to 3,000 megawatts with the completion of power stations 2 and 3, noting that "the completion of the construction of the two stations will take another five years."
Regarding the possibility of repaying Russian debts, Salehi said, "An order was issued to expedite the repayment of debts amounting to 500 million euros to Russia."