Discussions between Washington and Baghdad on the US military presence in Iraq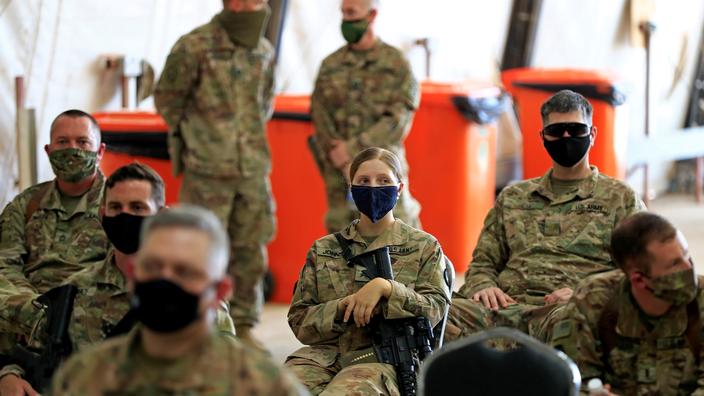 An Iraqi delegation began Thursday July 22 in Washington discussions on the US military presence in Iraq, before a meeting of Iraqi Prime Minister Moustafa al-Kazimi with President Joe Biden Monday at the White House. Pentagon chief international affairs officer Mara Karlin received a delegation led by Iraqi national security adviser Qassem al-Araji to discuss "Long-term military cooperation" between the two countries, Pentagon spokesman John Kirby said in a statement.
Read also :US threatens to leave Iraq
Defense Minister Lloyd Austin joined discussions to "Reaffirm your commitment" to continue the fight against the Islamic State (IS) group, added the spokesperson. While around fifty rocket or trapped drone attacks have been perpetrated against American interests (embassy, ​​military bases) since the start of the year in Iraq, Lloyd Austin underlined "The need for the United States and the coalition to be able to help the Iraqi army in complete safety".
Discussions will continue on Friday, in particular on the mission of the American soldiers deployed on Iraqi soil, while Iraq is caught in pincers between its American ally and its powerful Iranian neighbor, who engage in a regular confrontation on its soil.
Read also :The United States is reducing its military presence in the Middle East
Last week, Mr. al-Kazimi in Baghdad spoke about the future "Withdrawal of combat forces from Iraq" with White House envoy Brett McGurk. But on Thursday, US Presidency spokeswoman Jen Psaki pointed out that the Iraqi government "Hopes that the United States and the coalition will continue to train and help its army, to provide logistical support (and) to share their information ".
The strategic dialogue between Baghdad and Washington should give rise to a timetable for the withdrawal of the international coalition that came to fight the jihadist group Islamic State (IS) in 2014. Some 3,500 foreign soldiers are still on Iraqi territory, including 2,500 Americans, but the implementation of their withdrawal could take years.