eight patients in intensive care transported from Tahiti to mainland France, a world first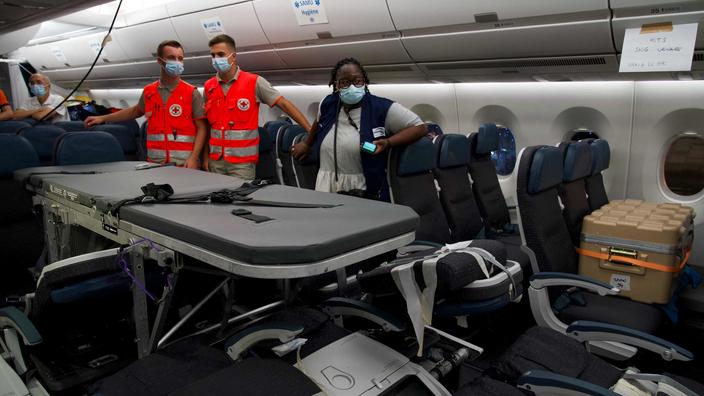 Thirty-five caregivers and two tonnes of medical equipment travel with the patients, all of whom are kept in an artificial coma. An unprecedented operation over such a distance.
Eight Polynesian patients placed in intensive care after severe forms of Covid-19 took off Friday shortly before midnight from Tahiti (Saturday noon in Paris) and must arrive in the day Sunday in mainland France, a medical evacuation over an unprecedented distance, noted a AFP journalist.
Read alsoCovid-19: Are baby hospitalizations in Nice worrying?
«Over such a distance and with so many patients, it's a world first», Declared to AFP the doctor François Braun, president of the SAMU Urgences of France and coordinator of this operation. Thirty-five caregivers and two tonnes of medical equipment travel with the patients, all of whom are kept in an artificial coma. "It is an aircraft that is totally transformed to make it a resuscitation service and provide a level of care comparable to what we would find on the ground», Explained Dr Arnaud Derossi, regional medical director in Europe of the company International SOS, which organizes this medical evacuation.
It takes 12 hours for the Air Caraïbes A350 to reach Pointe-à-Pitre, then 8 hours to arrive in Paris. The stopover in Guadeloupe is necessary to replace the 18 cylinders containing nearly 60,000 liters of oxygen. With 593 deaths per 280,000 inhabitants, three quarters of which in the last six weeks, Polynesia is one of the French territories hardest hit by the epidemic at present. Hospitalizations have declined in recent days, but resuscitation remains "under high tension»According to the hospital center.
SEE ALSO – French Polynesia notes "a drop in hospitalizations" linked to the Covid-19 epidemic
"Essential for the survival of others"
«What we do here is essential for the survival of others», Declared Polynesian President Edouard Fritch at the departure of the plane. At his side, High Commissioner Dominique Sorain confirmed that this theft was "a way to alleviate the pressure on the hospital". According to Dr Braun, in Polynesia "this will make it possible to take charge of patients who are awaiting resuscitation"Or suffering from pathologies unrelated to Covid. One by one, throughout the evening, the patients were brought by ambulance, hoisted onto a covered platform at the level of the plane, then transported by human arms on the stretchers pre-installed in the A350.
Read alsoCovid-19: 50 million primary vaccines … And still how many French people to convince?
Nearly 130 patients have been evacuated by wide-body aircraft from overseas territories to the metropolis in recent weeks, according to International SOS: twelve flights from the West Indies, and one from Reunion. These islands are however much closer to the metropolis than French Polynesia. This flight is funded by the Ministry of Health, to the tune of 700,000 euros for air transport.