El Salvador: Bukele to surround cities in drug war – 11/24/2022 – World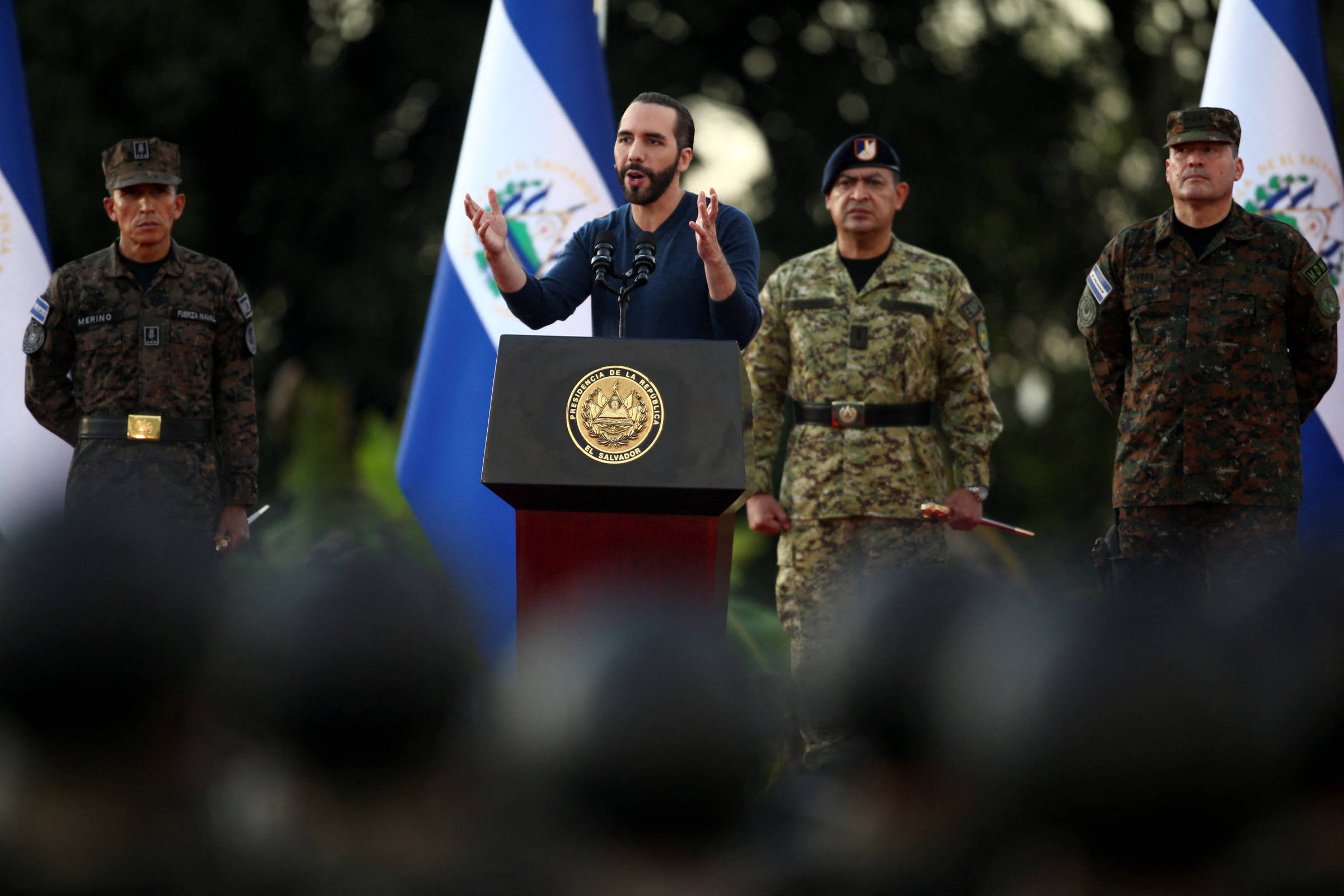 The president of El Salvador, Nayib Bukele, announced this Wednesday (23) that he will promote a kind of security cordon in different cities, mobilizing police and military, in order to surround and arrest gang members.
This war on drugs led by the populist leader in the country, which takes place amid an authoritarian shift, has already arrested more than 58,000 people, also accumulating a series of accusations of human rights violations —mainly arbitrary arrests and suppression of the right to defense.
Bukele made the announcement at the graduation ceremony for 14,000 soldiers, in a field adjacent to a barracks in the town of San Juan Opico, 35 kilometers from San Salvador. "What we are going to do in practice is to surround big cities and take out terrorists who are hiding there, without giving them the possibility to escape," he said, using his definition for suspected gang links.
He did not reveal, "for security reasons", the name of the municipalities where these operations will be carried out, but he stated that they will take place "in the next few days", without specifying a date. A force of at least 200 police will be deployed to join the 20,000 military already deployed.
According to Bukele, the proposal is based on the success that would have been seen in a similar action last month in Comasagua, a town of 12,000 inhabitants 30 kilometers south of the capital. On that occasion, after a homicide, a police siege allowed, according to the government version, to dismantle a cell of the Mara Salvatrucha gang, known by the acronym MS-13.
The idea is to intercept criminals and identify accomplices "who supply them with weapons, ammunition, food, cell phones and everything else they use to frighten the population," said the president. Without presenting data, he said that Salvadorans approve of this type of measure and ask for operations of the type.
The sieges will be the fifth phase of a government security plan called Territorial Control, which was reinforced with a state of emergency decreed on March 27, in response to an escalation of violence that ended with 87 murders in one weekend.
Since then, the exceptional regime, which allows, among other things, arrests without a court order, limitations on meetings and restrictions on telecommunications, has been extended by the unicameral Congress —largely dominated by Bukele, as well as the judiciary. Last time, parliamentarians extended the measure until mid-December.
Before March, statistics showed 16,000 gang members in prisons, most linked to MS-13 and its rivals in Barrio 18 and two related factions, Southerners and Revolutionaries. Since then, according to the government, in more than 200 days there have been no homicides attributed to these groups.
The state of emergency is questioned by international organizations, which point to a series of human rights violations, inside and outside prisons. The government even ordered the construction of a prison for 40,000 gang members in Tecoluca.
Since the beginning of the state of emergency, arbitrary arrests have been the most frequent complaint of human rights violations in El Salvador. Of the complaints received by the organization Cristosal, they are present in 97.4%; torture and ill-treatment, at 12.1%. Until June, the entity counted 54 dead in state custody in penal centers or hospitals.
As shown to Sheetbillboards indicate the number that Salvadorans should call if they want to report a pandilheiro, as these members of criminal groups are called.
Bukele, elected in 2019 on an anti-establishment platform and promising a hard-line policy against crime, has already invaded the Assembly with the military, dismissed judges and harassed journalists. Still, its popular approval is among the highest in the region.
In May, the newspaper El Faro revealed audio recordings showing negotiations between a member of the government and MS-13 criminals —the wave of violence in March allegedly occurred because of the end of a pact. The government's response was more repression.