Elisabeth Borne passes her oral in front of the mayors with "humility"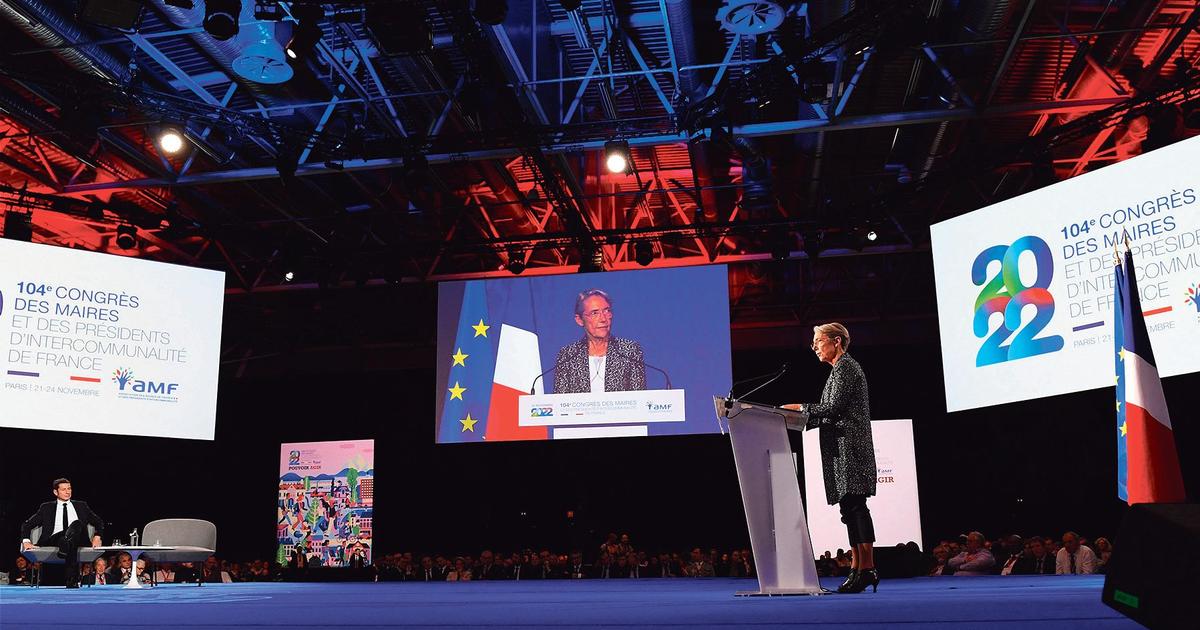 The Prime Minister tried to reassure the city councilors, gathered for their 104th Annual Congress.
Unlike her last six predecessors, Elisabeth Borne has never been mayor. Therefore, his concluding speech at the 104e Congress of Mayors could be likened to a great oral. Especially since this public, which has very few macronists in its ranks, is deemed to be demanding.
This year, the Head of State preferred a wandering in the heart of the show rather than a presentation in front of town councilors worried about the consequences of inflation on the budget of their municipalities. Charge to its Prime Minister to reassure them. She spared no effort to achieve this. "I stand before you with humility"she launched Thursday, in a much less formal speech than usual. "I want to be sure that we understand the problems in all their dimensions. Hence these sometimes impromptu calls and exchanges, sometimes until late hours.she apologized to the heads of associations of elected officials.
Read alsoViolence, inflation, energy… The great malaise of mayors
The latter obtained the questioning of the mechanisms which limit the expenditure of the communities since 2018. "I know how much the device which forced you to moderate your expenses may have seemed useless or even vexatious"conceded Elisabeth Borne when discussing the "Cahors contracts" initiated in 2018.
A statement greeted with applause. A new device was to see the light of day, provoking the fury of the elected officials. "Our intention is not to maintain a sanction mechanism"affirmed the head of government who promises to "find a way" with parliamentarians and his audience of the day to find new common ground. And to turn to the boss of the Association of Mayors of France (AMF), also a member of the Republicans: «Cher David LisnardI know how attached you are to ensuring that we have a credible public finance trajectory."
"I prefer action to slogans"
In an attempt to extinguish the recriminations, Élisabeth Borne warned: "We don't redo each other. Basically, I probably remained an engineer. I prefer action to slogans, facts to polemics." Faced with soaring energy prices, putting elected officials in the breach, she announced a simplification of government aid schemes. "Dialogue with a mayor is also a lesson in humility, because we can see that there is sometimes a significant step between our political intentions and their concrete application", she said, while these elected officials are often suspicious of the way the executive looks at them. The Prime Minister insisted: "95% of municipalities will see their overall operating grant (DGF) stabilize or increase", in particular thanks to the 320 million euros released by the State. Although the mayors claim that their DGF strictly aligns with inflation.
Read alsoOne in three mayors victim of threats or insults
Ecological transition, artificialization of the soil, safety of elected officials, assessment of the latest laws relating to decentralization, reaffirmation of the mayor-prefect couple, new impetus given to the Action heart of the city plan… Élisabeth Borne listed the many issues on which the dialogue will continue with the aediles. "To be mayor is to be at the helm, every day of the year, at any time of the day and night (…) It is to move forward in a future, sometimes uncertain, by making sometimes difficult choices", she noted. While sliding, the air of nothing: "Basically, our job descriptions are alike!"
SEE ALSO – Follow Élisabeth Borne's speech live at the Congress of Mayors of France