EU tightens visa granting for Belarusian officials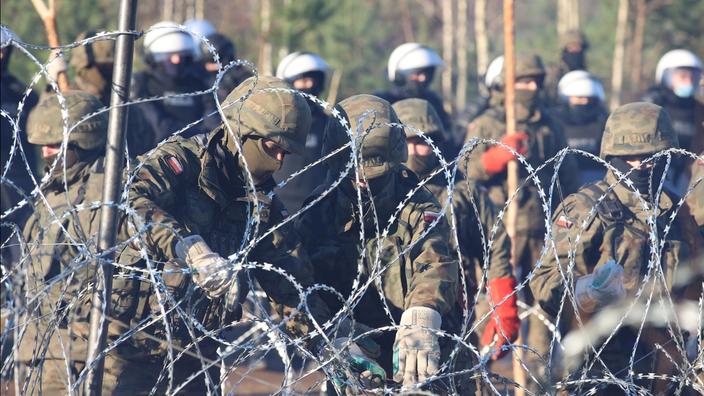 The European Union on Tuesday (November 9th) suspended provisions aimed at facilitating the issuance of visas for officials of the Belarusian regime, in reaction to "hybrid attackLaunched by Minsk, accused of organizing an influx of migrants to the borders of the EU. This decision of the Twenty-Seven endorses a proposal submitted by the European Commission at the end of September. It comes as tension mounts on the border with Poland, which is blocking the passage of groups of migrants from Belarus and has deployed thousands of troops, and as the EU considers further sanctions against the country. regime of Alexander Lukashenko.
Read alsoPoland barricades its border with Belarus
The measure approved on Tuesday "will not affect"Belarusian citizens"ordinary people, who will continue to enjoy, under the agreement to facilitate the issuance of visas, the same advantages they currently enjoy», States a press release from the Council, an institution representing the Member States.
«We strongly condemn and reject the further instrumentalization of migration by the Belarusian regime. It is unacceptable that Belarus is playing with the lives of human beings for political endsSaid Slovenian Interior Minister Ales Hojs, whose country holds the rotating EU presidency. "Today's decision once again demonstrates our shared desire to continue fighting this ongoing hybrid attack.", he added.
Economic sanctions since the end of June
The provisions facilitating the issuance of visas, in particular as regards supporting documents and reduction of rights, are suspended for members of official Belarusian delegations, members of national and regional governments and parliaments as well as of the Supreme and Constitutional Courts "in the performance of their duties».
The EU accuses Minsk of having orchestrated since June the transit of migrants to the EU, through Lithuania, Latvia and Poland, in retaliation for the sanctions imposed by the EU following the crackdown on the opposition in Belarus. European Commission President Ursula von der Leyen on Monday called on member states to approve new sanctions against Belarusian authorities and consider action against airlines that bring migrants to Belarus.
The new sanctions are to be discussed at a meeting of foreign ministers on Monday. The first economic sanctions adopted at the end of June hit the key sectors of potash, oil and tobacco. Individual EU sanctions against Belarusian regime officials currently target 166 people, including President Lukashenko and two of his sons.