EU 'will not repeat the mistake' of latest financial crisis, says Ursula von der Leyen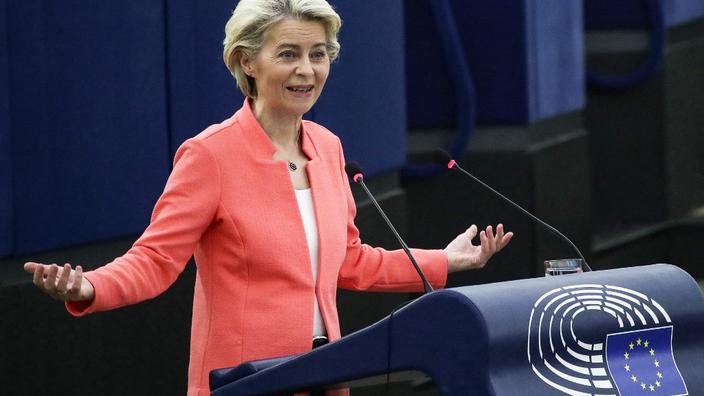 The President of the European Commission confirmed in her State of the Union speech the forthcoming opening of a debate on the reform of budgetary rules.
Drawing on the lessons learned from the previous crisis, Ursula von der Leyen wishes not to rush the return to budgetary austerity, enshrined in the EU's stability pact which was put on hold to help European economies overcome the health crisis .
«The lessons of the financial crisis could serve as a warning. Back then, we declared victory too early and paid the price. We will not repeat this mistake», Declared Ursula von der Leyen, President of the European Commission, to the European Parliament in her State of the Union address.
Read alsoThe German right defies France on budgetary austerity in Europe
She confirmed the forthcoming opening of a debate on the reform of European budgetary rules which should lead to their relaxation. "The committee will relaunch the debate on the review of economic governance in the coming weeks.»
Scheduled before the pandemic, this debate on a reform of the stability pact, which limits public deficits to 3% and debt to 60% of gross domestic product (GDP), had been suspended because of the crisis. "The aim is to reach consensus on the way forward well before 2023», A précisé Ursula von der Leyen.
The year 2023 is the date foreseen by the Commission for the restoration of the stability pact put on hold by the health crisis. The debate for a reform of the pact will therefore have to be completed before this date.
Exclude green investments from the deficit
The uneven impact of the economic shock on the economies of EU members favors a revision of the Stability Pact. What Ursula von der Leyen underlined: "We need to think about how the crisis has affected the state of our economy, from the increase in debt, to the uneven impact on different industries».
The shock hit the southern countries much harder, the most indebted, which live more on tourism-related services, the first victims of health restrictions. Greece's debt ratio has once again exceeded 200% of GDP, that of Italy is close to 160%, against nearly 120% for Spain and France.
But it is the whole of Europe that has suffered. The fall in activity, combined with government spending to protect businesses and jobs, has caused large deficits. The public debt ratio of the 19 countries sharing the single currency reached for the first time in 2020 the symbolic threshold of 100% of GDP, against 86% in 2019.
Commission Vice-President Valdis Dombrovskis said on Saturday, after a meeting of EU finance ministers in Slovenia, that among the avenues for reform to be discussed was the possibility of excluding green investments from the calculation of public deficits or even the reduction of the rate of budgetary consolidation planned in the event of excessive debt.