Euro 2020 live: England vs Scotland latest news and day eight fixtures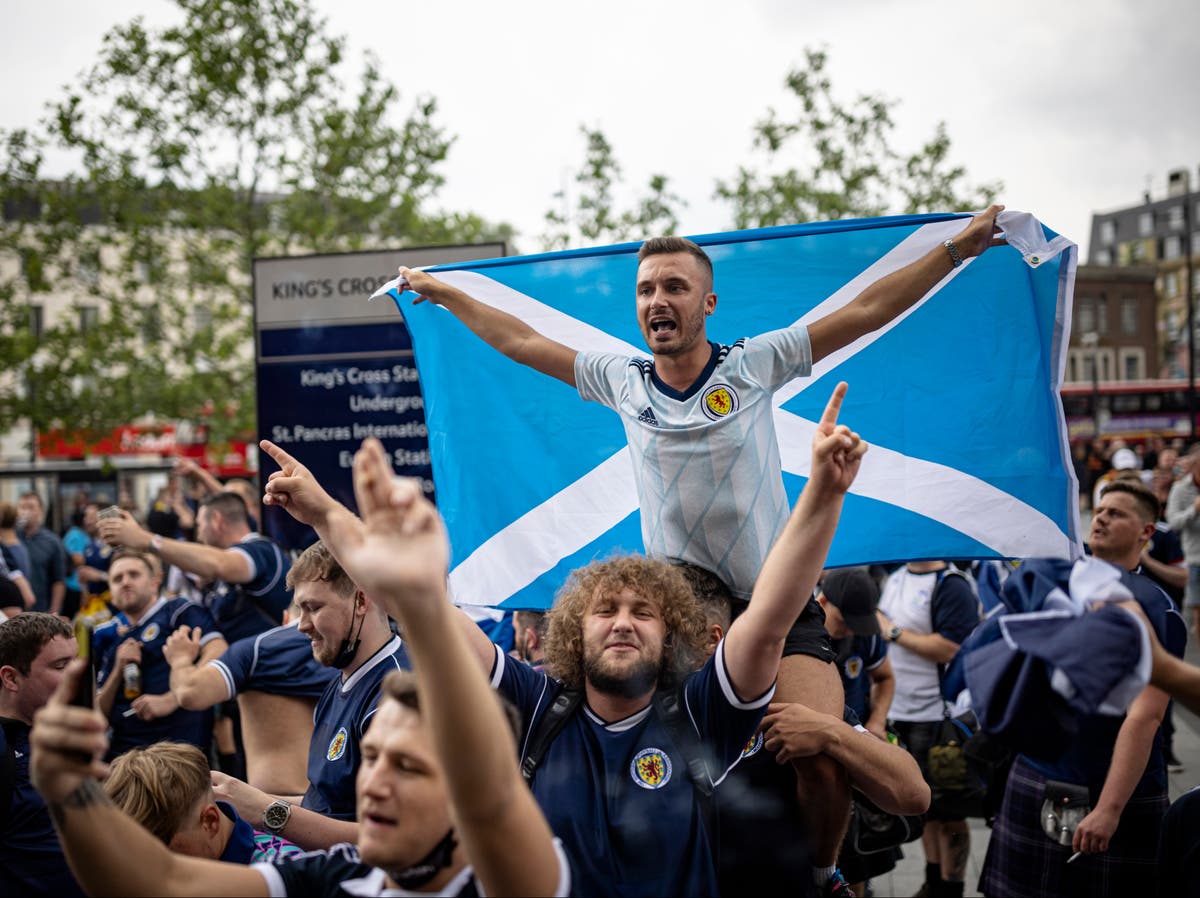 Related video: Uri Geller vows to use his 'powers' to help Scotland in tonight's clash
Euro 2020 arrives at match day eight on Friday as England take on Scotland at Wembley in one of the group stage's most eagerly-anticipated games, conjuring fond memories of Euro 96 and Gazza's wonder goal.
Scotland's fans are currently congregating in central London and are in fine voice, Steve Clarke's Tartan Army taking over Hyde Park on Thursday and gathering in Trafalgar Square, Leicester Square and Piccadilly Circus on Friday to belt out "Yes Sir, I Can Boogie" for all they're worth.
The kilted masses are waiting for the evening match, before which we have Sweden versus Slovakia from St Petersburg (2pm GMT) and Croatia versus Czech Republic from Hampden Park in Glasgow (5pm), giving the tournament its second look at the impressive Patrik Schick after his worldy stunned the Scots on Monday.
Thursday's action saw a brave Denmark go down 2-1 to Belgium after a blistering start as Kevin De Bruyne emerged from the bench to take charge while Ukraine beat North Macedonia 2-1 and the Netherlands saw off Austria 2-0 in a routine win in Group C.
1624028100
Scotland fans chanting on the Tube
Sweden have beaten Slovakia 1-0 thanks to an Emil Forsberg penalty in what was a pretty dismal game, truth be told.
That's four points for the Swedes though, which should be enough to see them progress. Slovakia are still in it too, although they'd be well advised not to lose to Spain in their final game.
Meanwhile, in London, the Scots are still hard at it…
Watch: Scotland fans chant in London tube stations ahead of England Euro 2020 clash
Scotland fans filled London tube stations with song as they arrived for their side's Euro 2020 clash against England at Wembley.Groups of boisterous supporters draped in Scotland flags were filmed belting out the football chant "We've Got McGinn" on the escalator at Leicester Square station and at King's Cross.The Tartan Army brandish beer bottles and an umbrella and appear drenched thanks to the lousy weather in London on Friday.The Scotland-England group match kicks off at 8pm. The tournament has so far seen England beat Croatia and Scotland lose to Czech Republic.
Joe Sommerlad18 June 2021 15:55
1624026631
Spain's goalless frustration fuels an 'eternal discussion'
Luis Enrique's boys will be looking to get their tournament off the ground tomorrow night when they take on Poland, who also need a win after losing their first match to Slovakia.
Miguel Delaney ponders the Spaniards search for a goalscorer after Alvaro Morata disappointed against Sweden.
Joe Sommerlad18 June 2021 15:30
1624024831
Follow the second-half of Sweden vs Slovakia live
If you're feeling brave, Andrew Gamble has another 45 minutes of "action" for you live from St Petersburg, where Sweden are continuing to grind Slovakia down, just as they did Spain.
Maybe Marek Hamsik can pull something out of the bag.
Joe Sommerlad18 June 2021 15:00
1624024231
Netherlands can beat anyone after topping group, De Boer claims
We're still 0-0 in Russia and, let me tell you, it is every bit as tedious as you might have feared.
Turning our attention to happier thoughts, Dutch manager Frank de Boer is giving it the big one after his side's leisurely win over Austria, flirting with hubris by claiming the Netherlands can beat anyone they come up against.
His side will meet one of the best third-placed teams in the last 16 in Budapest on 27 June after securing their place last night.
"I don't want to talk about favourites. We have to do our best and I know at our best we can beat everybody," De Boer said.
"But I think other teams are thinking the same, so let's go from game to game and then we will see where it ends."
Joe Sommerlad18 June 2021 14:50
1624023031
Welsh government in talks over Euro 2020 fan zones
As questions begin to be asked about what a worsening of England's coronavirus third wave would mean for the tournament, the picture is very different in Wales, where first minister Mark Drakeford is considering allowing open-air fan zones as supporters clamour to cheer on Gareth Bale and friends following their superb victory over Turkey on Wednesday.
Matt Mathers has this report.
Joe Sommerlad18 June 2021 14:30
1624021523
Scotland fans take over central London
We're underway inside the Gazprom Arena in St Petersburg as Sweden take on the Slovaks.
Meanwhile, the Tartan Army are in fine voice in the English capital, taking over Hyde Park last night and getting up to all manner of hijinks in Piccadilly Circus and Leicester Square this morning.
…while these lads added fairy liquid to a fountain in order to create more bubbles, which is rather sweet really.
Here they are singing Baccara's 1970s hit "Yes Sir, I Can Boogie", the team's unofficial anthem, at King's Cross fresh off the train on Thursday.
Watch: Scotland fans sing on arrival in London ahead of Euro 2020 game against England
Boisterous Scotland fans were filmed singing 'Yes Sir, I Can Boogie' outside London King's Cross train station on Friday ahead of their side's Euro 2020 clash against England at Wembley.Supporters draped in Scotland flags can be seen in the video belting out their unofficial anthem, a 1970s disco hit by Baccara, as they dance and fist pump the air on the station's forecourt.The Scotland-England group match kicks off at 8pm. The tournament has so far seen England beat Croatia and Scotland lose to Czech Republic.
Joe Sommerlad18 June 2021 14:05
1624020022
Follow Sweden vs Slovakia live
The build-up is underway in St Petersburg for the day's first game, which sees stolid Sweden – who somehow managed to hold Luis Enrique's Spain to a goalless draw first time out – take on Slovakia, who shrugged off the threat of Robert Lewandowski to beat Poland in their opener.
Andrew Gamble brings you all the action minute-by-minute.
Joe Sommerlad18 June 2021 13:40
1624018822
Czech Republic not focused only on Croatia's 'brain' Luka Modric
While obviously everyone's focus is on Wembley today, this is a mighty appetising starter before the main event.
The Czechs, so impressive against Scotland, say they are not worried by their opponent's midfield maestro, still so integral to keeping the Croatians ticking over at the grand old age of 35.
Here's a preview of a subtly mouthwatering tie.
Joe Sommerlad18 June 2021 13:20
1624017622
Why the England team's 'ITV curse' is real – and why we need to be worried
It does seem that the Three Lions never do well when the big game is broadcast on ITV.
Perhaps the meddling mind of Uri Geller is at work again.
Greg Evans examines this ill omen for Indy100.
Joe Sommerlad18 June 2021 13:00
1624016422
Lack of composure undermines benefits of Scotland's 3-5-2 system
Scotland's formation did not work entirely in their favour against the Czechs on Monday when they went down 2-0 at Hampden to a devastating Patrik Schick double.
Alex Pattle takes a look at Steve Clarke's strategy and how a lack of composure undermined its merits first time out.
Joe Sommerlad18 June 2021 12:40