Exchanged by the center, General Ramos goes to the game and discloses a photo with Bolsonaro – 07/21/2021 – Poder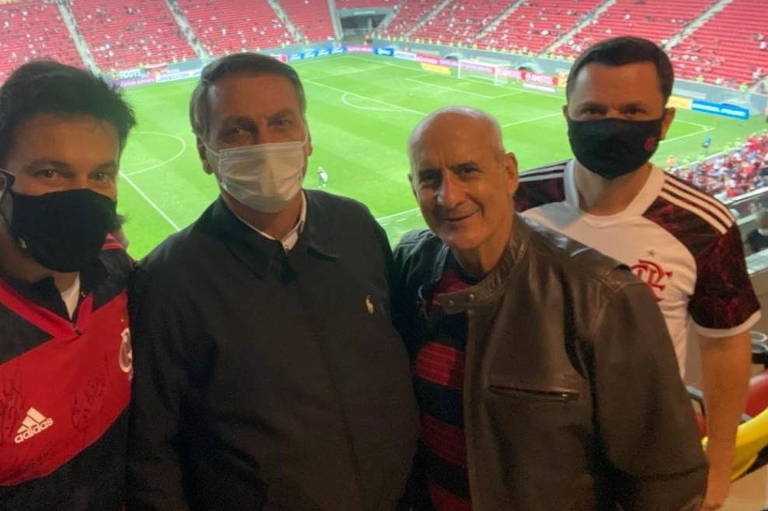 On the day that President Jair Bolsonaro's (non-party) plans to change the head of the Civil House were known, the current minister of ministry, General Luiz Eduardo Ramos, published photos next to the president at the Mané Garrincha stadium, in Brasília, where the two watched Flamengo's game at Libertadores.
"Going back to the stadium and rooting for Mengão is an indescribable joy! We are winning Covid-19. There are already more than 125 million vaccines applied in Brazil, all purchased by the government of President Jair Bolsonaro. What an honor to be on this team! Flamengo's victory," wrote Ramos on a social network.
He appears in two images alongside Bolsonaro. In one of them, there are also ministers Fábio Faria (Communications) and Anderson Torres (Justice).
Flamengo won this Wednesday night (21) Defensa y Justicia, by Libertadores.
Ramos appears unmasked in both images. Bolsonaro, on the other hand, only uses the protective equipment in one of the images.
Ramos is expected to be the main shift in a ministerial reform planned by Bolsonaro for the next few days.
According to interlocutors, he should be transferred to the General Secretariat of the Presidency, currently occupied by Onyx Lorenzoni (DEM-RS).
Onyx, according to current plans, will assume the Ministry of Labor and Social Security, which will be recreated with the publication of a provisional measure providing for the division of the Ministry of Economy, by Paulo Guedes.
For Ramos' place in the Civil House, Bolsonaro should appoint Senator Ciro Nogueira (PP-PI), one of the main leaders of the centrão — a group of parliamentarians that currently supports the government in the Legislative.
The exchange of Ramos for Ciro represents a removal of the military from the decision-making core of the government. A retired general, Ramos moves from a strategic position to a minor ministry.
Auxiliaries from Bolsonaro reported that Ramos expressed dissatisfaction with the change. In an interview with the newspaper O Estado de S. Paulo, he said he was surprised.
"I didn't know, I'm in shock. I was run over by a train, but I'm fine," said Ramos, who called himself "a soldier" who "does not choose a mission." According to the newspaper, he also explained that the change is for "political reasons".
"If I was being replaced by someone with an Oxford or Harvard degree, fine, they could say I failed. But it's by a politician allied with the president, that's how it works," he said.
The Esplanade changes will be made amid a series of pressures on Bolsonaro, including more than 100 impeachment requests in the House, loss of popularity, downside to Lula in the 2022 polls, Covid CPI investigation in the Senate, base instabilities government and negotiations of the billionaire electoral fund.