Extending the decision to lift the comprehensive home stone for 21 days, starting from tomorrow in Algeria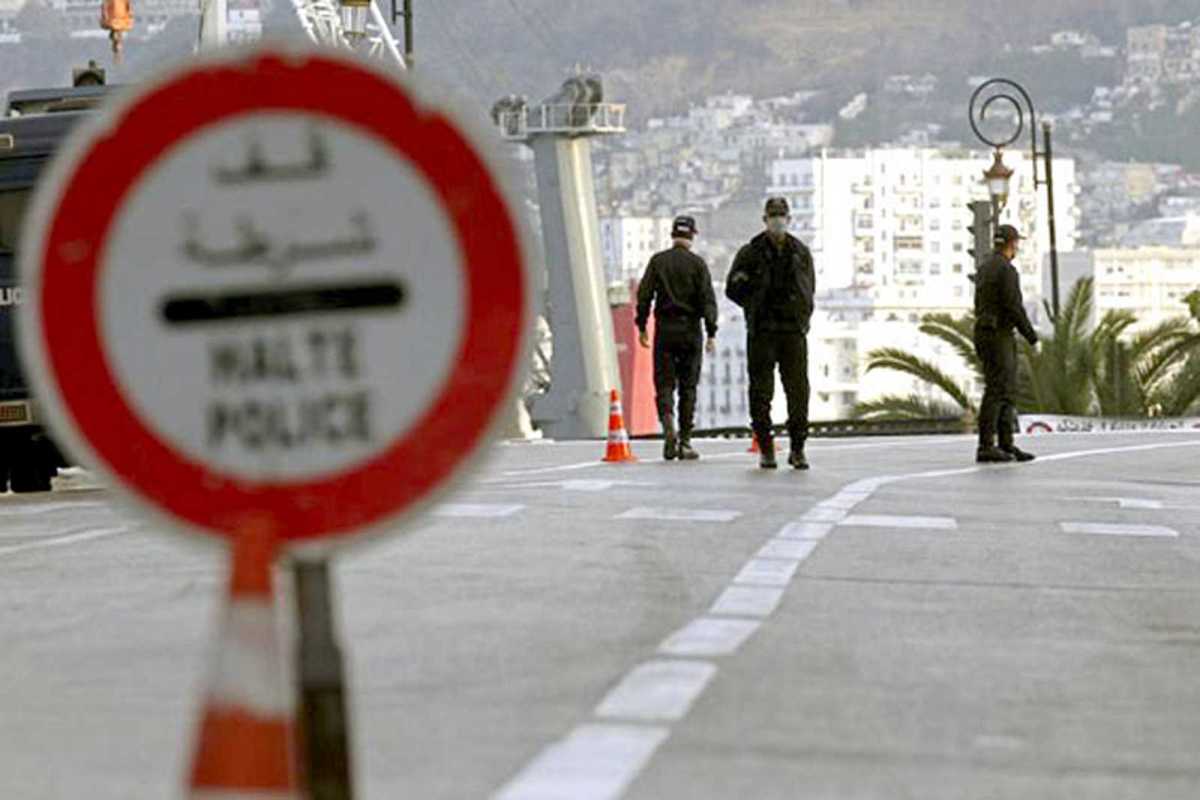 Algeria announced the extension of its decision to lift home quarantine measures issued on October 18 for a period of 21 days, starting tomorrow, Wednesday.
The Algerian government explained – in a statement today, Tuesday – that the decrease in cases of HIV infection during this stage does not mean that the danger is completely over, at a time when many regions in the world are witnessing the beginning of a new wave of the pandemic, and recommended that citizens "be careful and exercise the utmost levels." vigilance."
And she called for "to avoid inaction and continue to strictly adhere to prevention measures, especially the compulsory wearing of the muzzle, and compliance with hygiene rules as well as the strict application of the various health protocols approved by the Algerian Scientific Committee to follow up on the development of the Corona virus pandemic and dedicated to various economic, commercial and social activities."
The public authorities decided not to allow entry to sports facilities until after submitting a vaccination certificate as a condition for entry.
The Algerian government renewed its calls on its citizens to participate extensively in the continuous vaccination campaigns across its territory, with the aim of preventing the serious effects of this pandemic, on the health, economic and social levels.
!function(f,b,e,v,n,t,s)
if(f.fbq)return;n=f.fbq=function()n.callMethod?
n.callMethod.apply(n,arguments):n.queue.push(arguments);
if(!f._fbq)f._fbq=n;n.push=n;n.loaded=!0;n.version='2.0′;
n.queue=[];t=b.createElement(e);t.async=!0;
t.src=v;s=b.getElementsByTagName(e)[0];
s.parentNode.insertBefore(t,s)(window,document,'script',
'https://connect.facebook.net/en_US/fbevents.js');
fbq('init', '2392364917476331');
fbq('track', 'PageView');
(function(d, s, id)
var js, fjs = d.getElementsByTagName(s)[0];
if (d.getElementById(id)) return;
js = d.createElement(s); js.id = id;
js.src = "//connect.facebook.net/ar_AR/sdk.js#xfbml=1&version=v2.6&appId=300970513306659";
fjs.parentNode.insertBefore(js, fjs);
(document, 'script', 'facebook-jssdk'));
The news from the source
"@context":"http://schema.org","@type":"NewsArticle","dateCreated":"2021-11-09T21:28:07+02:00″,"datePublished":"2021-11-09T21:28:07+02:00″,"dateModified":"2021-11-09T21:28:11+02:00″,"headline":"u062au0645u062fu064au062f u0642u0631u0627u0631 u0631u0641u0639 u0627u0644u062du062cu0631 u0627u0644u0645u0646u0632u0644u064a u0627u0644u0634u0627u0645u0644 21 u064au0648u0645u0627 u0628u062fu0621u0627 u0645u0646 u0627u0644u063au062f u0641u064a u0627u0644u062cu0632u0627u0626u0631″,"name":"u062au0645u062fu064au062f u0642u0631u0627u0631 u0631u0641u0639 u0627u0644u062du062cu0631 u0627u0644u0645u0646u0632u0644u064a u0627u0644u0634u0627u0645u0644 21 u064au0648u0645u0627 u0628u062fu0621u0627 u0645u0646 u0627u0644u063au062f u0641u064a u0627u0644u062cu0632u0627u0626u0631″,"keywords":"u0627u0644u062cu0632u0627u0626u0631,u0627u0644u062du062cu0631,u0627u0644u0634u0627u0645u0644,u0627u0644u063au062f,u0627u0644u0645u0646u0632u0644u064a,u0628u062fu0621u0627,u062au0645u062fu064au062f,u0631u0641u0639,u0641u064a,u0642u0631u0627u0631,u0645u0646,u064au0648u0645u0627″,"url":"https://mnalmsdr.com/%d8%aa%d9%85%d8%af%d9%8a%d8%af-%d9%82%d8%b1%d8%a7%d8%b1-%d8%b1%d9%81%d8%b9-%d8%a7%d9%84%d8%ad%d8%ac%d8%b1-%d8%a7%d9%84%d9%85%d9%86%d8%b2%d9%84%d9%8a-%d8%a7%d9%84%d8%b4%d8%a7%d9%85%d9%84-21-%d9%8a/","description":"u0623u0639u0644u0646u062a u0627u0644u062cu0632u0627u0626u0631 u062au0645u062fu064au062f u0642u0631u0627u0631u0647u0627 u0627u0644u062eu0627u0635 u0628u0631u0641u0639 u0625u062cu0631u0627u0621u0627u062a u0627u0644u062du062cu0631 u0627u0644u0645u0646u0632u0644u064a u0648u0627u0644u0635u0627u062fu0631 u0641u064a 18 u0623u0643u062au0648u0628u0631 u0627u0644u0645u0627u0636u064a u0644u0645u062fu0629 21 u064au0648u0645u0627 u0627u0628u062au062fu0627u0621 u0645u0646 u063au062f u0627u0644u0623u0631u0628u0639u0627u0621. u0648u0623u0648u0636u062du062a u0627u0644u062du0643u0648u0645u0629 u0627u0644u062cu0632u0627u0626u0631u064au0629 – u0641u064a u0628u064au0627u0646 u0627u0644u064au0648u0645 u0627u0644u062bu0644u0627u062bu0627u0621 – u0623u0646 u0627u0646u062eu0641u0627u0636 u062du0627u0644u0627u062a u0627u0644u0625u0635u0627u0628u0629″,"copyrightYear":"2021″,"articleSection":"u062du0648u0644 u0627u0644u0639u0627u0644u0645″,"articleBody":"nu0623u0639u0644u0646u062a u0627u0644u062cu0632u0627u0626u0631 u062au0645u062fu064au062f u0642u0631u0627u0631u0647u0627 u0627u0644u062eu0627u0635 u0628u0631u0641u0639 u0625u062cu0631u0627u0621u0627u062a u0627u0644u062du062cu0631 u0627u0644u0645u0646u0632u0644u064a u0648u0627u0644u0635u0627u062fu0631 u0641u064a 18 u0623u0643u062au0648u0628u0631 u0627u0644u0645u0627u0636u064a u0644u0645u062fu0629 21 u064au0648u0645u0627 u0627u0628u062au062fu0627u0621 u0645u0646 u063au062f u0627u0644u0623u0631u0628u0639u0627u0621.nu0648u0623u0648u0636u062du062a u0627u0644u062du0643u0648u0645u0629 u0627u0644u062cu0632u0627u0626u0631u064au0629 – u0641u064a u0628u064au0627u0646 u0627u0644u064au0648u0645 u0627u0644u062bu0644u0627u062bu0627u0621 – u0623u0646 u0627u0646u062eu0641u0627u0636 u062du0627u0644u0627u062a u0627u0644u0625u0635u0627u0628u0629 u0628u0627u0644u0641u064au0631u0648u0633 u0641u064a u062eu0644u0627u0644 u0647u0630u0647 u0627u0644u0645u0631u062du0644u0629u060c u0644u0627 u064au0639u0646u064a u0623u0646 u0627u0644u062eu0637u0631 u0642u062f u0627u0646u062au0647u0649 u062au0645u0627u0645u0627u060c u0641u064a u0627u0644u0648u0642u062a u0627u0644u0630u064a u062au0634u0647u062f u0641u064au0647 u0627u0644u0639u062fu064au062f u0645u0646 u0627u0644u0645u0646u0627u0637u0642 u0641u064a u0627u0644u0639u0627u0644u0645 u0628u062fu0627u064au0629 u0645u0648u062cu0629 u062cu062fu064au062fu0629 u0644u0644u062cu0627u0626u062du0629u060c u0648u0623u0648u0635u062a u0627u0644u0645u0648u0627u0637u0646u064au0646 "u0628u062au0648u062eu064a u0627u0644u062du0630u0631 u0648u0627u0644u062au062du0644u0651u064a u0628u0623u0642u0635u0649 u062fu0631u062cu0627u062a u0627u0644u064au0642u0638u0629".nu0648u062fu0639u062a u0625u0644u0649 "u062au062cu0646u0628 u0627u0644u062au0631u0627u062eu064a u0648u0645u0648u0627u0635u0644u0629 u0627u0644u062au0642u064au062f u0628u0635u0631u0627u0645u0629 u0628u062au062fu0627u0628u064au0631 u0627u0644u0648u0642u0627u064au0629u060c u0644u0627u0633u064au0645u0627 u0627u0631u062au062fu0627u0621 u0627u0644u0643u0645u0627u0645u0629 u0625u062cu0628u0627u0631u064au0627u060c u0648u0627u0644u0627u0645u062au062bu0627u0644 u0644u0642u0648u0627u0639u062f u0627u0644u0646u0638u0627u0641u0629 u0625u0644u0649 u062cu0627u0646u0628 u0627u0644u062au0637u0628u064au0642 u0627u0644u0635u0627u0631u0645 u0644u0640u0645u062eu062au0644u0641 u0627u0644u0628u0631u0648u062au0648u0643u0648u0644u0627u062a u0627u0644u0635u062du064au0629 u0627u0644u0645u0639u062au0645u062fu0629 u0645u0646 u0637u0631u0641 u0627u0644u0644u062cu0646u0629 u0627u0644u0639u0644u0645u064au0629 u0627u0644u062cu0632u0627u0626u0631u064au0629 u0644u0645u062au0627u0628u0639u0629 u062au0637u0648u0631 u062cu0627u0626u062du0629 u0641u064au0631u0648u0633 (u0643u0648u0631u0648u0646u0627) u0648u0627u0644u0645u062eu0635u0635u0629 u0644u0645u062eu062au0644u0641 u0627u0644u0623u0646u0634u0637u0629 u0627u0644u0627u0642u062au0635u0627u062fu064au0629 u0648u0627u0644u062au062cu0627u0631u064au0629 u0648u0627u0644u0627u062cu062au0645u0627u0639u064au0629".nu0648u0642u0631u0631u062a u0627u0644u0633u0644u0637u0627u062a u0627u0644u0639u0645u0648u0645u064au0629 u0639u062fu0645 u0627u0644u0633u0645u0627u062d u0628u062fu062eu0648u0644 u0627u0644u0645u0646u0634u0622u062a u0627u0644u0631u064au0627u0636u064au0629 u0625u0644u0627 u0639u0642u0628 u062au0642u062fu064au0645 u0634u0647u0627u062fu0629 u0627u0644u062au0644u0642u064au062d u0643u0634u0631u0637 u0644u0644u062fu062eu0648u0644 .nu0648u062cu062fu062fu062a u0627u0644u062du0643u0648u0645u0629 u0627u0644u062cu0632u0627u0626u0631u064au0629 u062fu0639u0648u0627u062au0647u0627 u0625u0644u0649 u0645u0648u0627u0637u0646u064au0647u0627 u0628u0627u0644u0645u0634u0627u0631u0643u0629u00a0u0628u0643u062bu0627u0641u0629 u0641u064a u062du0645u0644u0627u062a u0627u0644u062au0644u0642u064au062d u0627u0644u0645u062au0648u0627u0635u0644u0629 u0639u0628u0631 u0623u0631u0627u0636u064au0647u0627 u060c u0648u0630u0644u0643 u0628u0647u062fu0641 u0627u0644u0648u0642u0627u064au0629 u0645u0646 u062eu0637u0648u0631u0629 u0622u062bu0627u0631 u0647u0630u0647 u0627u0644u062cu0627u0626u062du0629u060c u0639u0644u0649 u0627u0644u0623u0635u0639u062fu0629 u0627u0644u0635u062du064au0629 u0648u0627u0644u0627u0642u062au0635u0627u062fu064au0629 u0648u0627u0644u0627u062cu062au0645u0627u0639u064au0629.nrn!function(f,b,e,v,n,t,s)rnif(f.fbq)return;n=f.fbq=function()n.callMethod?rnn.callMethod.apply(n,arguments):n.queue.push(arguments);rnif(!f._fbq)f._fbq=n;n.push=n;n.loaded=!0;n.version='2.0′;rnn.queue=[];t=b.createElement(e);t.async=!0;rnt.src=v;s=b.getElementsByTagName(e)[0];rns.parentNode.insertBefore(t,s)(window,document,'script',rn'https://connect.facebook.net/en_US/fbevents.js');rn fbq('init', '2392364917476331'); rnfbq('track', 'PageView');rn(function(d, s, id) rn var js, fjs = d.getElementsByTagName(s)[0];rn if (d.getElementById(id)) return;rn js = d.createElement(s); js.id = id;rn js.src = "//connect.facebook.net/ar_AR/sdk.js#xfbml=1&version=v2.6&appId=300970513306659";rn fjs.parentNode.insertBefore(js, fjs);rn (document, 'script', 'facebook-jssdk'));rn rnrnu0627u0644u062eu0628u0631 u0645u0646 u0627u0644u0645u0635u062fu0631 ","publisher":"@id":"#Publisher","@type":"Organization","name":"u0645u0646 u0627u0644u0645u0635u062fu0631″,"logo":"@type":"ImageObject","url":"https://i.ibb.co/0hQpsqv/101870202-2829551550505619-6093922229194588160-n.jpg","sameAs":["https://mnalmsdr.com/rss-feed/","https://www.facebook.com/mnalmsdr.page","https://twitter.com/mnalmsdr","https://youtube.com/channel/UCWTCHmnm40rrIbMp3RyvvRA"],"sourceOrganization":"@id":"#Publisher","copyrightHolder":"@id":"#Publisher","mainEntityOfPage":"@type":"WebPage","@id":"https://mnalmsdr.com/%d8%aa%d9%85%d8%af%d9%8a%d8%af-%d9%82%d8%b1%d8%a7%d8%b1-%d8%b1%d9%81%d8%b9-%d8%a7%d9%84%d8%ad%d8%ac%d8%b1-%d8%a7%d9%84%d9%85%d9%86%d8%b2%d9%84%d9%8a-%d8%a7%d9%84%d8%b4%d8%a7%d9%85%d9%84-21-%d9%8a/","author":"@type":"Person","name":"u0623u0644u064au0646 u0639u0628u062f u0627u0644u0631u062du0645u0646″,"url":"https://mnalmsdr.com/author/alin-abdo/","image":"@type":"ImageObject","url":"https://www.shorouknews.com/uploadedimages/Sections/Politics/original/confinement_4.jpg","width":1920,"height":0



The article from the source