Facebook threatens to "unpublish" the pages of Jordan Bardella and Marion Maréchal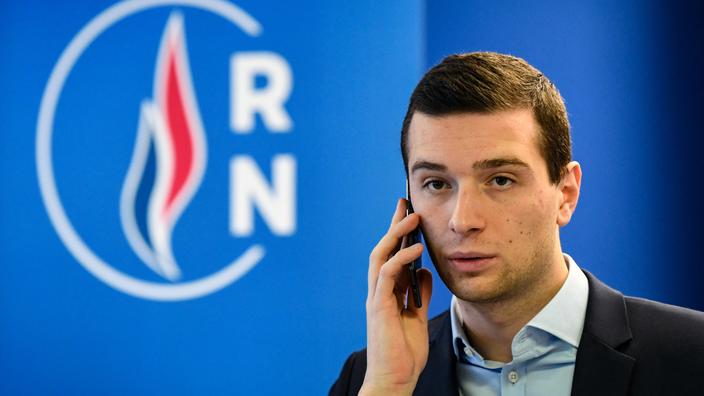 Messages of support for the anti-immigration movement Generation Identity have been removed by the social network.
"Pure and simple censorship." Several politicians including the vice-president of the National Rally, Jordan Bardella, and the former FN deputy for Vaucluse, Marion Maréchal, saw some of their messages posted on Facebook deleted by the social network, this Sunday. Their distribution on this network is now "Limited" and their page threatened with "Unpublication" warned the platform.
In question, the publication this weekend of messages of support for the Generation Identity movement, which is currently the subject of a dissolution procedure by the Ministry of the Interior. The number 2 of Marine Le Pen's party had relayed his party's press release on his Facebook page, denouncing a "The government's liberticidal drift." The director of ISSEP had for her part relayed a petition against the government's decision. As many publications considered by Facebook as "Repeated breaches of community standards."
Read also :Donald Trump censored by social networks: the fears of the French political class
"I haven't published anything that could give rise to controversy, Jordan Bardella protests against Figaro. Social networks have given themselves the right to control public speech. After censoring the President of the United States, they no longer have a limit. We are entering a climate of supervision of freedoms of expression. It is very worrying! "
On January 6, after pro-Trump activists invaded the US Capitol in Washington, both Twitter and Facebook's decision to censor and then suspend the accounts of the former President of the United States moved some. from the political class on this side of the Atlantic. " There is a real questioning that questions us, we French too: Can large private companies like the digital giants decide who has the right to speak, what do we have the right to say? ", was then questioned at the microphone of France 2, Marine Le Pen.
«Today it is Trump's interventions, tomorrow it may be something else. We have before us this danger, that social networks will be cut off from us too ", had also alerted on his YouTube channel, the leader of rebellious France, Jean-Luc Mélenchon. One year and a few weeks before the next presidential election, the advisability of censorship on social networks, such as that of the legitimacy of platforms to do so or not, has not finished asking questions.