Farmers in Iraq feel the heat of climate extremes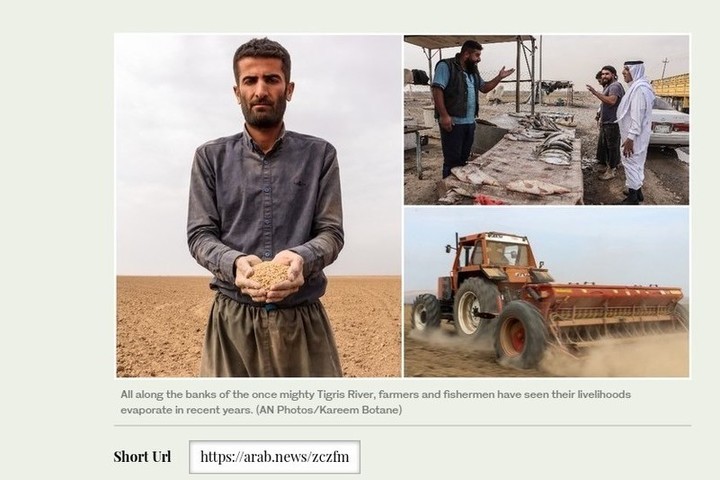 In Iraqi Latif, in recent years, farmers and fishermen have seen their livelihoods disappear on all banks of the once mighty Tigris River, forcing many of the rural population to leave the land in search of urban jobs. Not only Latif is fighting a lost battle with the elements. Iraq was ranked fifth on the list of countries most vulnerable in terms of water and food availability and extreme temperatures in the sixth report of the UN Environment Program's Global Environment Outlook, published in 2019. "We lost everything due to lack of rain and hot weather," Amir Khtr Yusif, a 30-year-old farmer and fisherman who sells his catch on the side of the Qayyara road, told Arab News.
Average temperatures in Iraq have risen by at least 0.7 degrees Celsius over the past century, and extreme heat waves are becoming more frequent. According to the World Bank, the average annual temperature in Iraq is expected to rise by 2 ° C by 2050, and the average annual rainfall will decrease by 9 percent.
Iraq's 2020-2021 rainy season was the second-drought in 40 years, according to the UN, with the result that the country's aquifers were not replenished and the remaining groundwater salinity increased.
"The groundwater has dried up here," Latif said. "I have a well 30 meters deep, in which there is no water. Here all the wells are dry. Even if there is water in any of these wells, it will be red or salty. "
Soil degradation increases the magnitude and frequency of dust storms. From 1951 to 1990, dust storms were observed in Iraq on average 24 days a year. According to the UN, there were 122 of them in 2013.
In an article for the Financial Times published on October 31 and coinciding with the start of the UN Climate Summit COP26 in Glasgow, Iraqi President Barham Salih said that the economic and environmental impacts of climate change "are by far the most severe in a long time. This is an urgent threat facing the country.