First day of referendums held in Donbass and liberated territories | World news | News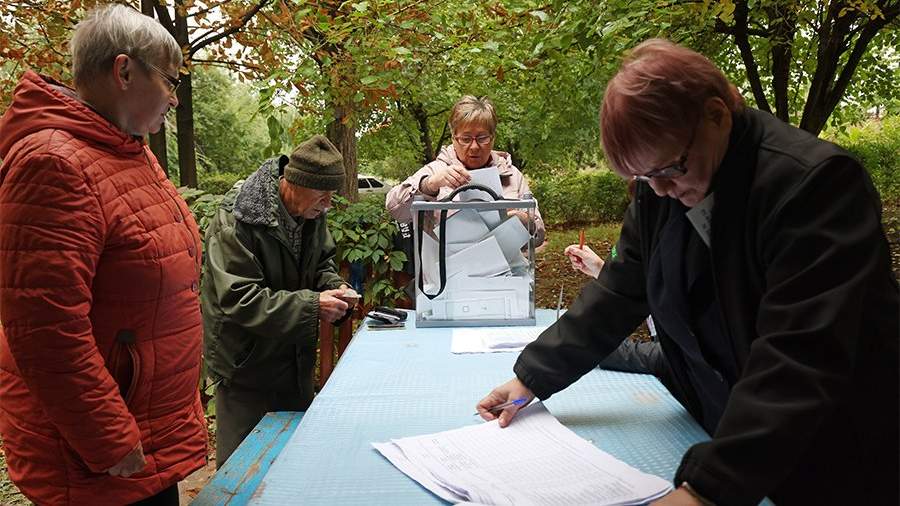 The first day of voting in referendums – September 23 – has come to an end in the Donetsk and Luhansk People's Republics (DPR and LPR), as well as in the Kherson and Zaporozhye regions.
According to the head of the Central Election Commission (CEC) of the LPR, Elena Kravchenko, the turnout in the republic, as of 20:00, was 21.97%, that is, more than 298 thousand people. She also said that in Lugansk, during the referendum, the chairmen of precinct commissions received messages with threats from Kyiv on their phones.
According to Vladimir Vysotsky, chairman of the DPR CEC, the turnout on the first day was slightly higher – 23.64%. This is more than 370 thousand people. He pointed out that on the first day there were no complaints from voters and no information about violations.
In the Zaporozhye region, the preliminary turnout, taking into account voting abroad, was 20.52%. According to Galina Katyushchenko, chairman of the region's election commission, 8,370 people voted in the referendum abroad.
Marina Zakharova, chairwoman of the Kherson Region Electoral Commission, said that the election commission recorded a turnout of 15.31% following the results of the first day of the referendum. Voting took place throughout the region, including the front lines.
Referendums on the issue of joining the Donetsk and Luhansk People's Republics, Kherson and Zaporozhye regions as subjects of the Russian Federation will end on September 27.
Earlier on Friday, a correspondent for the Czech newspaper Nasha Pravda, Jaromir Vasek, who is in Luhansk, said that the referendum at various polling stations was held without violations. He also noted that local residents are ready to participate in the referendum and vote for joining Russia.
According to a survey by the All-Russian Public Opinion Research Center (VTsIOM), 97% of residents of the DPR and LPR who plan to take part in the referendum will vote for the republics to join the Russian Federation. In the Zaporozhye region, 87% of residents support the decision to join the Russian Federation, in the Kherson region – 89%.
On September 21, Russian President Vladimir Putin announced that he would support the decision to be made by the residents of Donbass, Zaporozhye and Kherson regions. He added that Russia will do everything to ensure safe conditions for holding referendums.
On February 24, Russia launched a special operation to protect Donbass. The decision was made against the background of the aggravation of the situation in the region as a result of shelling by the Ukrainian military.
For more up-to-date videos and details about the situation in Donbass, watch the Izvestia TV channel.