forest fire near Athens, evacuations as a precaution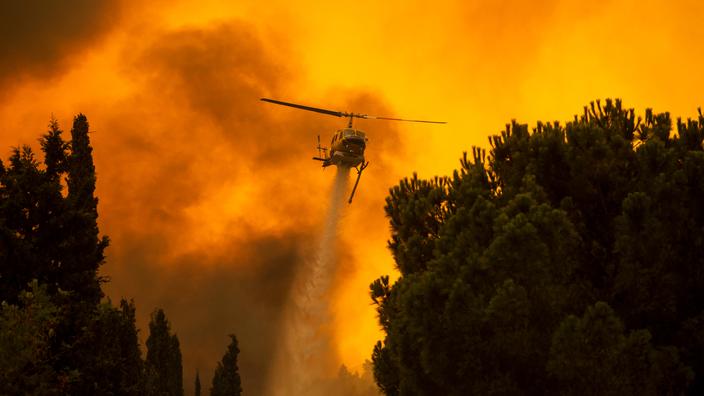 A forest fire broke out on Monday evening, September 20 in the seaside resort of Néa Makri, 38km in the northeast of Athens, burning brushwood and pines, we learned from the fire department. "The fire broke out at 10:35 p.m. local (19:35 GMT) near the houses in Néa Makri and evacuations as a precaution were recommended", told AFP an official of the press service of the firefighters. Seventy firefighters and twenty vehicles were fighting against the flames, according to the official.
Read alsoFires in Greece: despair on the island of Evia in flames
Greece had been severely hit by scorching temperatures and forest fires in early August that devastated more than 100,000 hectares, especially in the north-west of Athens at the foot of Mount Parnes, in the north of the island of Euboea, in 200km from the capital and in the Peloponnese (south). Three people died in the disaster. The scorching temperatures also favored major fires in Spain, Italy, Croatia, France and Cyprus.
The increasing fires across the globe are associated with various phenomena that scientists anticipate due to global warming. According to them, the recurrent heat waves are an unequivocal marker and these heat waves are called to multiply, lengthen and intensify: an ideal combination for the development of fires. Last weekend the temperature exceeded 35 degrees Celsius in parts of Greece including Attica before dropping to 32 degrees on Monday. According to the weather forecast, the mercury will drop from Tuesday.
Read alsoClimate: the world on a "catastrophic" path towards a warming of + 2.7 ° C
At an Athens summit last Friday, nine southern European Union countries reiterated "Their firm commitment" to implement the 2015 Paris Agreement, aimed at limiting global warming to 1.5 ° C, while the UN warned that the world was heading for an increase "catastrophic" of 2.7 ° C.