Former 'ISIS bride' says TV can help counter terrorism in UK – 15/09/2021 – World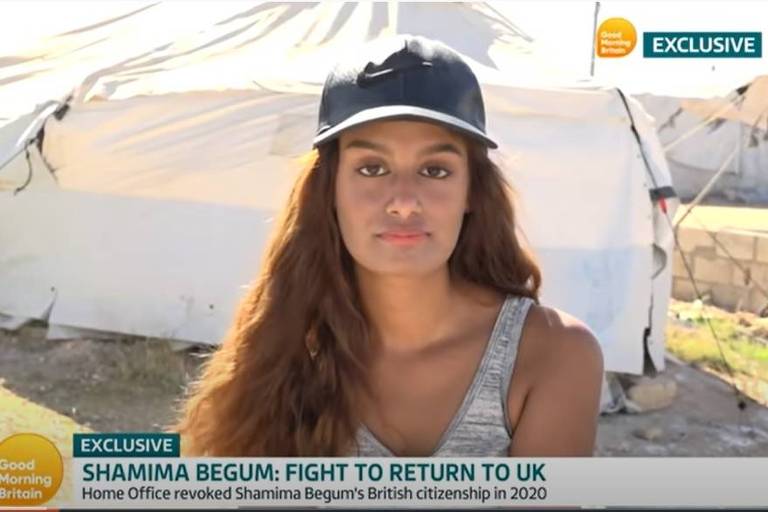 Shamima Begum, 22, a former British citizen who fled to Syria at the age of 15 and married a Dutch Islamic State fighter, has asked the UK government not to let her rot in the prison camp she has lived in since 2019.
She said she could be useful in combating the British government's terrorism, knowing the jihadist group's tactics for recruiting fighters, and offered to work on preventing radicalization.
The statements were given in a live interview on Wednesday (16) to the ITV channel, in which Shamima appears with her face uncovered, long hair loose, pink lipstick, cap and tank top, without the black chador that covered her from head to toe two years earlier, in another BBC interview.
She is part of a group that has come to be known in Europe as "Islamic State brides" — women co-opted to join the terrorist group, most of them during their teens and under false promises of good living conditions.
Stories like hers have been retold in series like Netflix's "Caliphate" and movies like "Layla M." and "Heaven Will Wait" (heaven will wait, no translation in Brazil), among others.
Like other European girls in her situation, Shamima tried to return to her home country after the dismantling of the jihadist organization, even though she knew she would face a trial for treason — the Islamic State has taken on several terrorist attacks that left people dead in European countries.
The British government, however, took away her citizenship and denied her request in 2019. In February of this year, the British Supreme Court denied an appeal in which she asked to return to her home country. To the BBC broadcaster, Shamima had said that she regretted having left the UK.
In the interview that aired on Wednesday (15), Shamima says he never intended to practice terrorism and believed he could only live within a Muslim community. "I just wanted to get married, have kids and live a life of pure Islam."
According to her, the people who convinced her to go to Syria gave her false information. The girl said she did not participate in attacks, but apologized to the British for having joined a group that caused the loss of many lives — including the 22 killed in an attack in Manchester, during a concert by singer Ariana Grande, in 2017.
Asked about statements in a 2019 interview, in which she defended the jihadist group, she said she was sorry and that she was unaware of the terrorist attacks: "From the bottom of my heart, I'm sorry. I didn't know what the Islamic State had done in other parts of the world."
Shamima, whose family originates in Bangladesh, had three children in Syria — none survived. It was captured by the Kurds in 2019 in Baghuz, on the banks of the Euphrates River, and sent to Al-Hol camp, one of the largest in the region.
Discovered by journalists, she said she wanted to return to the UK, attracting international attention and hostility from the 12,000 foreign women detained there.
She was transferred to Camp Roj, near the Iraqi border, when her third child died of pneumonia at three weeks old.
On Wednesday, Shamima said she now feels more comfortable expressing her criticisms of the Islamic State, because she is in less danger in this field, and that she thinks it's important to talk so that other girls don't make the same mistakes she did.
"No one can hate me more than I hate myself for what I've done, and all I can say is 'I'm sorry' and just give me a second chance," said the student, who wants to return to the UK to defend herself.
"I am willing to go to court and refute allegations of terrorism because I know that I have done nothing in IS other than being a mother and wife," she said.
In total, it is estimated that around 900 Britons have joined the Islamic State in Syria and Iraq. About half have returned to the UK, but according to human rights bodies, 9 men, 16 women and 35 children are still in Syria, with another 60,000 relatives of Islamic State members in prison.
In addition to the British, more than 200 women from ten European countries are in the prison camps, and the discussion about the fate of the widows or wives of Islamic fighters takes place in several other European countries, such as Ireland, Belgium, Netherlands, Germany, Norway, Denmark and Finland.
In May, the Danish government changed its mind and decided to repatriate some of its citizens, after warning by the intelligence agency that risks of radicalization would increase in the future if the children received terrorist training.
According to the report, more than half of the 19 children of Danish "IS brides" are in their early teens, an age group considered vulnerable to extremist indoctrination. Humanitarian organizations have warned of overcrowding and poor conditions in the Kurdish-held Roj and al-Hol camps in northern and northeastern Syria, and reports of attempted escapes have grown.
In March, media outlets said the Kurds were losing control of al-Hol camp, which is home to more than 64,000 people. In Roj there are about 2,000 refugees.
This year, a 30-year-old Norwegian woman who married three different members of the Islamic State between 2013 and 2019 in Syria was sentenced to 3.5 years in prison after being repatriated from al-Hol camp.
At the end of last year, the German and Finnish governments claimed to have repatriated 18 children and five women from refugee camps. A Brussels court also ordered the Belgian government to help repatriate ten Syrian-born children of Belgians who fought for Islamic State.
In early March, Belgium announced that it would try to bring about 30 children from refugee camps and some of their mothers.