France and Britain trade accusations after the drowning of migrants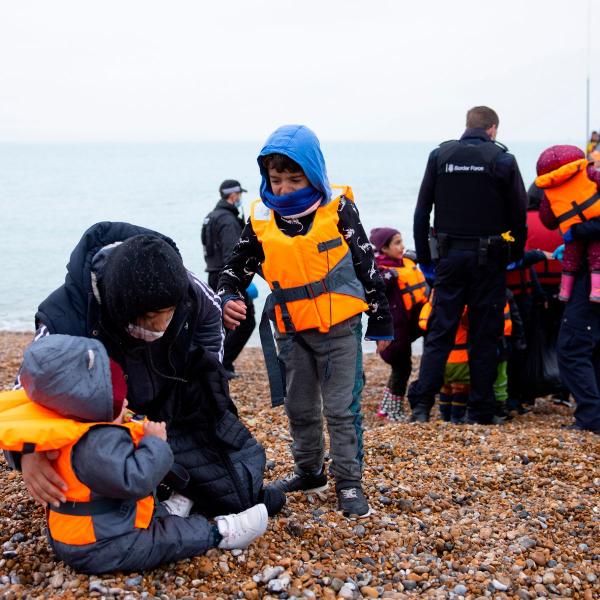 French President Emmanuel Macron has warned British Prime Minister Boris Johnson not to politically exploit the migrant crisis, after 27 people drowned in the English Channel while trying to reach Britain, the presidency announced Thursday (November 25).
The Elysee Palace said in a statement after a phone conversation between the two men late on Wednesday that Macron had told Johnson that France and the United Kingdom had a "shared responsibility". He added that he "expects the British to fully cooperate and refrain from exploiting a tragic situation for political ends."
Macron said the European Union's Border and Coast Guard Agency (Frontex) should get more funding to protect the bloc's internal borders and thus help prevent migrants from crowding France's northern coasts.
French Prime Minister Jean Castix will chair a crisis meeting Thursday with ministers to discuss new measures, his office announced.
Britain and France have traded accusations over who is blamed for the deaths of at least 27 migrants after their boat capsized in the Channel on Wednesday while trying to cross the dangerous shipping lane in winter weather.
The Canal is one of the world's busiest shipping lanes and the currents are strong. People smugglers often fill boats beyond their capacity, leaving migrants barely afloat at the mercy of strong waves.
"Britain's attractiveness is to blame, including its labor market," French Interior Minister Gerald Darmanin told RTL radio on Thursday. That labor force to produce things that the English consume."
The French official's comments came after British Prime Minister Boris Johnson accused France of not doing enough to stop migrants trying to reach the United Kingdom. France revised the death toll down from the 31 it had previously estimated, according to Bloomberg News.
A Downing Street spokesman said Johnson and Macron agreed during a phone call on the "urgency to strengthen their joint efforts to prevent these crossings, and to do everything in their power to stop gangs endangering lives".
And British newspapers reported on Thursday that the French police stepped aside as the migrants boarded small boats bound for the United Kingdom.
France had said earlier that the number of deaths had reached 31, but government officials said that the number was later revised to 27.
The police arrested four people smugglers on suspicion of involvement in the incident. Darmanan said that the nationalities and identities of the migrants were not known, while other reports indicated that one of them had German citizenship.
It is noteworthy that Britain and France are going through a sensitive period in their post-Brexit relationship, which has been strained by a series of issues from defense to granting fishing licenses.